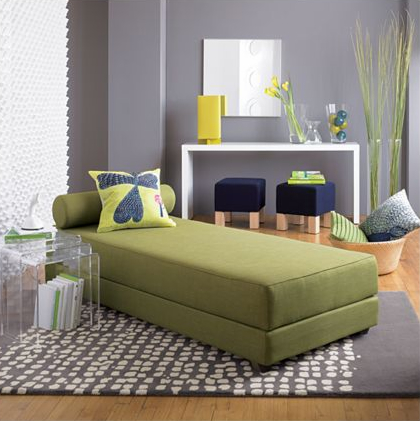 Dear New Gross Apartment I Just Signed For Yesterday,
I saw you, you were disgusting, but I saw potential. I just signed a lease for an apartment at the base of the Hollywood Hills, two blocks north of the West Hollywood border. It's right off Laurel Canyon, the longtime home of one of my heros, Joni Mitchell. To make a long story short, it's a one bedroom (makeover story forthcoming) and I plan to use the living room as a guest bedroom when I have friends visiting from New York and the northern wilds of California, our great Golden State. My first big purchase is going to have to be a sleeper sofa, because as much as I love aerobeds, they are kind of a pain to set up. It's like "Hey, it's bedtime, I'm sleepy!" and then by the time you blow up the thing and put all the sheets/blankets on it you're awake again from all the exercise. Anyway, I've always found sleeper sofas totally gross, but I have seen a few in passing that I thought were nice, so here they are:
This one I just think is so cute and clever. It's a daybed which seems like it could fit in at a psychotherapist's office. Which is basically what my apartment becomes whenever a friend visits anyway.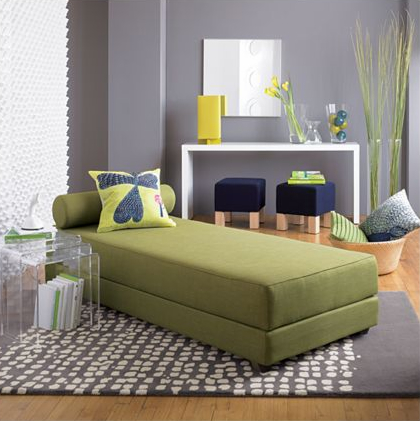 Night and Day Convertible Sofa from Urban Outfitters
Who could be offended by this? It's so simple and streamlined. Definitely under consideration…
I like this one because it says "What? I'm a sleeper sofa! Deal with it!" Instead of trying to act like it's a big poufy sofa it admits that it's just there so your friends and family can use your apartment like a free hotel, leaving behind a trail of untidiness and tears.
Natasha Comfort Sleeper from The Sofa Company
I like this one, but I kind of think it's for girls so I wouldn't want it for myself. But you can buy it if you want. If you're a girl.
Twilight Sleeper Sofa from DWR
This is kind of like the rich uncle to the CB2 Lubi Daybed. This one is fancier, but that giant length-long pillow really prohibits any sort of psychoanalysis. Avoid if you have friends with a lot of emotions.
What I learned from doing this post is that I like mid-century stuff a lot more than I thought I did. I find myself attracted to the mid-centuriest of the sleeper sofas. Only time will tell which one I'll actually get, but I can't wait to get settled in my new apartment. Glamour.
Love,
Orlando