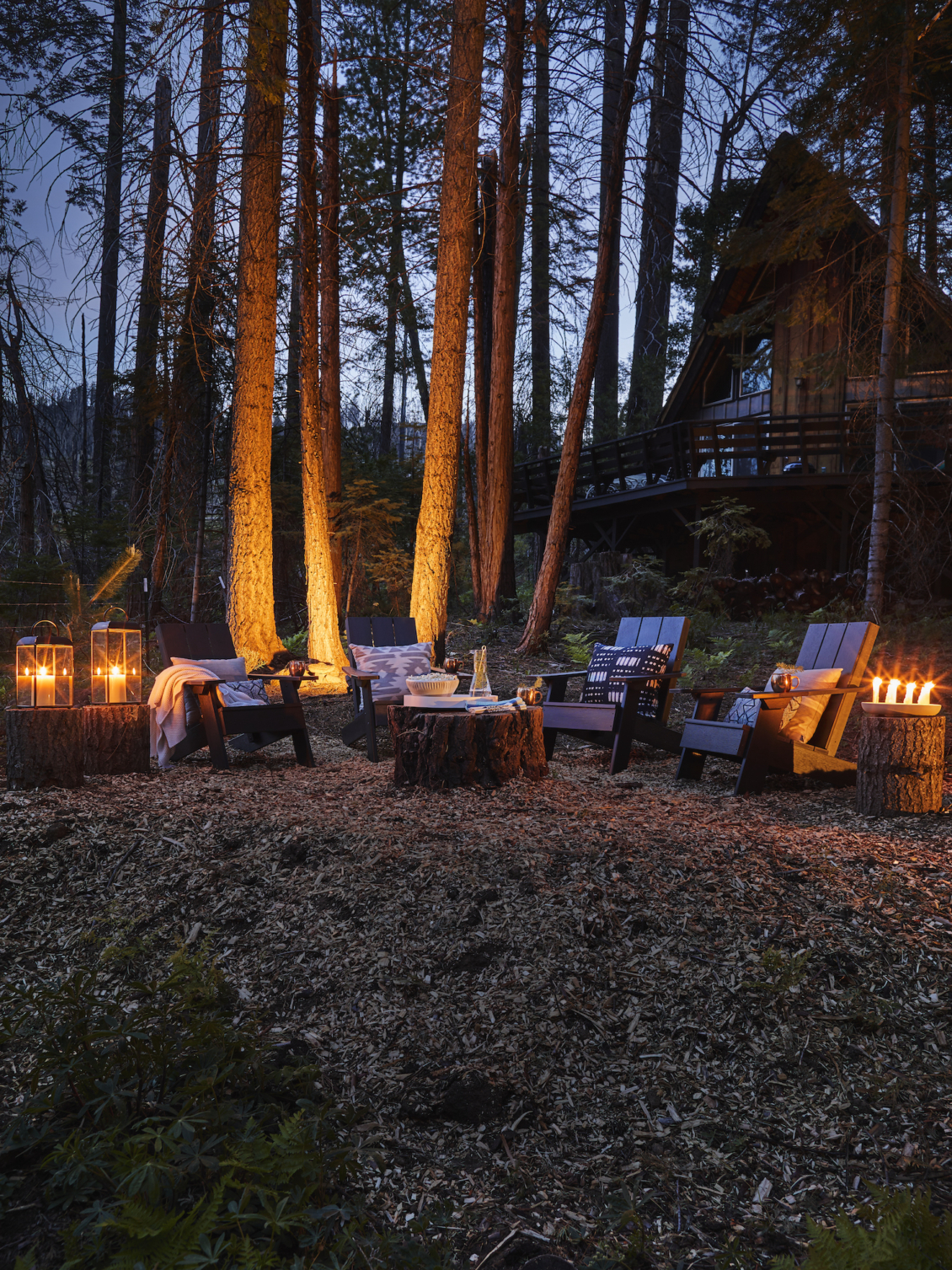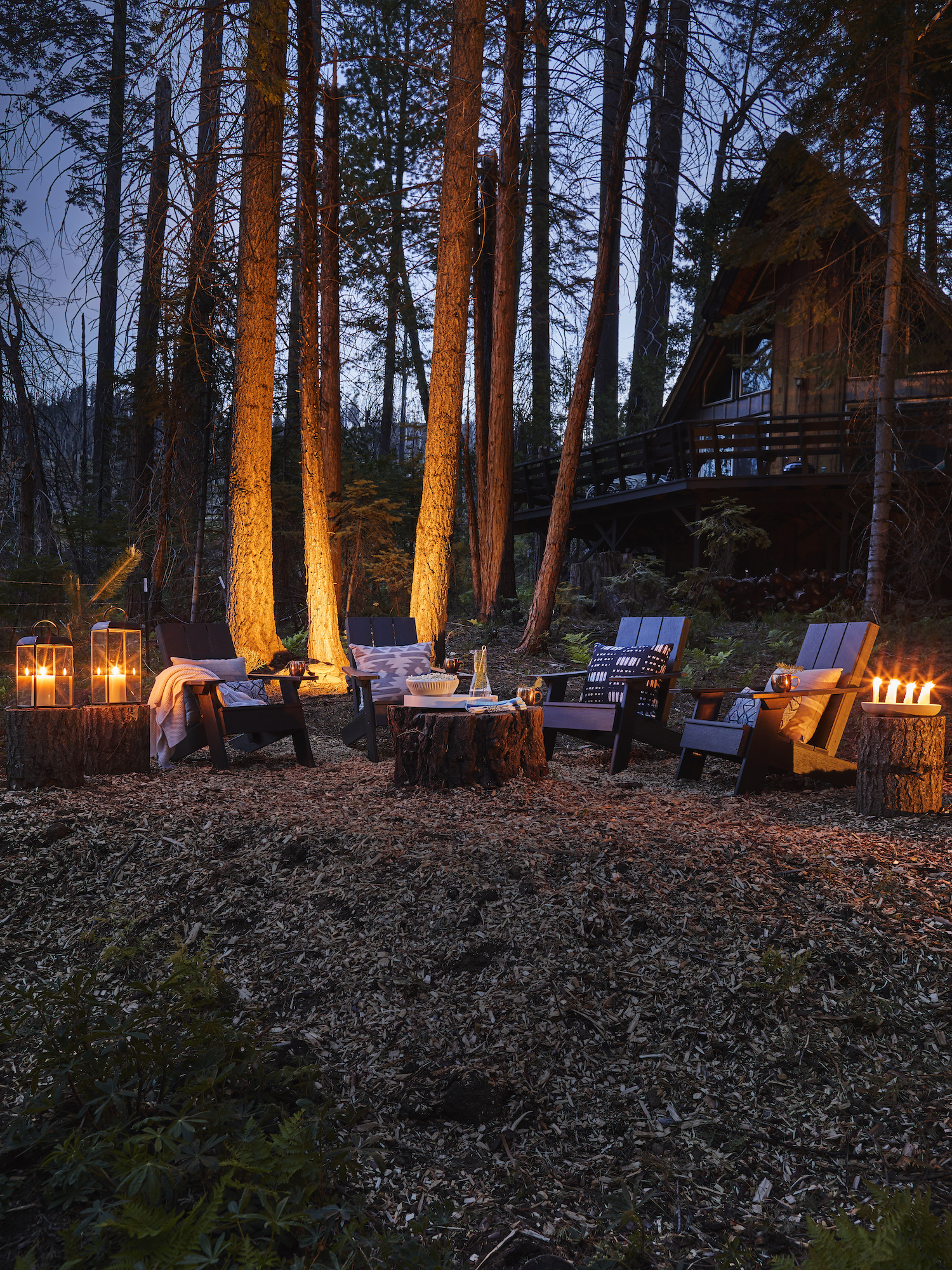 Photography by Sara Tramp
Sometimes when you step back from something and get a better view, you can see progress more fully than you can when you're up close and personal, in the trenches of a major project. That's how it's been with Londo Lodge. I've been so busy doing projects there to get it "photo ready" that it's been hard to see the huge amount of progress I've made. I bought the house in September 2020, moved in in October 2020, and lived there pretty much full time until June 2022, at which point I made an effort to spend more time in LA so I could socialize again and get into a healthier workout routine (turns out living in a big cabin in the woods wasn't the BEST thing for my physical well being).
One thing that's been a major light in the past year are the fun collaborations that have made furnishing my cabin (and my place in LA) a whole lot easier. For the purpose of this post, I'll be concentrating on the latest AllModern updates I've added around the cabin to freshen things up.
I get a lot of questions about what happens to furniture after I replace it. So here's the scoop there. Often, I'll replace things before they need to be replaced if it fits within a bigger brand collaboration I'm doing. For example, I just replaced my relatively new dining chairs with newer dining chairs. I didn't do this because I disliked the previous ones, I did it because A) I shoot my house all the time so having new pieces adds a new element so I'm not taking the same photos again and again and B) When I get something new it allows me to gift the previous pieces to someone else. I've been listing my gently used furniture for free on the local Facebook group and found nice homes for a lot of stuff I still love but don't have the space for.
For a long time I've had the rule that I give away something for everything I am "gifted." The reason "gifted" is in quotes is it's only really a "gift" if you consider my work, my time worthless. Companies will send furnishings to me so I can style them into a space and provide marketing materials. Essentially, I produce small batch commercials for brands. And the value of the furniture they send is part of the compensation for my work. So while it seems like influencers are getting a bunch of free stuff, it's not free unless you think the work that goes into producing the makeovers, photo/video shoots, and social media posts is completely devoid of value.
So while I give away almost everything I get from sponsorships, I do so less out of a feeling that I got it for free and thus should give it away for free and more from a feeling that it's something small I can do to contribute to my community (and meet my neighbors!).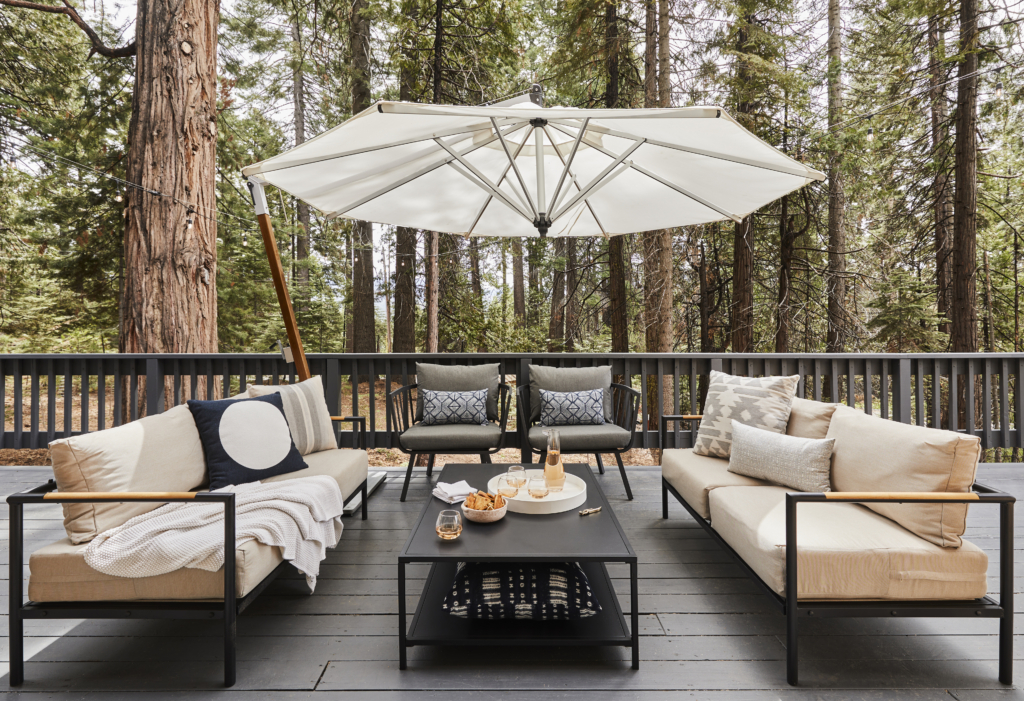 Shown Above: Loveseat (Similar), Coffee Table, Patio Chairs, Throw Blanket (Similar)
To get ready for this summer (and prep the house for vacation rental), I painted the deck with deck paint and added a seating area to welcome guests outside. This space sits directly outside the dining room so I oriented it to face inward and be open towards the sliding doors. This is typically only a space that gets used on weekends or when I have guests but having it set up out there every day reminds me that nature is right outside waiting to be enjoyed.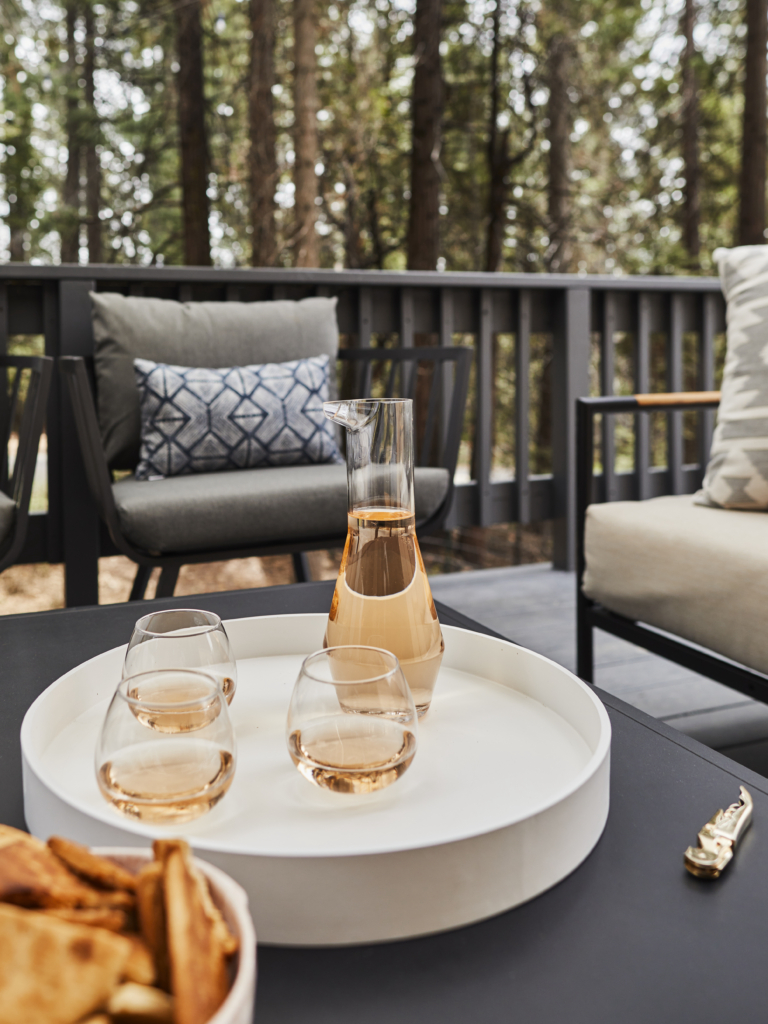 Shown Above: Wine Carafe
After a day of wandering around Yosemite I normally wanna decompress with some wine and snacks outside. I love this beautiful decanter and how much it elevates the whole experience of drinking wine outdoors. Little details like pouring wine into a pretty decanter make outdoor hosting feel a little more luxe.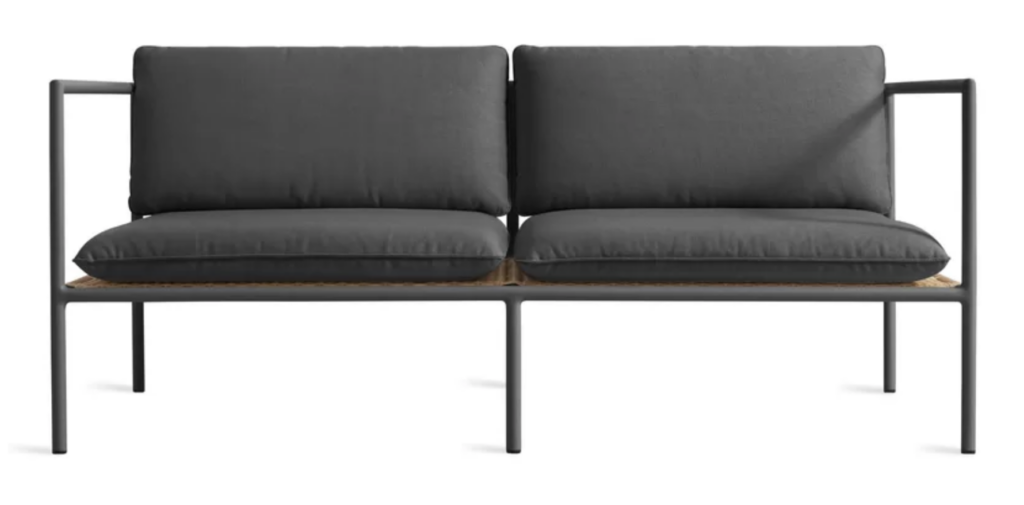 Shown Above: Loveseat (Similar)
The outdoor furniture is perfect for a lot of reasons. Firstly, it's lightweight enough that I can move it around myself. Second, the fabric is super durable and easy to clean.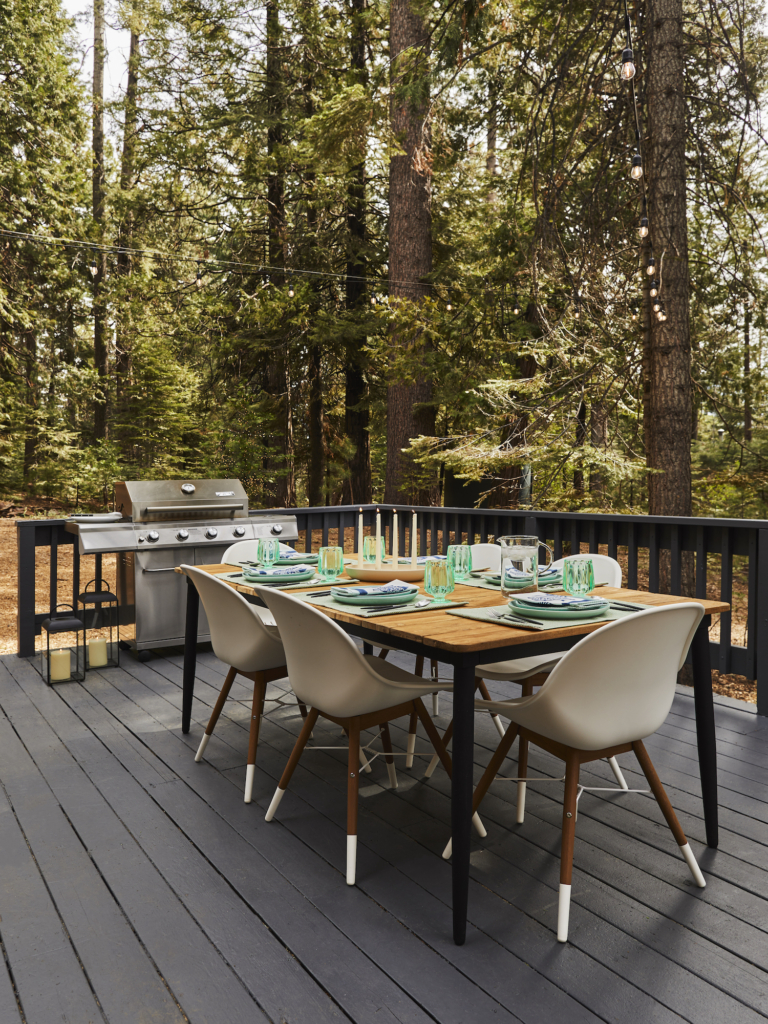 Shown Above: Dining Table, Dining Chairs
When I think about summers growing up in Yosemite Valley, eating outside is one of the first things the comes to mind. We used to barbecue in our backyard, simple stuff like salt and pepper chicken and grilled corn, and sit in our backyard in the shadow of Yosemite Falls, its rushing water providing the soundtrack for dinner. While the views from my deck aren't quite as dramatic, it's a space I used ALL the time even if I don't have guests. The table can sit up to eight people but for everyday I style it with six chairs and a more open look.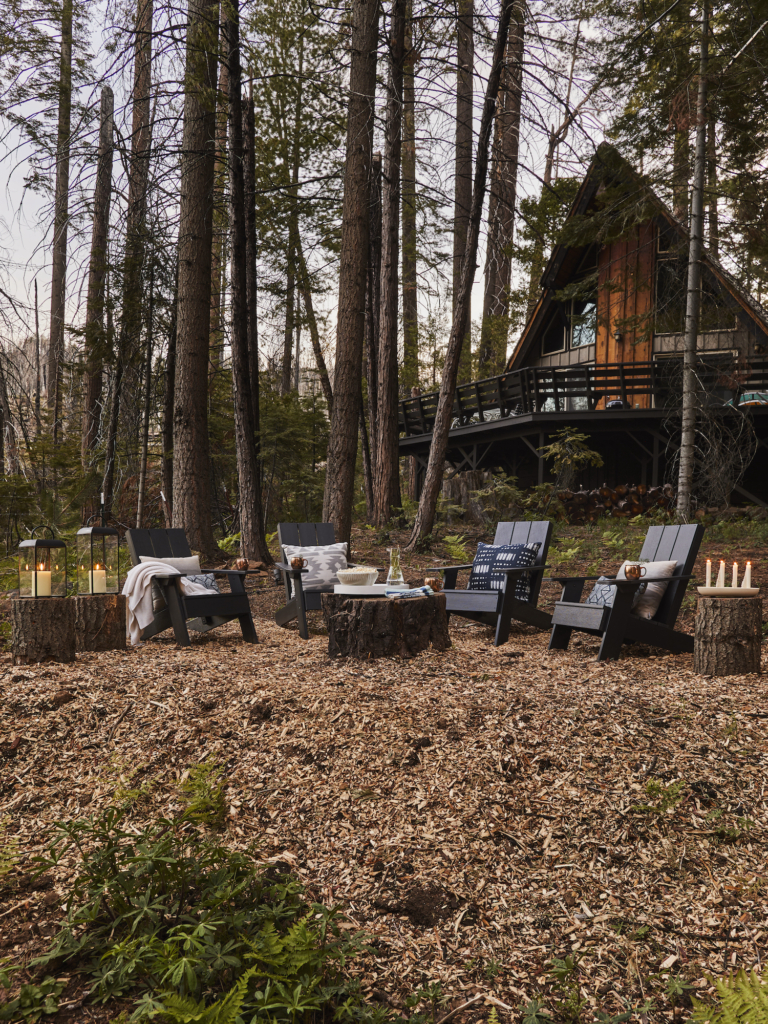 Shown Above: Modern Adirondack Chairs
There's a space behind my house I call "The Witches Circle" because it kind of feels like the perfect place for a group of witches to gather and plan their takeover of the world. Eventually, I want to add a wrap around deck to the house so this space will likely change over time. But to get it summer ready this year I added these Adirondack chairs and used a giant stump as a coffee table. I found the stump on my property when I moved in, along with a bunch of other logs and debris I've since cleared away.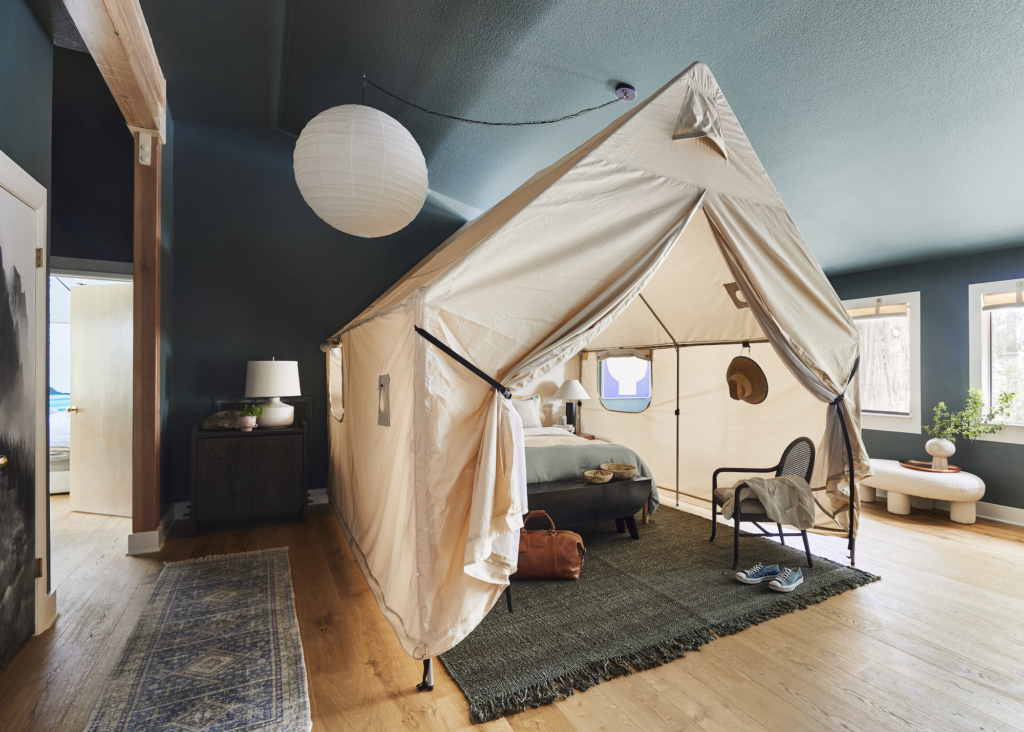 The Giant Weird Room is an upstairs space at Londo Lodge that's listed as "Game Room" on the architectural plans. It's a frustrating space because it feels a little like a waste. It's the biggest room in the house, the only one with such high ceilings, and it's really just a pass through to get to the bedrooms and gym upstairs. I thought about making it the living room for approximately ten seconds. But decided against it because 1. It's too far from the kitchen and I worried everyone would be in the kitchen all the time which would drive me crazy and 2. That would mean 2-3 bedrooms would have doors opening directly into the living room, a big no-no when you're having big family events and people are getting rowdy when you wanna go to bed. There are two bedrooms up there right now, the plan is to convert this space into a third bedroom/bathroom and maybe even convert the gym into a bedroom. Those plans are far off at this point, for now I'm just trying to get everything as comfortable as possible while also getting rid of as much of the dated 1992 elements as I can afford to.
For now, I've tried to make this space more usable by putting a giant tent in there for privacy. And as an added bonus for more sleeping space I added a sleeper sofa on the other side of the tent that doubles as a reading nook.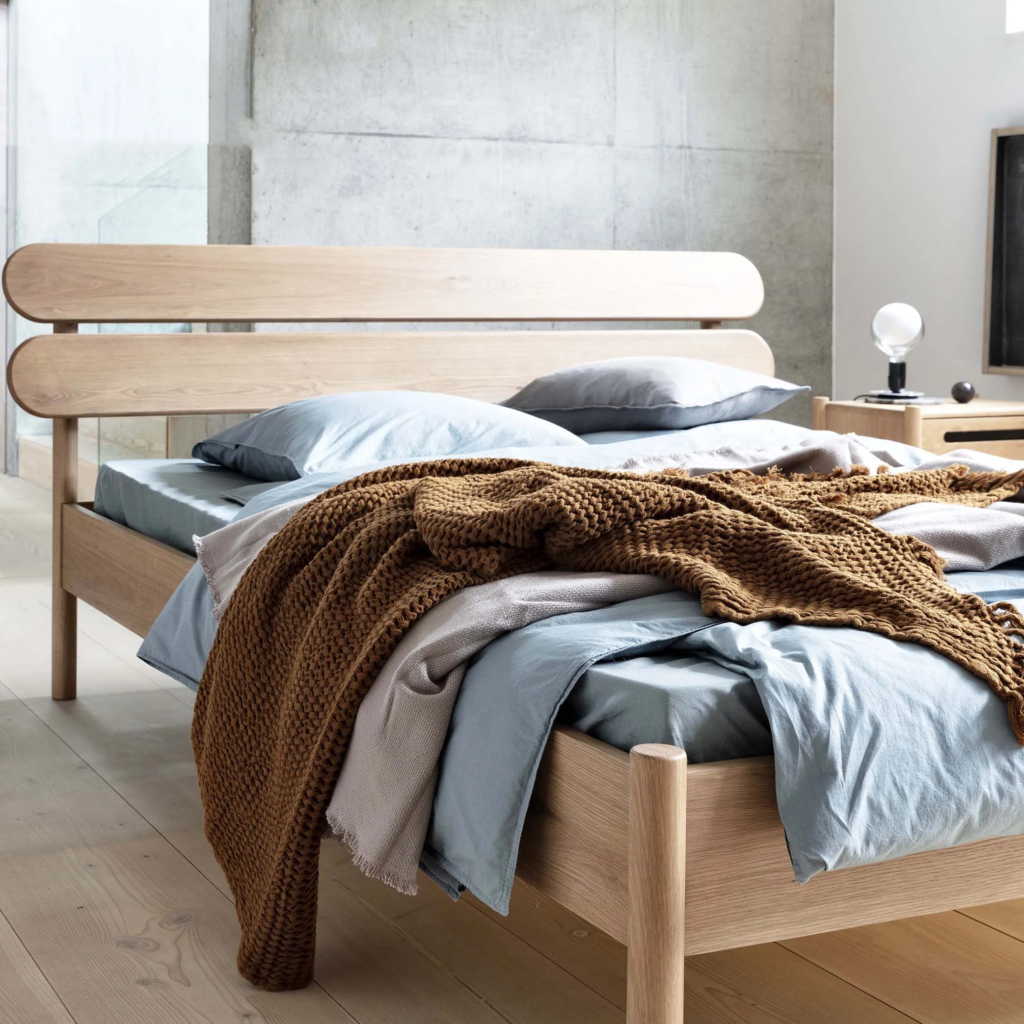 Show Above: Bed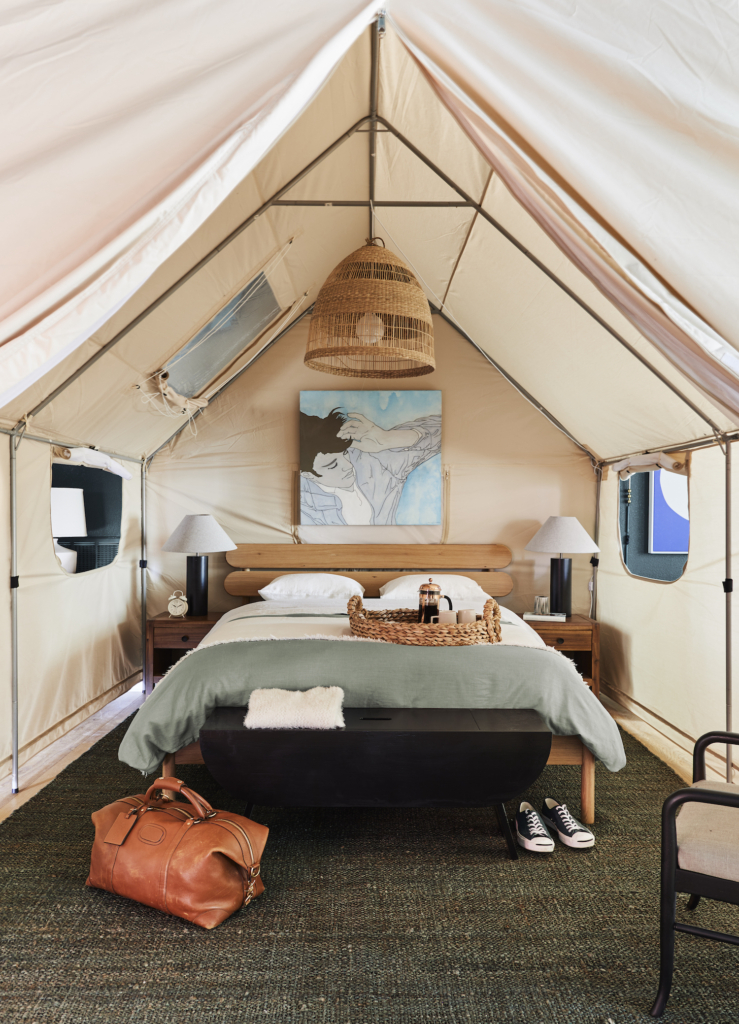 I absolutely LOVE the new bed in the Glamping Tent. I wanted something that had a bit of a rustic vibe but that was also modern and fresh. I want that space to feel woodsy but I also want it to feel cool so whoever stays in there doesn't feel like they've gotten a bad deal if they have to stay in there.
As far as the reading nook goes, I am fully obsessed with the ottoman I'm using as a coffee table. It looks like a happy little hippo to me. And it's easy to move out of the way should I want to make the sofa into a bed.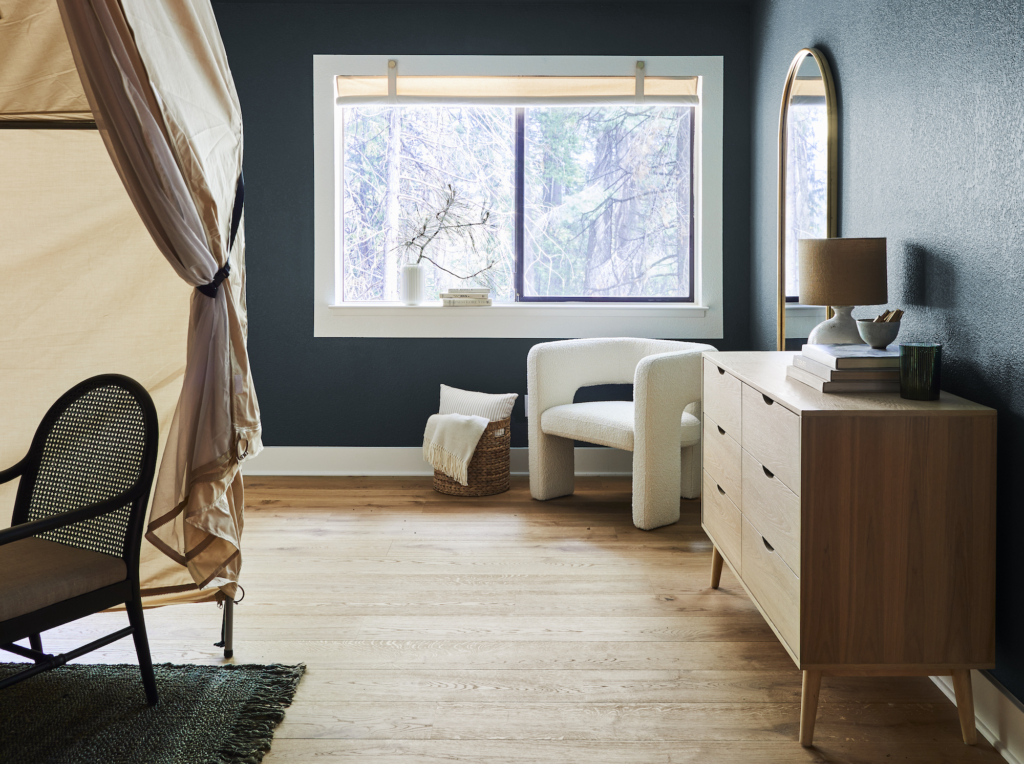 To make sure guests in the Glamping Tent have everything they need, I added a dresser on the wall opposite. I'm considering adding a decorative privacy screen so they can use the reading nook area as a little dressing space, which is why I put that pretty arched mirror on the wall next to the chair. I want this whole space to feel like a woodsy suite.
I liked that the headboard of this bed feels like a reference to skis or a snowboards. It's a small way to connect it to the rustic theme of the space without hitting everyone over the head with it.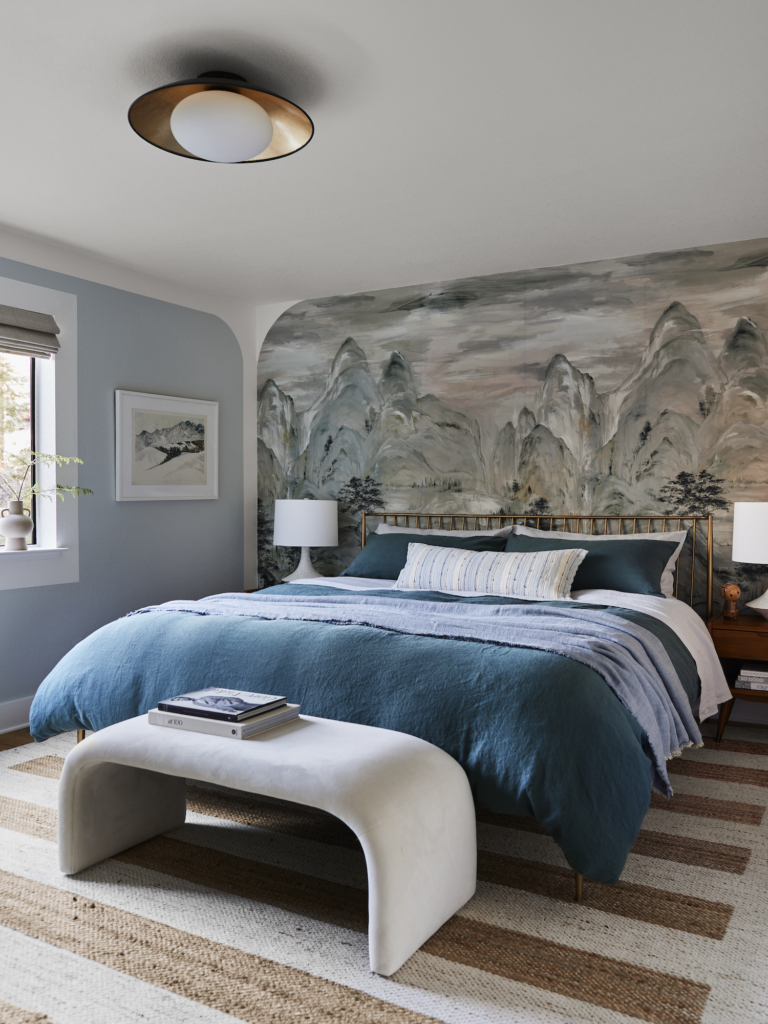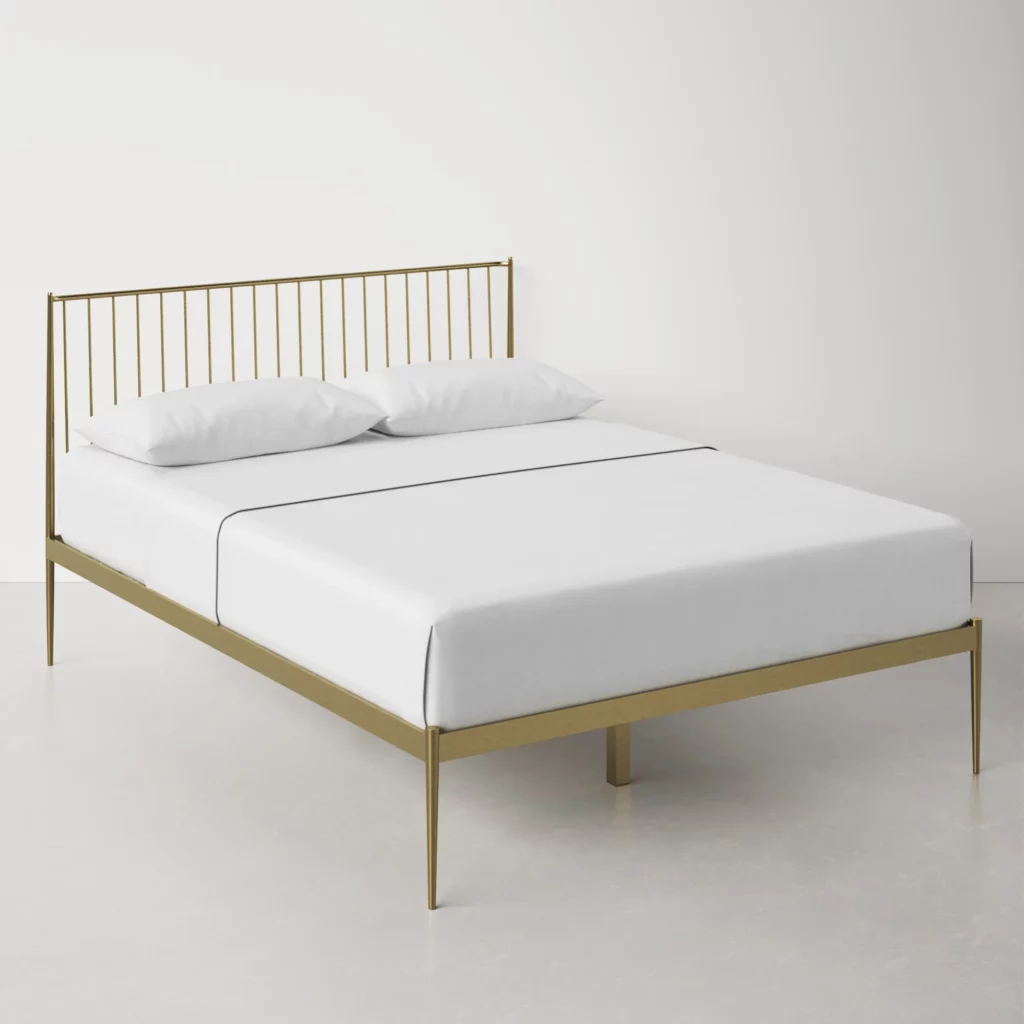 I also go a new bed for my parents' guest bedroom. I've been getting more and more into spindle headboards, both for practical and aesthetic reasons. Firstly, they're great for spaces where you have to put a bed in front of a window because they let light through. Second, they're great in spaces like this one where you don't want to block a focal wall. That wallpaper is so pretty I wanted to see as much of it as possible, so this bed is absolutely perfect for the space.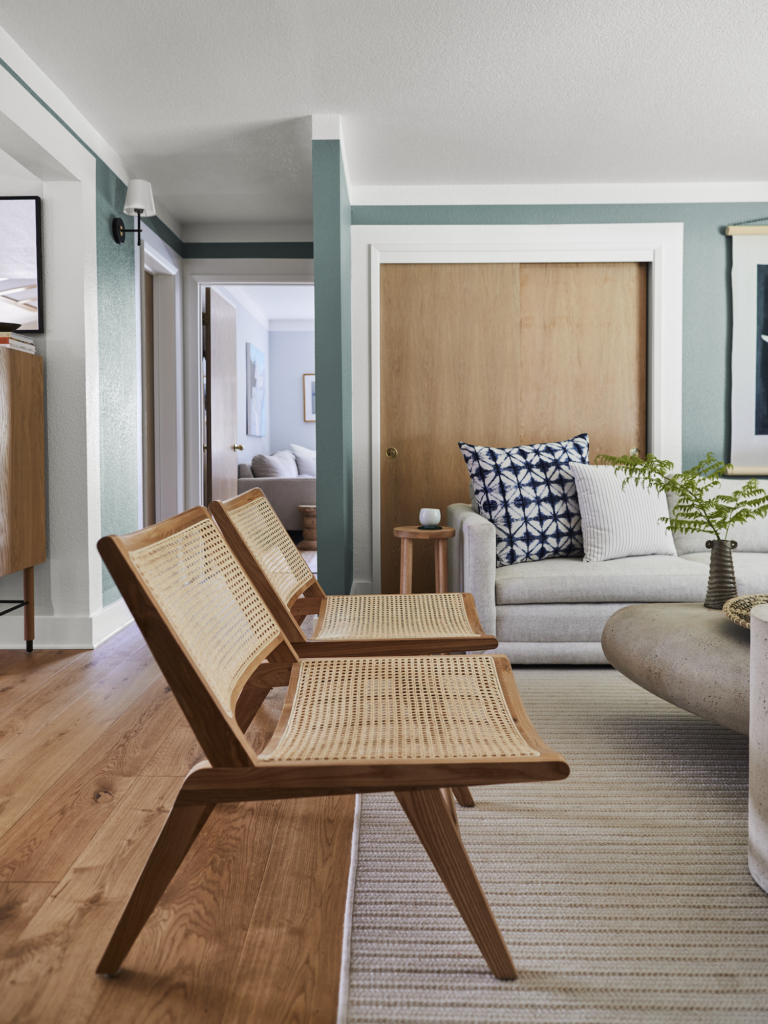 Shown Above: Cane Chairs
While there are many modern elements all of the home, I wanted to make sure it still felt warm. Mixing materials and making sure to include enough natural and woven elements is key to adding warmth to a house. So these beautiful cane chairs were a welcome addition to my living room.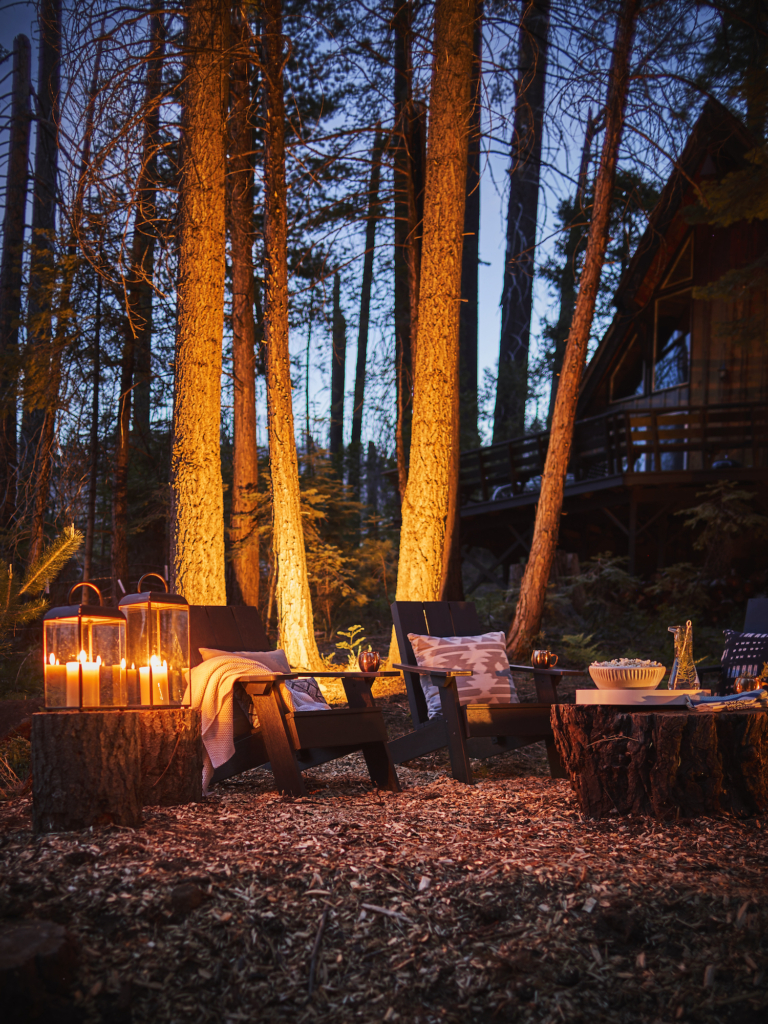 Shown Above: Modern Adirondack Chairs
A friend of mine bought me exterior lighting as a housewarming gift after installing it himself at his Palm Springs home. This outdoor uplighting is surprisingly easy to install. I did it myself in about an hour. But it adds so much warmth (and very practical light, it's pitch black behind my house at night!). Having outdoor lighting has made my backyard a lot more usable at night. It's the perfect place to go sit out and stare at the stars.
I've spent less time at Londo Lodge this summer than I have any time since I got it. It was time for a little break from the DIY projects I was doing up there as well as time to dip my toe into "normal life" (or as close as we can get to it at this point). But I'm very much looking forward to spending time up there this fall and I'm thankful I have all these fun updates to look forward to. My house is a work in progress and will never really be done but I love that it's a much more "presentable" place than it has been since I bought it.
A full home tour showing the before/after of the home is coming soon!
This post was created in collaboration with AllModern. See my favorite selections from their exquisite inventory of modern classics on my AllModern landing page!