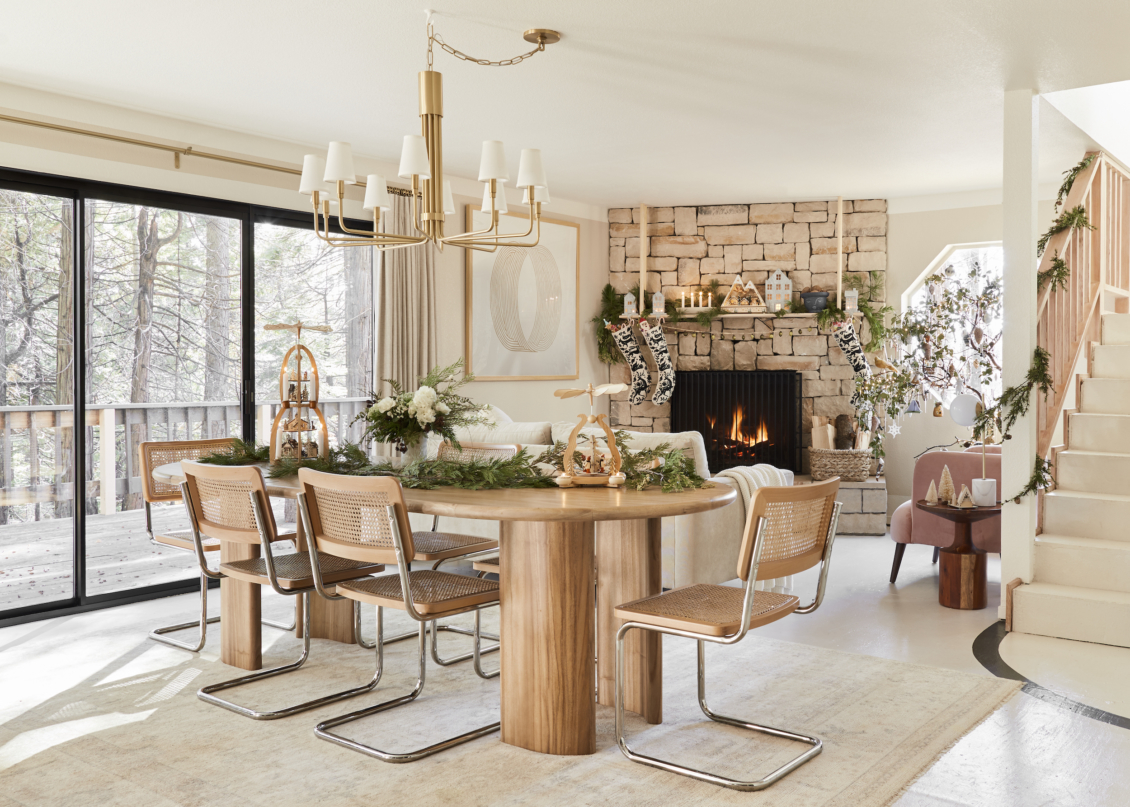 I started decorating my house for Christmas before Halloween. And I'm still not totally done! I've been all over the place, in LA, then at my parents' for Thanksgiving, then back to LA for the past three weeks. I decided to not even bother decorating my LA place for the holidays because I went so overboard at Londo Lodge (also, I'm spending most of December up at the lodge so decorating LA didn't make much sense). The only thing left to do at Londo Lodge is the outdoor lights, which I didn't have time to install before I left a few weeks ago and which I mainly do for my neighbors (it's more fun to come home to a neighborhood filled with twinkling lights). I'll get to that this week.
Last year, I really didn't decorate much aside from putting up a Christmas tree. And quite honestly even that felt like a LOT of effort because not many people would see it. It was so much harder to have visitors last year, before the vaccines. If anyone visited me I'd make them quarantine for a week before arriving and get tested for Coronavirus before heading up. At the time, I was also getting tested every week to make sure I wasn't putting anyone in danger. This virus seems to have been around forever, but at least looking back we can be thankful that things are a little more open and less scary than they were a year ago.
So this year, I really wanted to lean into holiday decorating and hosting. I wanted to go all out decking EVERY SINGLE hall at Londo Lodge. So I planned a party with Joey so we'd have a reason to do all that decorating. If I was going to the trouble of spending that much time making the house feel festive, I wanted people to see it! I spent the last few weeks of October finishing up last minute projects around the house (painting the giant weird room, etc) and beginning the decorating process. Joey joined me a few weeks later and helped a TON. And then my little nephew Camilo came for the party and insisted on decorating ALL the trees. So I definitely had some help getting this all together.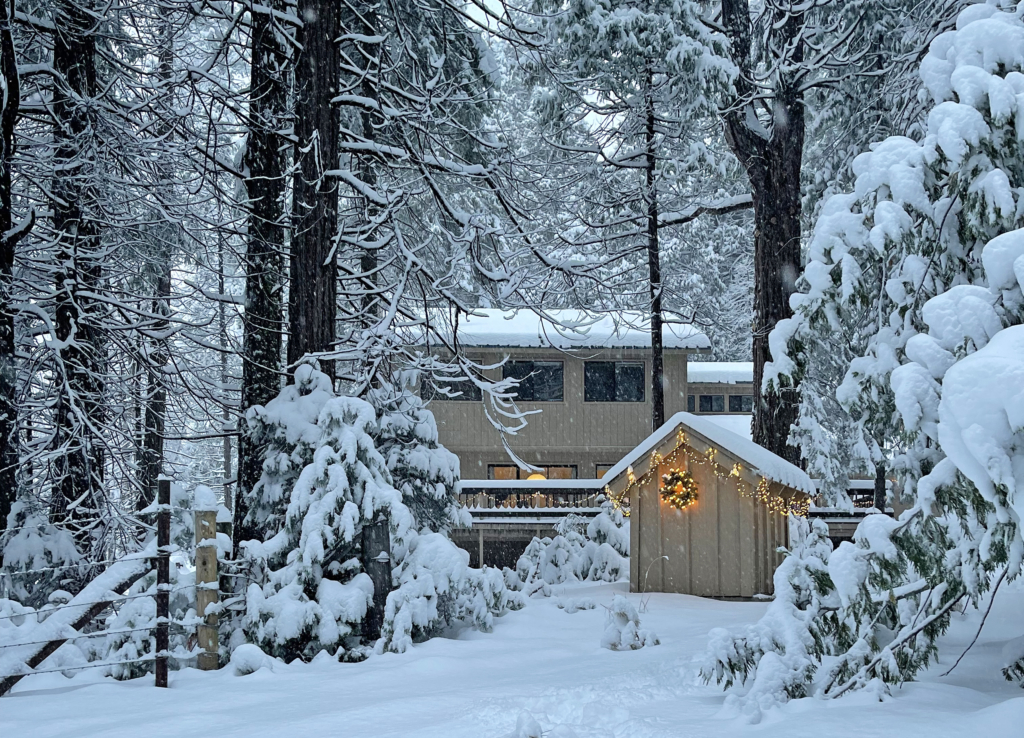 We haven't had any significant snow in Fish Camp yet, though I'm hoping it's a little more consistent and less apocalyptic than it was last year. If you remember, last year was BONE DRY until a couple gigantic storms came along and trapped me in my house without electricity, heat, internet, or water. I love snow. It was one of the reasons I bought in the town I did (most of the other Yosemite gateway communities are at lower elevation and thus don't get any snow). But I'm hoping this year we get more fun snow and less will-I-die-alone-in-this-house? snow. Now, onto the decking of my halls!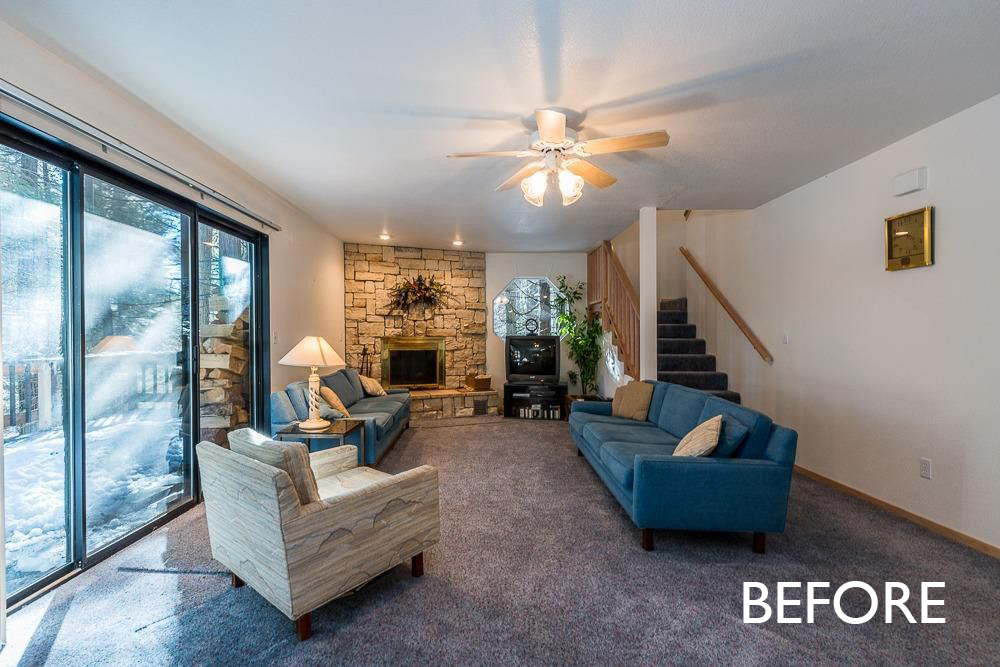 I'm breaking my holiday decor into a few different posts because there's a lot going on. Let's start with the dining room! As you may remember, this room was the living room when I moved in. And if you look at the way the furniture is configured in the pic above, you'll understand why I swapped the dining room and living room. Firstly, there's really no good place for a TV in here (as a rule, I don't do TV's over fireplaces and I definitely wouldn't have put it in front of the window). Second, there's not really a way to put furniture in here – you're either blocking a door or a pathway. Like a lot of decisions made in the design of this house, this room is perplexing. The room is labeled as "The Great Room" but this is a tiny living room for a house this big. Finally, I liked that moving the dining room into this space brought it closer to the kitchen and allowed the space to feel a lot more open and easy to pass through.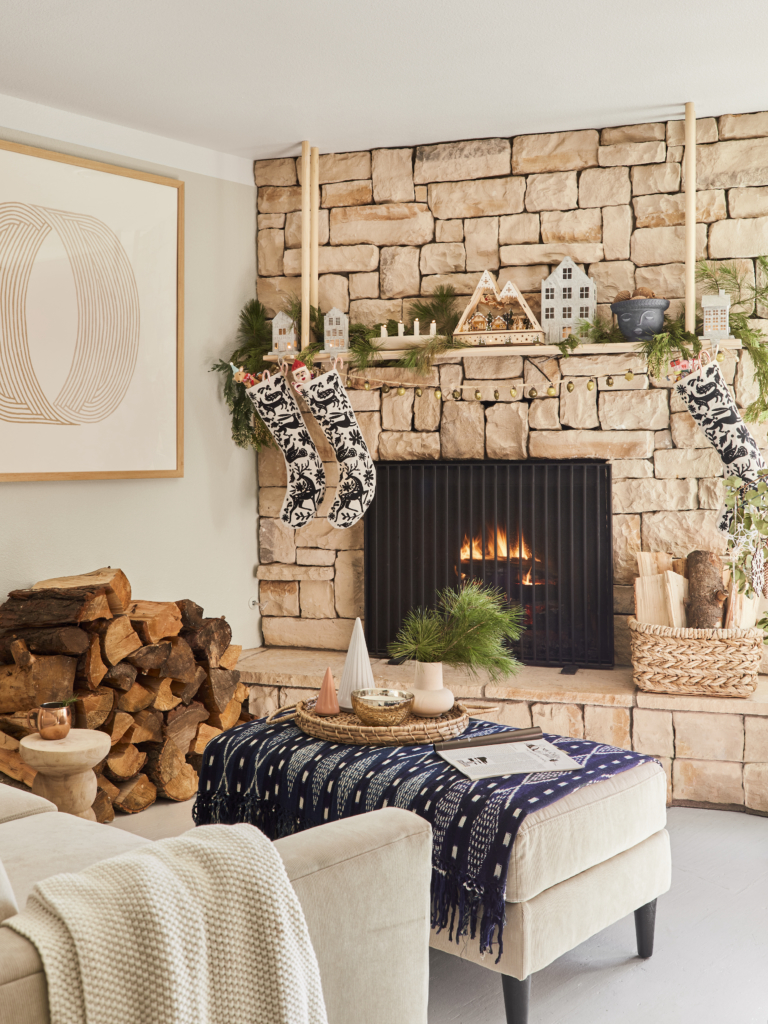 Resources: Wall Art by Heather Francisco, Moscow Mule Mug, Gold Candle, Woven Tray, White Ceramic Christmas Tree, Pink Ceramic Christmas Tree.
One of the first things I did when I moved into the house was rip out the shiny gold doors on the fireplace. I replaced them with a simple screen from CB2 (it's not available anymore unfortunately). One thing that drives me crazy about the design of the fireplace is that the fire box isn't centered on the wall (there's less space on the left than on the right). I remedied that imbalance by shifting the screen a bit to the right to make the whole thing look centered. My eventual plans for this room involve completely demolishing this fireplace and rebuilding it squared off to the wall (I am opposed to diagonal fireplaces in almost ALL situations). If possible, I'd love to reuse the stone because I love the color.
Because I plan to reconfigure this whole area, I didn't want to do anything too expensive or permanent to create a mantel. So I came up with the idea to do a super minimalist mantel made from a simple thin piece of finished wood and dowels. The dowels are bolted to the ceiling with anchors so the whole thing is petty strong (though it did wobble a bit while I was styling it). If you want to see me in action styling the mantel step by step, check out this fun video I made with Anthropologie (who provided a lot of the new holiday decor this year).
Resources: Stockings, Stocking Holders, Candelabra, Face Pottery, and Metal House from Anthropologie (some have sold out so may not be on their site anymore).
I'm lucky in that I can walk out my front door and get greenery any time I want. I have a lot of overgrown pine trees that could use a trim anyway! When weaving greenery together I like to start with big branches and cut down as needed to make them flow. If you plan on leaving it up a while you may want to use floral wire to fasten it in place. Floral wire (or any thing gauge wire) is actually one of the most useful household items during the holidays. You can do use it to prop up decorations that don't want to stand correctly or even make extra ornament hangers with it. In my experience some greenery looks totally fine when it's dried out and others less so. Because I live in fire country, I only light the candles when I'm in the room and can monitor them. And I made sure to push the greenery away from the candles as well as wire it down near flames so it wouldn't accidentally fall onto a candle. THIS CONCLUDES OUR LESSON IN FIRE SAFETY.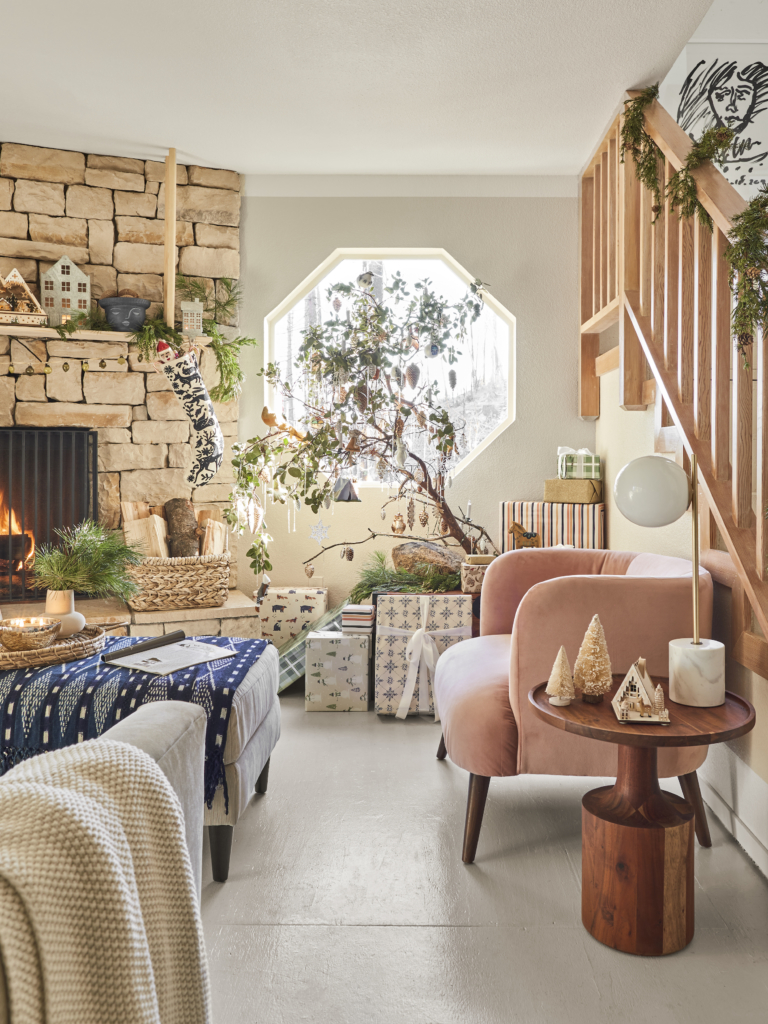 Resources: Chair and Sofa from Jonathan Louis Design Lab, Wood Side Table, Table Lamp, Woodcut House, Floor Paint Color 'On Point' by Clare, Candle Lights, Tree is made from a found Manzanita Branch.
The weeks leading up to the shoot were stressful as a lot of different sponsored projects I was working on had deadlines all at the same time. Simultaneously, I was seriously running out of money because I hadn't been paid for six months (don't ask, sponsored projects have been a nightmare the past two years because of supply chain reasons and because, quite frankly, I think a lot of people working for and with brands are over it so brands are taking forever to pay, like sometimes 6 to 9 months, which makes planning and budgeting extremely difficult). It's frustrating because I've actually made a really decent income this year but have found myself scrambling for money for months on end while I wait to be paid for things I did months previously (and already paid out people who have helped me like videographers, assistants, photographers, etc). Anyway, I'm bringing this all up to explain that I was trying to decorate my whole house with as little money as possible. Luckily I got a few things sponsored from Anthropologie and Furbish Studio. And almost everything else I bought to supplement was from Target and World Market and pretty affordable.
Another way I saved money was by using this random manzanita branch as one of my six trees. I wanted there to be a tree in every bedroom and living space. So I borrowed two trees from my parents, bought two inexpensive smaller trees from Target, used my vintage tinsel tree, and erected this random branch. We often had unconventional trees growing up, so this felt like a little nod to Soria Christmases Past. My life has definitely gotten a lot more rustic this past year, so I wanted this tree to have Camp Vibes. The ornaments are all themed around woodland animals, natural, and Yosemite. My mom even made a cute little tent ornament out of fabric. The manzanita tree was surprisingly easy to work with. I found this beautiful, lush branch laying on the side of the road after crews had been cleaning/cutting overgrowth to clear the roadway (because of the crazy winters up here, roads get covered in debris). I used extra long screws to attach it to a piece of scrap wood I had lying around then used a large rock I found in my yard to keep it from toppling over. It was pretty fresh when I did this so I have the feeling over the season it'll dry out and more of the leaves will fall off. Eventually, I'm hoping it turns silver and gets that pretty patina we're used to seeing on aged manzanitas.
When it comes to decorating for the holidays, I'm a firm believer that sometimes you need to rearrange your house. Most people don't just have a random place to put a tree. And trees take up a lot more real estate than they seem like they should. So I flipped my gorgeous Lulu & Georgia dining table to make space for a tree by the window while still maintaining a seating area near the fire. While I think the usual arrangement is a little more elegant than this, I thought this was a good compromise because it allowed this room to maintain its function as a dining space and a place to sit next to the fire.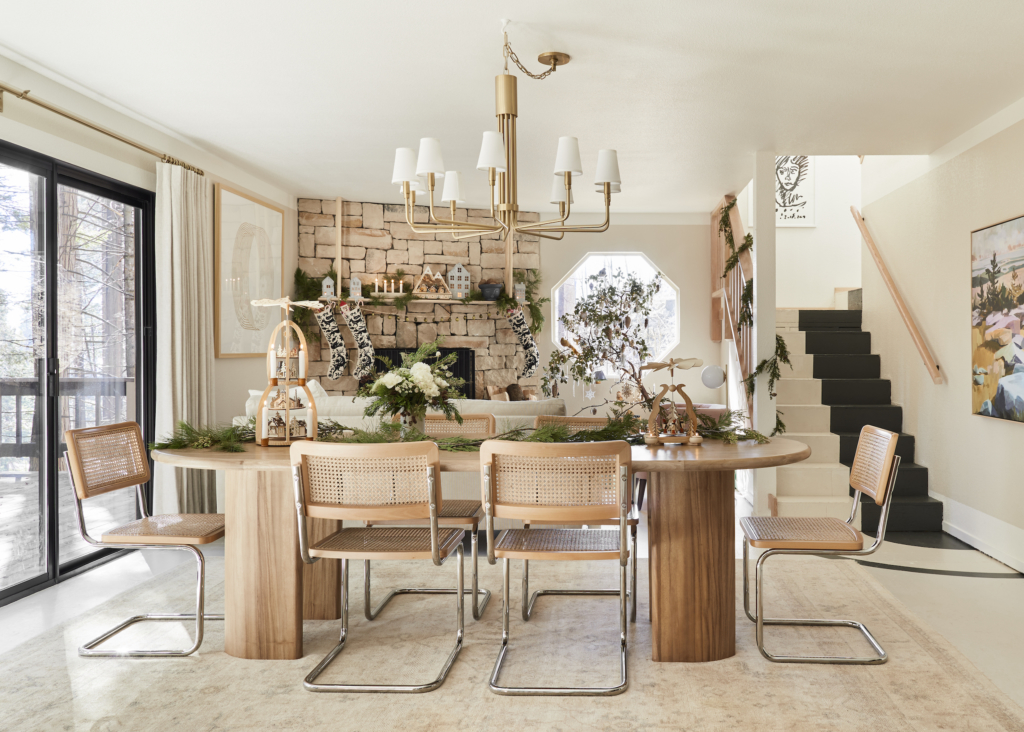 Resources: Persian Rug by Tufenkian, Dining Table from Lulu & Georgia, Dining Chairs, Flowers by Bonny Doon Garden Company, Mitzi Brigitte Chandelier (Shown with Lampshades from Amazon), Drapery and Hardware from Everhem, Wall Color 'No Filter' by Clare, Ceiling/Trim 'Whipped' by Clare.
The beautiful rug from Tufenkian was the inspiration for the color palette of the room. I love how subtle it is, the beautiful pattern, and how soft it is. In this room, I wanted to play around with a relatively neutral holiday palette. Lots of wood, ivory, beige, and natural finishes. In the old days, it was hard to find holiday decor in any colors aside from green and red. But there's so much variety now that it's a lot easier to create a sophisticated color palette that still feels festive.
I have a lot more Londo Lodge Holiday to show you! Stay tuned to check out the bedrooms, the family room, and the super fun Glamping Tent Room all decked out for Christmas!