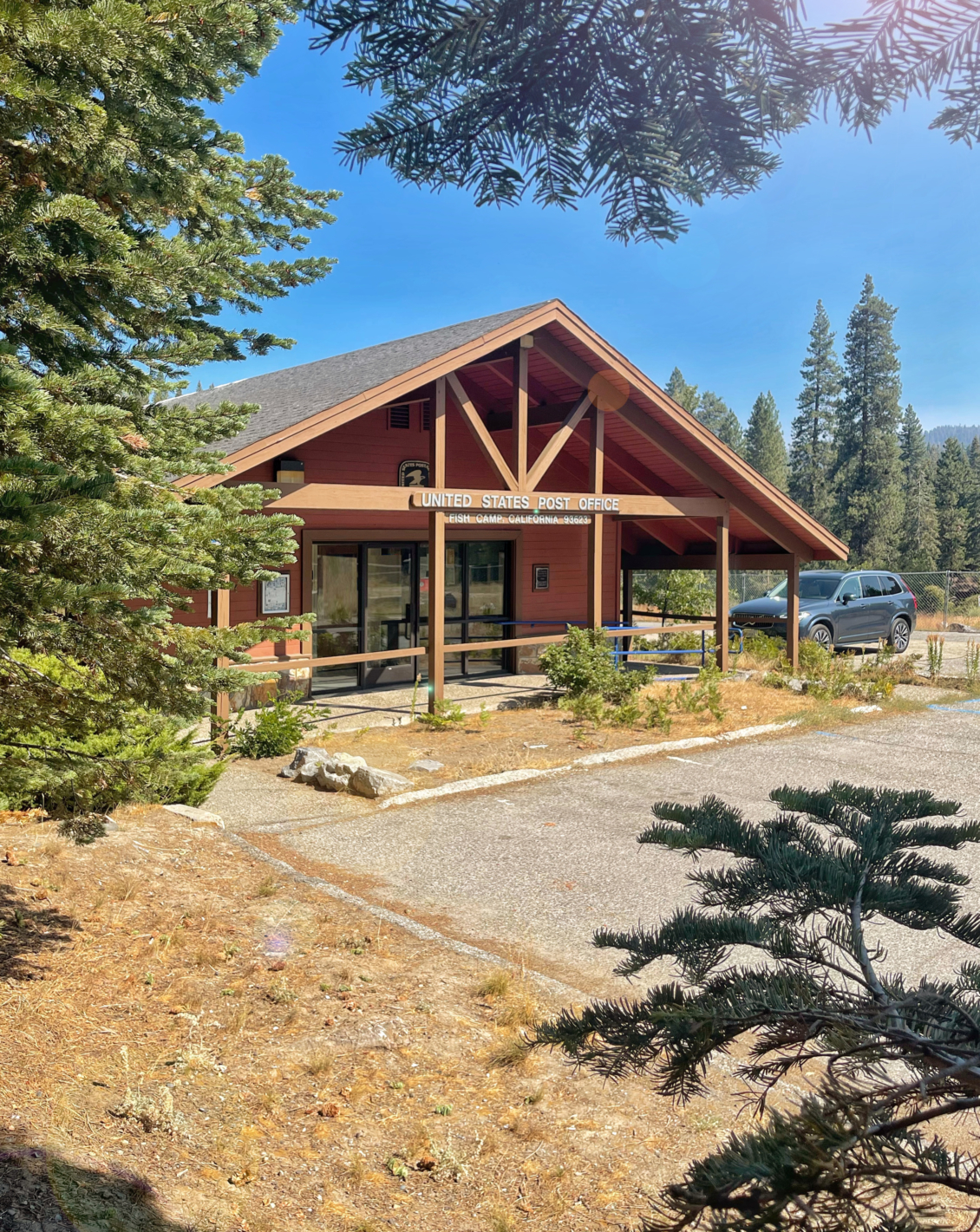 IMPORTANT UPDATE! Thanks to a wonderful local computer wizard named Jen, you can now link directly to the form, fill it out online, and send it to:
Fish Camp Post Office | 7733 Fish Camp Lane | Fish Camp, CA 93623
The PDF automatically calculates your total and allows you to request specific stamps in the notes area (if you don't specify which stamps you want you may get a call from our Postmaster, Dina).
There are many charming things about the small town I've called home for the past year. And the Post Office is definitely one of them. This Post Office serves the local full-time population (about 60 people including me), guests at the nearby Tenaya Lodge, and any Yosemite travelers who find themselves traveling through Fish Camp on their way into Yosemite National Park, the entrance of which is a little less than two miles from Londo Lodge.
We don't have USPS delivery service to private residences here so in order to check your mail you need to go into the Post Office, bring your key, and check your box to see if anything has arrived. This was exactly how the post office in Yosemite Valley, where I was raised, operates so there's something really satisfying about going to check for mail. I've used this post office so much for sending out Storelando merchandise, holiday gifts, random things I bought online for my family. It's an important community resource that the residents of Fish Camp love having.
So when I got an email telling me the Post Office would close if profits didn't increase, I was immediately worried. This post office has been here since 1939 – these buildings are part of our small town history and endlessly helpful for people like me who just moved to town. If you're not quite sure what to do about a problem in Fish Camp, you go to one of two places: the Post Office or the General Store. The wonderful staff at the General Store helped me figure out what to do with my trash. And just the other day when I started having issues with my well running dry, Dina (the Postmaster) gave me the phone numbers of people that could help me. There aren't a ton of community resources here so we need to preserve the ones we have.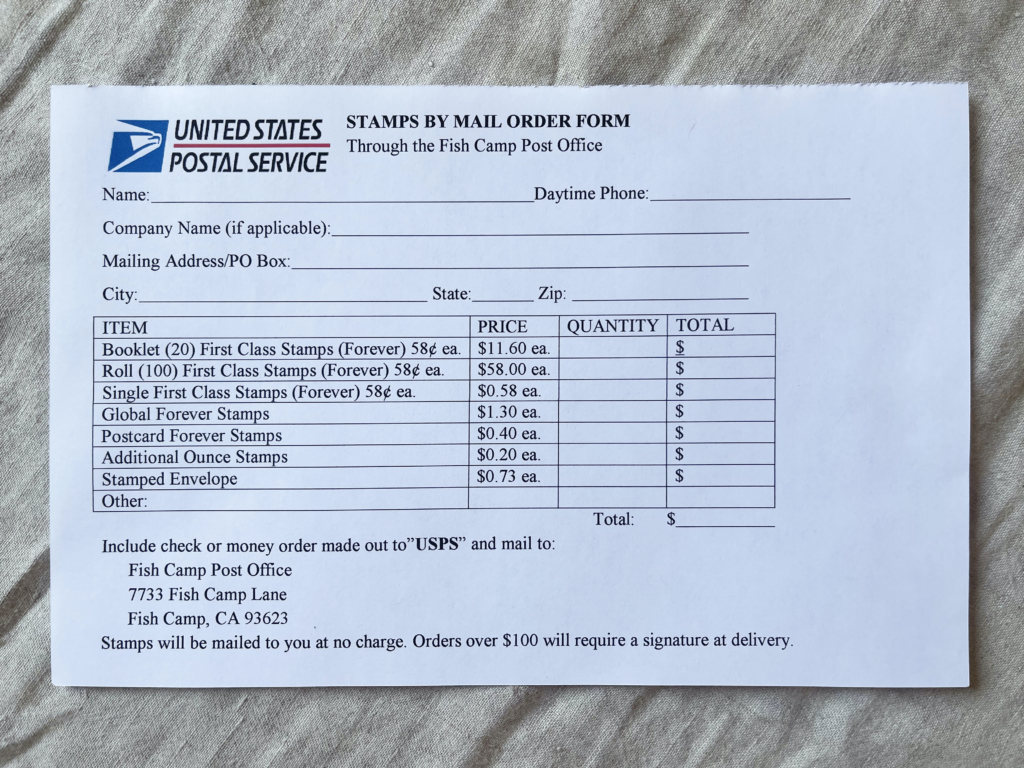 And this is where you come in! I need you to stop everything you're doing and support my Post Office! Here's how:
Download and print the order form
Order as many stamps as you can possibly imagine using in the rest of your lifetime
Include a check or Money Order
Postage is tax free so to figure out your total just multiply price by the quantity you're requesting
Stamps will be mailed at no charge
Send payment and order form to:
Fish Camp Post Office | 7733 Fish Camp Lane | Fish Camp, CA 93623
Any questions about ordering can be addressed by calling Postmaster Dina at 559-683-4815.
When I first heard about this issue I thought there must be some way we could support the Post Office more easily. But apparently individual Post Office branches don't have the tools we might think to use (such as: online ordering, being able to order via email, or accepting credit cards). So use this as an opportunity to use some old timey things like "check," "envelope," "order form" and "gorgeous USPS postage stamps." You can also purchase stamps in person (credit cards accepted on site) 8:30 AM – 12:30 PM Monday – Saturday at 7733 Fish Camp Lane, Fish Camp, CA 93623.
Share this with friends and help me save the Fish Camp Post Office!
Thank You!
Orlando
PS: Here is the order form in case you missed the ten million times I linked it above.