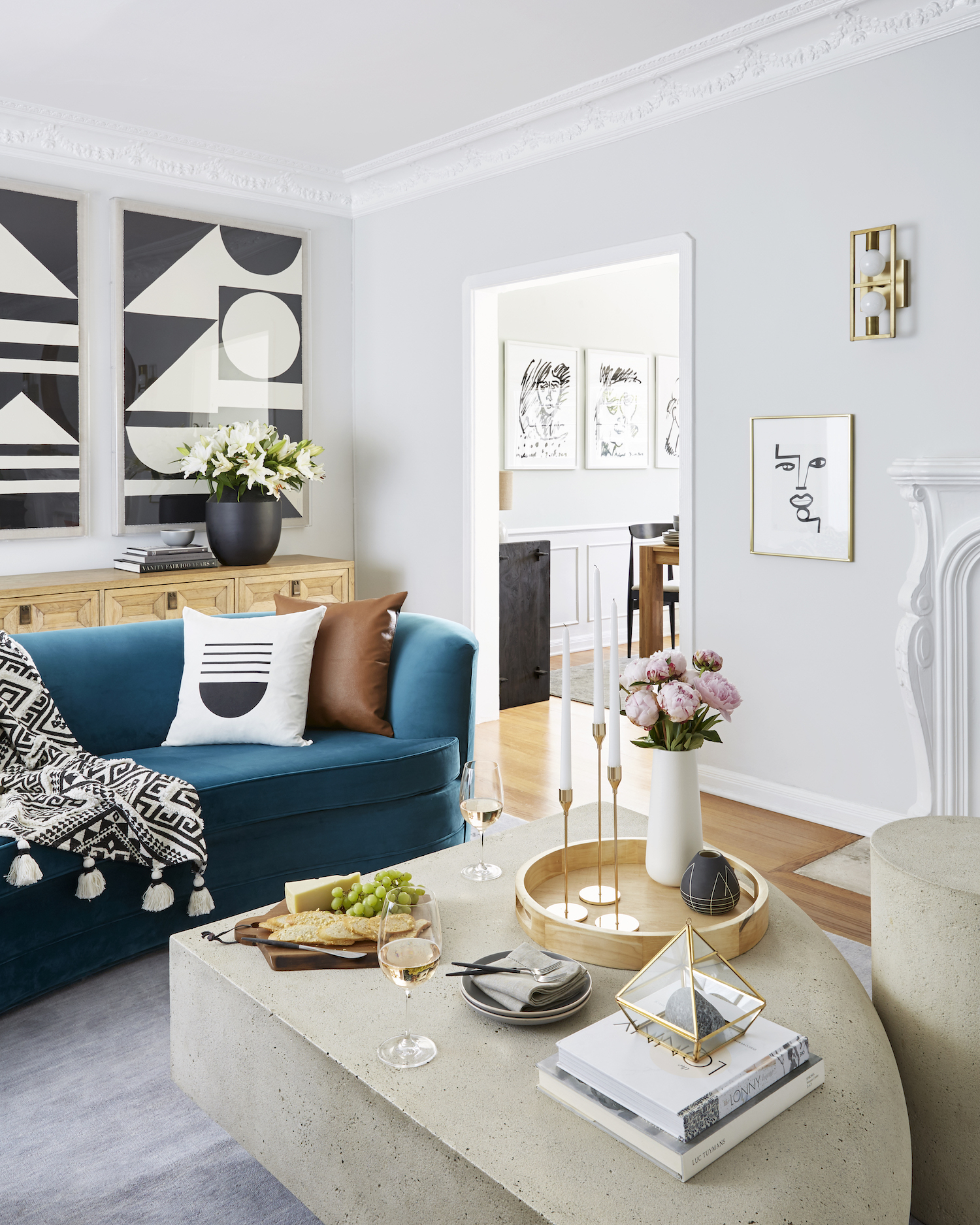 Photography by Zeke Ruelas
People think that once I've finished designing a home my work there is done. But something many clients don't anticipate is that over time their home's styling can fall off. Accessories get moved, things break, people give stuff away. Unless you live in a museum where no one touches anything, it's likely that you home needs some styling help from time to time. I tend to do this seasonally, as there are items and accessories I like seeing at some times during the year (such as earthy, seasonal leaves in autumn) that I don't want to see at other times. And I get calls from clients all the time asking me to come back and refresh styling at their homes.
I consider home styling and decorating to be a form of upkeep, kind of like cleaning. But for me it's also just a fun hobby, a way to play around with design without making any scary, big decisions that require too much thinking (if you don't like the way a vase looks you can always move it). So this summer I decided to partner with Amazon Home to change up the style of my home solely with accessories. 
Many people don't think of Amazon when they think home decor. But I was surprised to find an incredible variety of truly beautiful products, both from Amazon's private brands like Stone & Beam and Rivet and from their huge collection of makers. I decided to focus on my living room, dining room, and kitchen and I challenged myself to source all accessories from Amazon  Home (spoiler alert: it wasn't hard). 
Something that is key to home styling is experimentation. I've been working in design and home styling for years, but even so I still never really know what I'm going to love until I see it in person (this is why Amazon Home's 30-day/no questions asked return policy can really come in handy, though I didn't end up needing to use it). So my main piece of advice would be to keep an open mind when styling things like coffee tables, kitchens, and dining rooms. You never know what will work together and honestly sometimes the nicest looks come from trying things that seem crazy.
There are, however, a few styling tips that generally help people figure out where to start. Here are three easy rules to get you going: 1. Think about scale, 2. Mix up materials, and 3. Choose a color story.
SCALE
Not surprisingly, scale is important. You'll want objects that are small, medium, and large. In order to create a natural, eclectic look you have to have objects of different sizes intersecting with each other. Another tip I always share is that I've never met a surface that doesn't like a tray. Trays help corral items and create a sense of order to a surface. They're kind of do what a rug does for a floor, creating a sense of order in a world full of chaos. 
MIX UP MATERIALS
While scale creates overall balance, mixing it up material-wise makes sure your surface styling has a good balance of polish, warmth, and refinement. I like to make sure I include a variety of materials like wood, stone, ceramics, paper, lacquer, etc so a surface so it feels natural and collected (like me).
CHOOSE A COLOR STORY
Accessories don't necessarily have to be MATCHY MATCHY but they should be telling some sort of color story. Unless it's the holidays, I tend to keep my accessories pretty neutral. I like to bring in color in wall paint and art, so that means tabletop accessories should be a little more reserved color-wise. A benefit to using a lot of neutrals in tabletop styling (I like black, white, wood tones, stone, and grey) is that you can move items from room to room when restyling your house, as I like to do any chance I get.
Now, onto the updates I made at my place, Chateaulando…
KITCHEN
So, what did I do for my Amazon Home refresh? Let's start where I start my day every day. In the kitchen! Lately I've been missing clocks, so I started my kitchen refresh with this option from Rivet. I also upgraded my coffee game to a coffee maker that has a carafe instead of the typical kind that has a heating pad that eventually makes the coffee smell gross and burned.
My parents bought this Moccamaster for their kitchen and I've been enjoying using it on visits so I decided to get my own. The only accessory in this entire photoshoot that is not from Amazon are these mugs, which I bought at a thrift store. I have an unnecessarily large collection of white mugs.
I believe it is important for people to have coffee making options for ALL different times of the day. For example, in the morning it's clear that everyone needs to drink an entire carafe of Moccamaster-made coffee by themselves, whereas in the afternoon it's clear that drinking more than one cup of coffee would be absolutely preposterous. That's why I snagged this cute and tiny pour over coffee maker. It's like a Chemex for a baby and it allows you to brew just one cup at a time (and uses a lot less coffee than a full size Chemex).
I think it's important for you to know that I ate all these muffins by myself after the photoshoot even though I pretended I totally was not going to in front of my photographer Zeke, who is a former dancer and only has carbs when it is a full moon on February 29th during a leap year.
See full kitchen resources on my Amazon Home Store.
DINING ROOM
My dining room is pretty much ready to go, but needed a little help in the serving department. So I snagged some INSANELY ELEGANT plates that were an inexplicable deal (12 piece set for less than $70). I bought them because I've been looking for high-quality, matte finish ceramic plates with a California coastal chic vibe for a long time. One of the things I like about Amazon Home is that they have some pieces of the handcrafted/high end variety as well as some great accessible options like these. There's something for everyone!
I've actually had this gorgeous Cutipol silverware for years but was excited you can now find it on Amazon (it was impossible to find when I got it). The simple, modern black tray comes in handy when actually serving dinner, bringing out dishes.
See full Dining Room Resources on my Amazon Home Store.
LIVING ROOM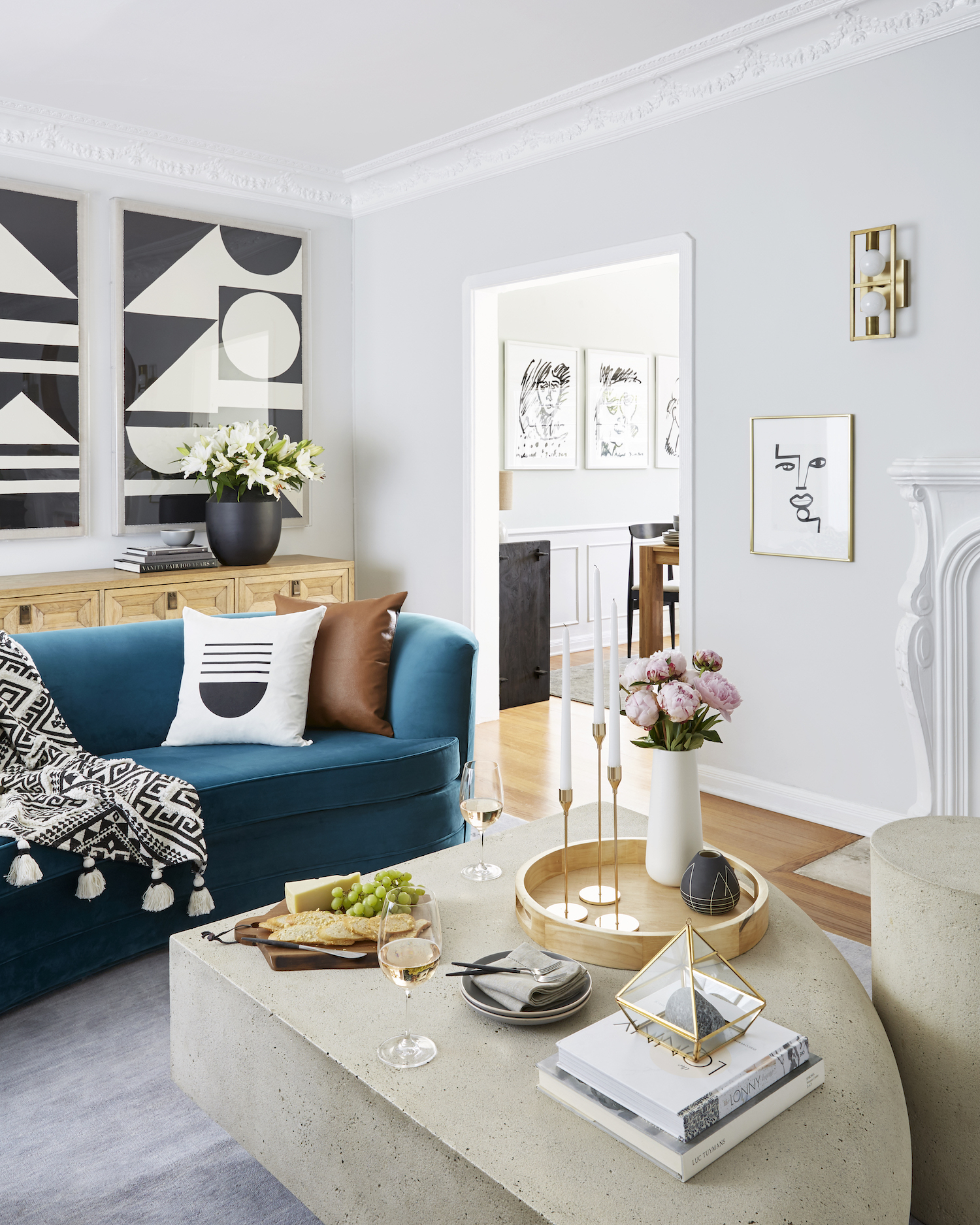 My crazy, vintage coffee table got a little refresh with all-new Amazon Home accessories. For surfaces like this I always start with a tray. For this coffee table, since it's such an odd shape, I normally go with a circular tray. Circular trays can be a bit more forgiving for those of you out there with oddly shaped coffee tables.
It's summer, so you're likely not very cold, so during this time of year you don't need to be very practical with choosing a throw. I love this patterned cotton throw by Rivet I found on Amazon Home because it adds some movement to my sofa without clashing with the beautiful peacock blue velvet. I also loved these beautiful graphic pillows, which look like the come from a super glam Silver Lake hipster store and cost hundreds of dollars but are only about $20 each (they come in sets of four).
Not sure what to throw in a terrarium? How about a river rock? A lot people like these little accents but aren't sure what to put inside them. Best bets are always an airplants, succulents, or some sort of tiny artifact. Or, if you don't have any of those just throw a pretty rock in there. I think I found this one at Fire Island and it looks all the more important in a little terrarium.
As I mentioned before, scale is an important element of tabletop styling. I loved how these brass candlesticks added some height to the coffee table. And with the addition of the white candles, they're just the right height to go with the vases and flowers on the tray. A good rule of thumb here is to make sure your objects are varying heights. Having two items exactly the same height next to each other will look unconsidered.
I love hosting a good old fashioned wine and cheese party (I just had one last night). And you'd be surprised at how easy it is to impress people with a simple cheese board. People think I'm a genius for throwing together charcuterie plates and meanwhile I'm like ALL I DID WAS THROW CHEESE ON A BOARD. The lesson here is that having glamorous serving pieces helps. That's why cute cheese boards like this rustic one I found on Amazon Home make a world of difference to your hosting game.
See full Living Room Refresh sources in my Amazon Home Store. 
So, there we have it! A simple and easy summer update using on accessories from the beautiful collection at Amazon Home. I was pleasantly SHOCKED at how quickly everything came. I have Amazon Prime, so shipping was extremely fast (and free, even on furniture!). Some items came the day after I ordered them (a totally delightful surprise for anyone who likes instant gratification as much as I do). Also, one very handy thing I discovered about furniture delivery is that not only is it free, you can also have items delivered to whichever room you want (which is a big deal if you live alone and don't have someone to help you schlep a sofa into another room). And because it's Amazon you have a one year warrantee on furniture, which is a big reassurance when buying large pieces online. There's a lot to like about the whole shopping process on Amazon Home, which was why I enjoyed this little update so much!
If your home is asking for a style update, you can explore yourself using their App's search tools (my favorite allows you to see furnishings in your space in real time) or their good, old-fashioned website. And make sure to check out my ideas and product selections in my Amazon Home Store. Okay bye!
The post was created in collaboration with Amazon Home. Ideas and opinions are genuine and my own.