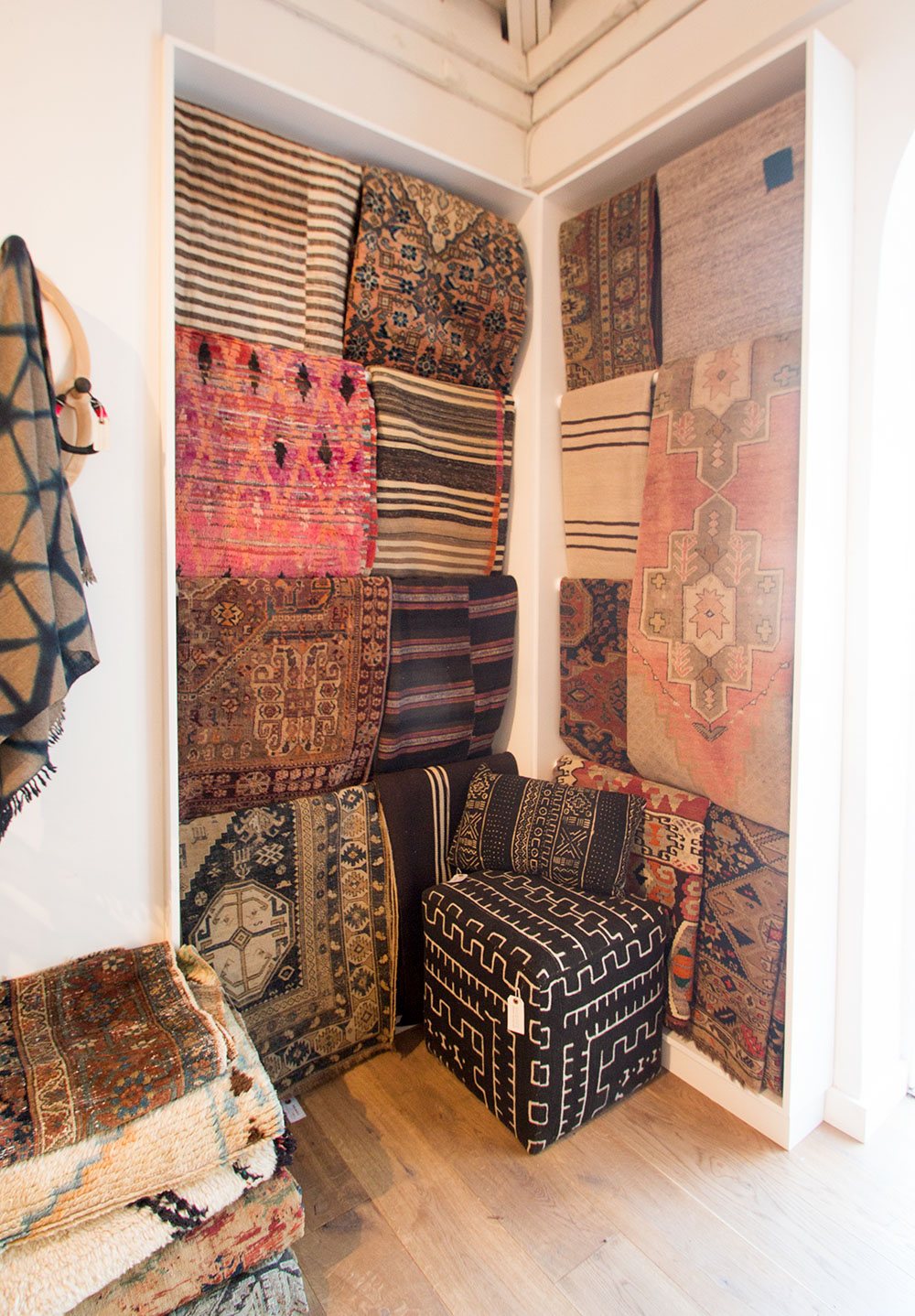 Photography by Jess Diab and Amber Interiors
Dear Design Diary,
If you're a designer or a design enthusiast with an Instagram account, a computer, a phone, eyeballs, and any combination of the aforementioned, it's literally impossible to avoid the beautiful, beachy work of Amber Lewis, founder of the Amber Interiors blog, principle of her own design firm, and businesswoman extraordinaire. When I found out she had a shop, I knew immediately it would be one of those painful stores where you go in and just want everything. And so when I sent Hommemaker Editor Jess Diab on assignment to check it out, I wasn't surprised when she returned with gorgeous photos and titillating tales of treasures untold.
Located in glamorous Calabasas, Amber Interiors Shoppe has the beautiful, bright aesthetic you might recognize from Amber's interior design work.
Coco Hanging Chair in Black
A true fact about me is that I've been searching for a giant ceramic bowl. Luckily, the Shoppe is here for all your giant bowl needs. As well as your gold flatware needs. And your geometric wooden spoon needs. It's annoying/thrilling when a store reminds you how many needs you have.
One of my favorite things about the store is that it has items a variety of price ranges. I hate it when I go into a store and everything is a million dollars and there isn't one thing I can afford. I prefer stores like this, where even if I can't afford the $5000 chair I can afford some small pottery or a great book. LET THIS BE A LESSON TO ALL SHOPOWNERS TO BE INCLUSIVE. There's money to be made, even from us non-billionaires!
Products: (1) Coffee Table Book, (2) Domino Set, (3) Rattan Ottoman, (4) Brass Wall Sconce, (5) George Coffee Table, (6) Collins Bench, (7) Pop & Scott Planter, (8) Rattan Chair
I'm an ambassador for American Express' Shop Small for 2x Rewards Campaign this year, and they're encouraging people to support small businesses like Amber Interiors Shoppe by offering  more rewards on purchases made with an enrolled American Express Card between now and the end of the year. Everyone wins: you support a small business, you get great rewards.v
I'm loving this large scale shelving unit and ALL the pillows inside it!
Oslo Matte Gold Cutlery Set
It's small details that make Amber's custom line of furnishings special and interesting. Like the way this cushion loops onto this headboard.
I worked in retail for a million years, so whenever I go into a store I tend to fix their displays, straighten things up, and style them. It's a habit I can't escape. I wouldn't mess with this shelving though, everything looks perfect.
The Lounger Daybed in Natural
Shown: (1) Teddy Hook, (2) Cedar + Sage Candle, (3) Mali Wallpaper, (4) Oval Mirror, (5) Ava Wall Sconce, (6) Moroccan Bendaoud Throw, (7) Blue Striped Pillow, (8) Vintage African Pillow, (9) Anderson Side Table
Shown: (1) White Dipped Serving Spoons, (2) Wood Bowl, (3) Black Dinnerware Set, (4) Brass and Copper Bowls, (5) Matte Gold Cutlery (6) Navy Striped Hand Towel, (7) Wood Serving Trays (8) Ceramic Mug, (9) Spanish Glassware
If you know me and feel the need to buy me something, consider the above my Christmas list. So many good things crammed into one store. To learn more about Amber Interiors, check out her interior design work and her blog. If you can't make it to Calabasas, you can shop online. And above all, don't forget to support the small businesses you love this holiday season and treat yourself to more rewards thanks to American Express.
Love,
Orlando
This post was created in partnership with American Express.