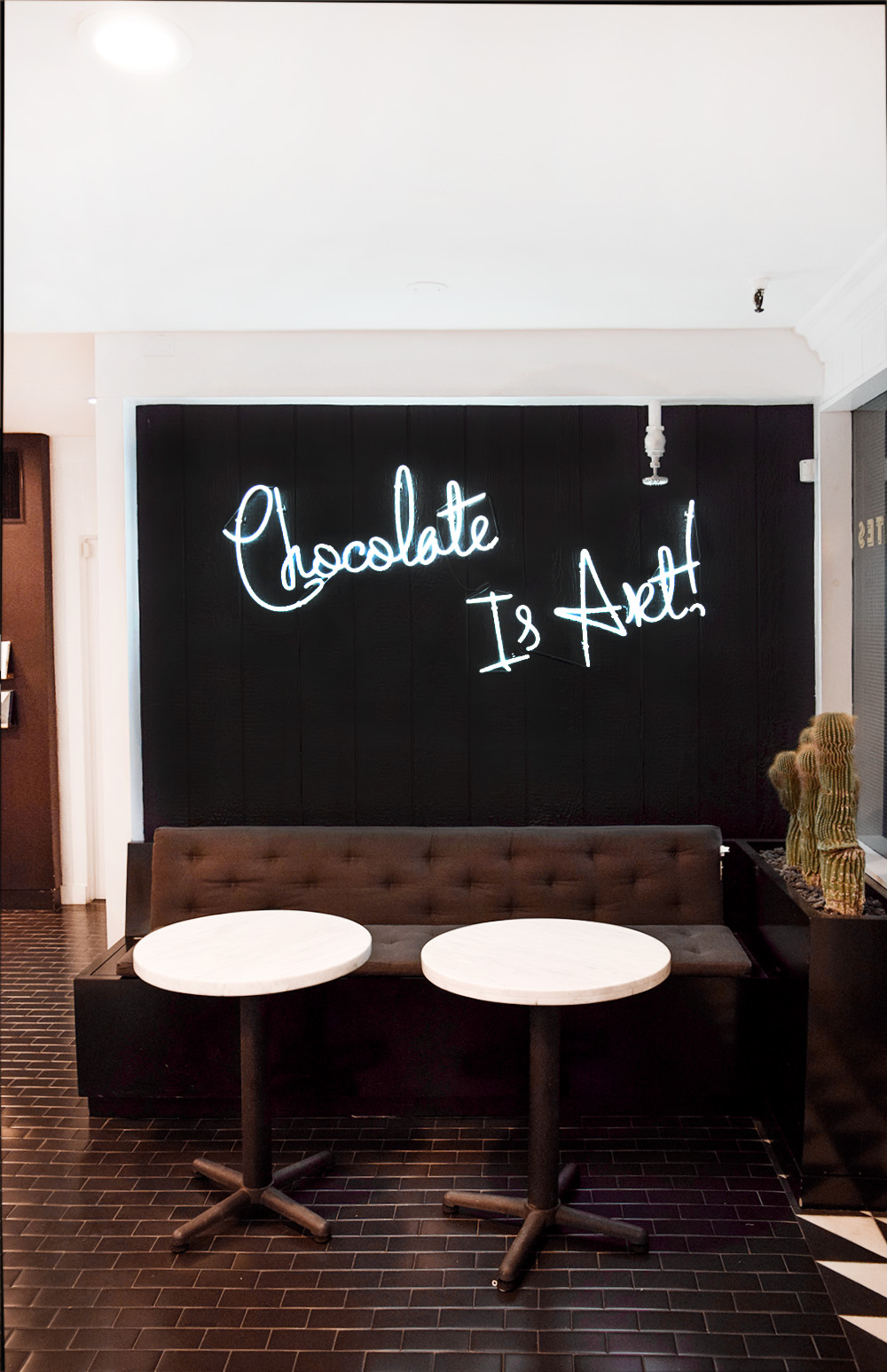 Dear Cathy the Cartoon and Other Chocolate Enthusiasts,
It seems like every day is designated as some sort of holiday honoring a food, group of people, cause, or fictional character. For example, did you know that February 22 is National Margarita Day? Or that June 2 is National Doughnut Day? Or that August 20 is World Mosquito Day? I can't believe that doughnuts and margaritas only get the U.S., but mosquitos are honored worldwide. So rude. I'm personally not a huge fan of mosquitos, but I am a fan of chocolate. So when American Express invited me to choose my favorite local chocolatier as part of their #ShopSmall campaign, I was excited to get to work researching the best choco in town.
I've been fascinated with Compartés since I came across their shop a few years ago, but I had no idea the company had a rich LA history or that it's still completely based here. The company dates back to 1950, when celebs like Marilyn Monroe and Jackie Kennedy used to CHOW DOWN on their delicious confections. The company was reinvigorated ten years ago when Jonathan Graham, who was essentially a child at the time, took over the brand. (He was 21). He's infused the company with a fashion-inspired sense that incorporates seasonal offerings and collaborations with style powerhouses like Kelly Wearstler.
While the chocolate from Compartés is undeniably delicious, I gotta be honest, what really wins me over is the design of everything the company touches. From their beautifully designed store fronts in Brentwood and West Hollywood to their insanely beautiful packaging, every aesthetic element is considered. I'm particularly obsessed with the company's logo, which feels modern and deco at the same time.
The chocolates are made from chocolate sourced from South America and local farmers market ingredients. Jonathan and his chocolate artists are very creative with the type of bars they create, often incorporating elements like cereal, whole cookies, and fruit into their creations.
The shops have a stylish, vintage-meets-new-age look. They feel edgy yet warm and welcoming. Their Brentwood location has a beautiful classic vibe while the West Hollywood location is a bit more mod, designed by Kelly Wearstler.
Flamingos, pink elephants, palm trees? COUNT ME IN FOR ALL OF IT.
Like you, Compartés products are beautiful, INSIDE AND OUT.
Instead of creating a boring wall of shelves, Compartés created a wall installation that turns their chocolate bars into a work of art.
There are literally cookies ON TOP OF THAT COOKIE.
If you need me I'll be sitting on the floor of my bedroom closet, in the dark, taste testing each and every one of these flavors.
I took the California Love bar home, because I love chocolate covered pretzels. It was perhaps the best decision I've ever made in my life.
Not sure what to add to your Thanksgiving pie? WHY NOT SHOVE A CHOCOLATE BAR IN THERE! Definitely makes for a festive pie topper.
Can we all just take a moment for these glamorous typography moments?
Because Compartés is a small business, I used my American Express Blue Cash Everyday Card to take advantage of their #ShopSmall for 2X Rewards initiative. Basically, this program provides more rewards to shoppers using eligible Amex Cards to support small businesses through the end of the year. You can learn more about it here. You can learn more about Compartés (and their custom chocolate bars for your party or wedding) on their website. And if you're in the LA area, you can check out their boutique in Brentwood.
Now go out and eat a chocolate bar (or ten) in honor of National Chocolate Day!
Love,
Orlando
This post was sponsored by American Express. Ideas and opinions expressed are genuine and my own.