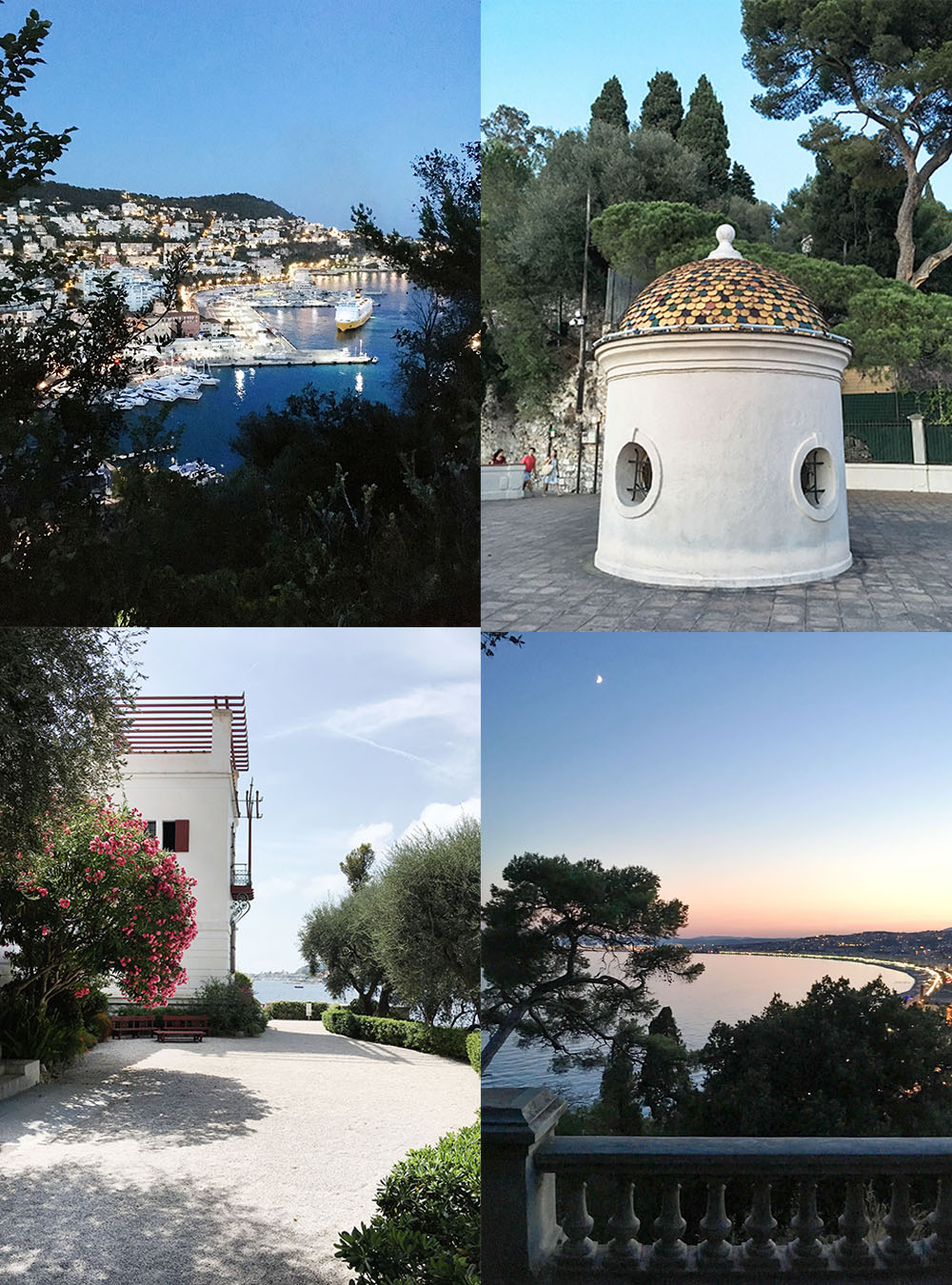 Dear Travel Diary,
It's kind of impossible to talk about my beautiful trip to Nice without talking about the mass murders on Bastille Day.
Edouard and I went to Nice only a few weeks after the tragic/disgusting/outraging attack on July 14th that killed eighty-six people. We went back and forth as to whether we should go to a place that so recently suffered such an overwhelming tragedy. Was it safe? Was it appropriate? But we ended up erring on the side of not allowing murderers to determine where we go and what we see. Edouard is from Paris, and I get the sense that, with the overwhelming number of attacks the have occurred in Europe in the past few years, nowhere there truly feels safe anymore. His hometown has changed.
We flew into Nice at night, on one of the most incredible flights I've ever been on. Nice is in the South of France, proximal to Cannes, Antibes, and the world's most glamorous beach designation, Saint-Tropez. So as we descended, there were fireworks above Cannes, scattered ferris wheels and small seaside carnivals illuminated by blinking lights, and the cities' reflections in the water. To be honest, I'm not a big traveler for two reasons. I've always preferred going to places where someone I know has a personal connection (where they grew up, where they used to visit grandma, etc). And in my twenties I could barely afford my rent, let alone to travel anywhere, so it was never a priority. So ending up traveling to one of the most luxurious coastal destinations on earth was never a goal of mine and never something I thought I'd do. Because of this, our trip felt like such a privilege and a treat. So in sharing it with you I'm not trying to be like "hey look what I did" but rather "these were some beautiful things I was lucky enough to encounter, and I'd like to share them with you." Talking about travel can be fraught with classism and oneupsmanship so I'd like this to be more a discussion about the beautiful things I saw, less a "these are the see-and-be-seen-places to go" type thing.
Of the destinations in the South of France we visited, Nice was the most economical. So if you're interested in visiting the Côte d'Azur, Nice is a good place to start because it's far more approachable than Saint-Tropez or Cannes (Our flights were around $1000 and the hotel we stayed at in Nice was about $200 a night). We were in Nice in mid-August, which is the height of Europe's tourist season, so it was actually quite crowded while we where there, even though locals told us the tourism was down about 30% (I can't imagine how crowded it normally is if what we saw was the less crowded version).
We stayed at the Hotel Suisse, which was by no means fancy and has the world's tiniest elevator, but was absolutely lovely due to its proximity to the water. This was the view from our room's window:
Nice used to be part of Italy, so the city feels a bit un-French. We got in around eleven PM and the only thing we could find to eat was pizza. The world's most delicious pizza. But seriously everywhere that was open only had pizza. It was at this moment that I knew I was destined to become enormous on this trip. European vacations are great for a lot of things. But mostly good for becoming the fattest person on earth. The food is delicious. AND LITERALLY NONE OF IT IS HEALTHY. I'm from California, the land of fresh salads, lean meats, and fresh squeezed juices. My body is used to those things, so it's initial response to delicious, rich French/Italian food is to become obese immediately. It's literally that scene from "The Little Mermaid" where Fake Ariel is marrying Eric and then she explodes and becomes Ursula and everyone is terrified.
My favorite design discovery in Nice was the lovely shade of blush pink on so many buildings. It's such a warm, beautiful color and perfect for a city on the coast, contrasting the incredibly vibrant color of the ocean waters.
If you're on the hunt for that lovely blush pink, the Plaza Masséna is a great place to start. The contrast of that soft pink with the beautiful, graphic black-and-white tiles makes for a totally sophisticated public square.
But that's not the only pink you'll find in Nice. I love pink, so I had my eye out for it. But it felt like every block had a gorgeous pink building on it.
(Source)
The giant historic outdoor marketplace Cours Saleya was right next to our hotel and filled with delicious cafes (and, obviously, tons of pizza). They have an antiques/flea market here every Monday. We definitely ogled all the goods but I didn't buy anything because I wasn't sure how I'd get everything home (I tend to be too lazy to take things to the post office and mail them home so usually I'm just lugging huge bags with me through airports and hating myself for buying all that pottery).
We went to Nice before we ventured to Saint-Tropez and Menorca (two very beach-centric places) so we decided to forgo the beach in there. However, there are a ton of very wonderful beach clubs all over the coast where you can rent a lounge chair for around $15. Europe seems to have the beach figured out better than the U.S. You can rent towels, order drinks, buy food pretty much everywhere. You don't have to rent a chair if you don't want to, but the option is there if you don't feel like lugging your junk around with you all day (or you're a tourist and you don't have a chair). Also, they have way better umbrellas than we do. WHAT IS WRONG WITH US? WHY CAN'T WE HAVE CUTE UMBRELLAS AND DRINK SERVICE ON THE BEACH???
The water in the Côte d'Azur is the most insane color of aquamarine (which, duh, is where it gets it's name). The water looked so delicious I wanted to drink it.
Despite the recent horrors, Nice feels incredibly safe to walk around in at night. The city is one of the most romantic places I've ever been. Edouard and I took a walk up the (giant) hill behind our hotel to Parc de la Colline du Château, which was buzzing with people and had some of the most incredible views I'd ever seen. It's maybe not the best place for a walk in the middle of the night, but at dusk it's totally doable and not scary.
One of the problems with our trip to Europe this year is that everywhere we went we were like "I definitely need to come back here." So basically the more we travel the more we want to go back to everywhere we already went because we love it so much. Nice is very much a place I'd like to see again. I think if I returned I'd go in the early autumn or spring to avoid the (what I thought of as) hoards of people. There are some European holidays around the 15th of August, so we were visiting during the literal height of tourist season. So if you're not a crowd person (i.e. you're an old grandpa like me who hate yelling in restaurants), I'd avoid that time of year. Flights to Europe can range dramatically depending on time of year and how far you book in advance, so if you're looking to do a South of France vacay on the cheap, I'd just keep checking sites like Kayak until a cheap flight comes available (that's what we did). There are places to stay there that aren't crazy expensive and since there are so many delicious casual dining opportunities there, you can get by not spending a ton on food. I'm not trying to pretend like traveling to Europe is doable for everyone, I know it's a huge luxury, but I was a bit surprised at how accessible it was (I expected everything to cost a million dollars so was pleasantly surprised).
Also, yes there has been a lot of terrorism in France over the past few years. I don't wanna be all "If you don't vacation the terrorists win." But kinda yeah, if you don't travel, the terrorists have impeded you from having a beautiful experience. An airplane could fall from the sky and kill you this very moment. Life is terrifying. You kinda just gotta do your thing and hope for the best.
The loss of those eighty-six people was definitely on my mind as Edouard and I wandered around Nice. I guess it felt a bit weird to be on vacation in a place where so many people had lost their lives. But being there was also affirmative. These people lost their lives at a festival in one of the most beautiful places on earth, while doing celebrating and being joyful. Appreciating a place these people knew and loved felt like a small way of honoring them and affirming that their lives matter. Knowing and loving something they knew and loved.
OH MY GOD I TOTALLY JUST LET THE TERRORISTS WIN BY JUST TALKING ABOUT THIS FOR SO LONG RIGHT NOW. Sorry.
So, yeah. This is kind of a weird travel guide. It feels weird to write it because I want to be respectful of those lost and mourn their lives. But I also want to encourage you to visit this incredible place and support the community that has already experienced so much loss.
Love,
Orlando
Resources: (1) Benjamin Moore Love & Happiness, (2) Benjamin Moore Water Drops, (3) Turkish Bath Towel, (4) Shaun's Tortoise Sunglasses, (5) Mar y Sol Tote, (6) Saint James Boat Neck, (7) Soludos, (8) Ghurka Bag, (9) Brass Lantern, (10) Henri Matisse, (11) Greek Key Umbrella, (12) Chaise Lounge Chair, (13) Charles Dudouyt Credenza