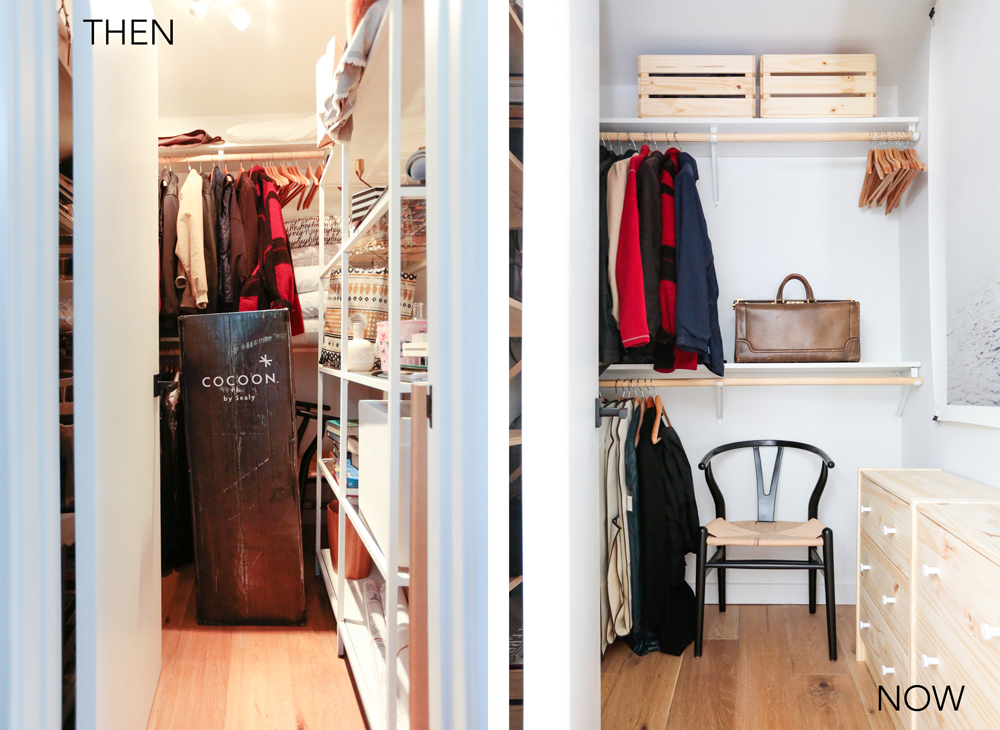 Photographs by Tessa Neustadt
Dear Sleepyhead,
Ask my boyfriend, I am pretty bad at falling asleep. Bedtime normally involves me wiggling around for hours and hours thinking about all the things I did wrong today, all the stuff I forgot to do, and being filled with dread about all the ways I've ruined my life over the course of the day. My neuroses are amplified by laying down to go to sleep. So I was excited when Cocoon by Sealy invited me to create a Happy Place to sleep in honor of the release of their new Cocoon by Sealy line of ship-to-your-door mattresses.
First of all, what is "Cocoon," aside from an 80s alien movie with Jessica Tandy in it? It's pretty simple. Kids these days aren't going to stores to buy mattresses. Instead of going into a scary showroom where someone pressures you into buying a mattress you can't afford, many people are opting for mattresses they buy online that are delivered directly to their homes. Cocoon by Sealy is that. It's basically the easiest way to buy a mattress without leaving your house. You can do it from the comfort of your sofa, while eating a pizza and being as lazy and disgusting as humanly possible. Or you could do it from your phone while you're on the treadmill at the gym being as non-lazy as possible. Or you could do it at your office while you're pretending to work. There are literally millions of options.
To celebrate the arrival of their fun new line of mattresses, Cocoon by Sealy has asked a number of bloggers (including me!) to create a happy place in their homes. Knowing my guest bedroom was in desperate need of help, I chose to concentrate my efforts there. We have guests quite often and the guest bedroom (and its disaster closet) were totally inhospitable. Below are my tips on creating a happy place for your guests.
This assignment from Cocoon by Sealy got me thinking, what exactly makes a bedroom "happy"? For me, the following items helped transform the bedroom into a softer, cozier, and thus happier place: Cocoon by Sealy Soft Mattress, Blu Dot "Dodu" Platform Bed from AllModern, White Linen Duvet Cover from Parachute, Herringbone Blanket from Serena & Lily, Bath Robes from the Ace Hotel Gift Shop, Gymnasia Candle from Scenthouse, and a plush Grey Rug from RugsUSA.
Okay, so first things first. The mattress. I have to make a confession here and tell you this is the first new mattress I've ever owned. My last apartment was filled with hand-me-downs and vintage furniture and I got my last mattress from a friend who was upgrading his mattress. I'm actually not that sensitive to bad mattresses, but I laid down in the guest bedroom a few weeks ago (as I often do, this room is so relaxing and bright and happy because of the pretty wall color – Sleigh Bells by Benjamin Moore) and noticed the mattress in there was super hard and uninviting. It made me feel guilty my poor, defenseless guests had basically been sleeping on concrete for the past 9 months.
So I said goodbye to that mattress (actually I gave it to a friend for her guest bedroom) and waited for the new mattress to arrive. When it got here it was in a crazy tiny box and I could not understand how an entire queen mattress was inside there. Basically, me opening that box was that part in Mary Poppins where she pulls a giant lamp out of a bag. I'm still shocked there was a whole mattress in there. Years from now, on my deathbed (maybe THIS VERY COCOON BY SEALY!), I'll be like "I still can't believe there was a whole bed in that box!"
The mattress takes a few minutes to actually fully fluff up, so don't be scared if you take yours out of the box and it's flat and pancakey like this for an hour or so. Once mine was fully expanded I spent a few minutes jumping on it and it was pretty fluffy and awesome.
Don't you just wanna smash your face into that cushy mattress???
A fun fact that not everyone knows is that most mattresses these days don't require the use of a box spring. I'm obsessed with the platform bed I got from AllModern which has slats that pair nicely with the cushy softness of the mattress. I have an upholstered bed in my bedroom as well and it makes a big difference in creating a soft, cozy bedroom where you want to snuggle with literally everything.
Another way I added some comfort to the guest bedroom was by adding something familiar and handmade. About a year ago, I was visiting my parents when I noticed some beautiful linen pillows covered in adorable, happy birds. I was like "WHERE'D U GET THEM PILLOWZ?" and my mother was like "I made them duh!"  So naturally I forced her to make some for me.
I ordered some of the Lemming Dove Linen she used online and she sewed me from pillows. LET THIS BE A LESSON TO ALL OF US THAT IT PAYS TO HAVE A MOM WHO SEWS.
Since this is a guest bedroom and I wanted to make it comfortable and inviting, the disaster closet HAD to be dealt with. When we moved in, we threw in some random shelves we had from my old apartment, which quickly filled up with props, art supplies, and garbage. So I got rid of them, went through all my garbage and gave a lot of it away, added a few tiny dressers on one wall, and built-in shelving on the other.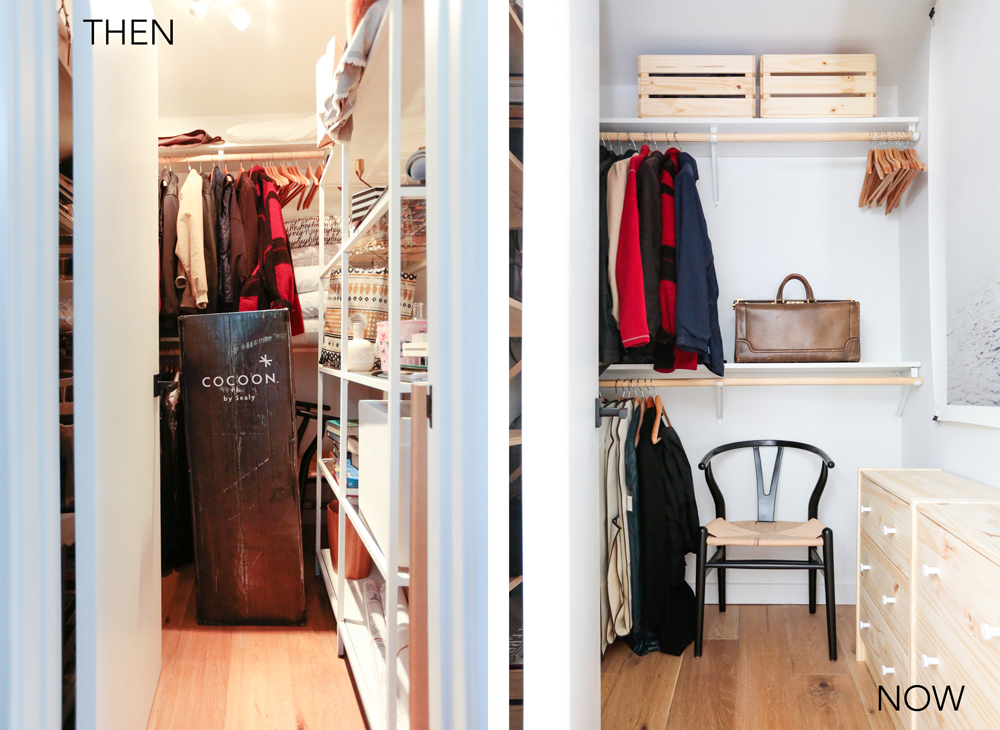 There isn't a lot of clearance in there, so I found the shallowest dressers available at Ikea (11″ deep) and used two of them. They also function as a place to put down your suitcase so it doesn't have to go on the floor in the middle of the bedroom.
The wall shelves were WAY easier than I thought they'd be to install (I had to use those crazy butterfly anchors). I also installed a hook on the back of the door so I could hang our Ace Hotel Robes, which are super comfy and soft and made of sweatpants material (whatever that's called). Oh, it's called terry cloth. You're welcome.
The coziness doesn't stop at the Cocoon by Sealy mattress and the robes. My guest are always enthralled with my linen duvet and sheets from Parachute. I love linen a lot and it makes me happy to wake up in it every day (I have the same sheets on my bed). My boyfriend is from France and always screams things like "UGH THESE REMIND ME OF THE SCRATCHY SHEETS WE HAD GROWING UP!" Apparently France has been on its linen game way longer than America. But for many Americans like me, linen is still such a fun luxury. I literally want to go into the bedroom right now and bite the duvet with my mouth I love it so much. [1 minute elapsed time]. Okay, I did go into the bedroom to bite the linen duvet. It was worth it. I'm back in the dining room writing this again. WHERE ARE YOU?
During the renovation, we added drapery by Decorview all over. Drapery serves a double function of softening the room by adding texture and shielding you from the rays of the sun if you're feeling particularly vampirey. I'm also a huge fan of plants everywhere, so I have tons of succulents that I rotate throughout the condo. Basically, succulents hate living inside, so I keep them inside for a week or so then put them back outside for a few weeks so they can get full sun and recover from my abuse.
Art is another great way to add warmth and coziness. I hung this amazing Japanese screen I found at the flea market. I actually took it apart because one of the panels was completely janky, but I think it looks better with a little breathing room.
Finally, for no reason, here's a GIF of my bed being made, step by step:
I'll be sharing more of the guest bedroom next month when I finally share the rest of the Orcondo renovation here and on Homepolish Magazine. And stay tuned for more guest bedroom styling tips in the second "My Happy Place" post.
Now, if you'll excuse me, I'm going to roll all over my bed, wallowing in my happy place.
Love,
Orlando
PS: BUT WAIT THERE'S MORE! Cocoon by Sealy wants you to create your own happy place! They're giving me two of Cocoon by Sealy mattresses (whichever size you need!) to give away. All you have to do to enter is post a comment and two winners will be chosen by a randomizing internet robot (that exists!). Winners will be chosen Monday, May 2 at 12 Noon PST so make sure to enter before then. No purchase necessary.
IMPORTANT UPDATE! The giveaway is now CLOSED! Congrats to winners Cece and Andrew!
This post is sponsored by Tempur Sealy. All opinions are my own.