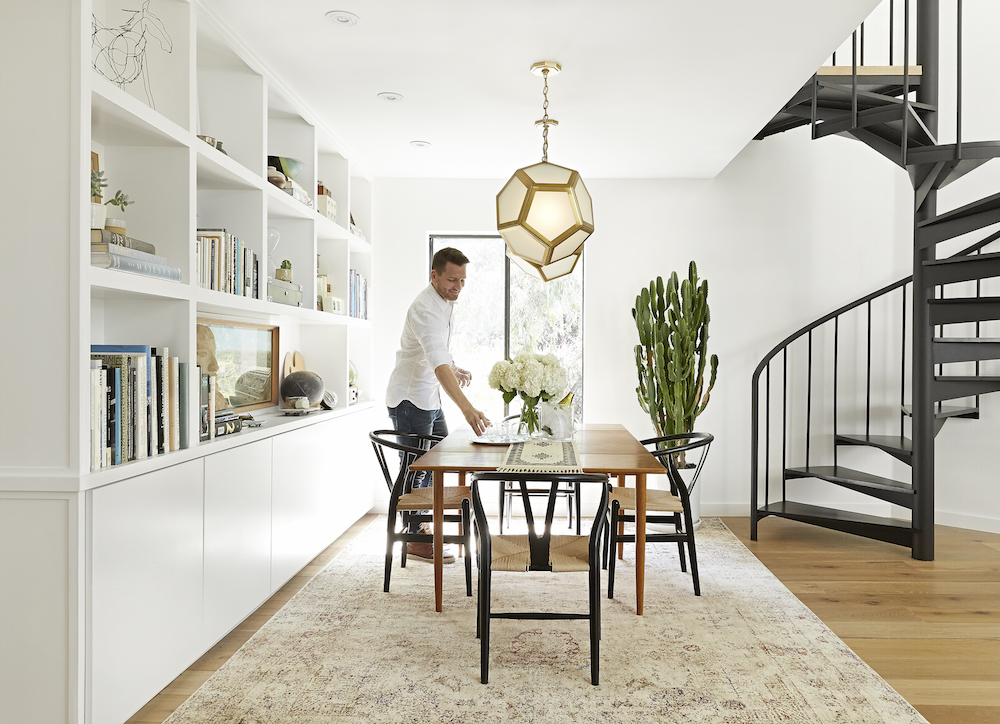 Photography by Daniel Collopy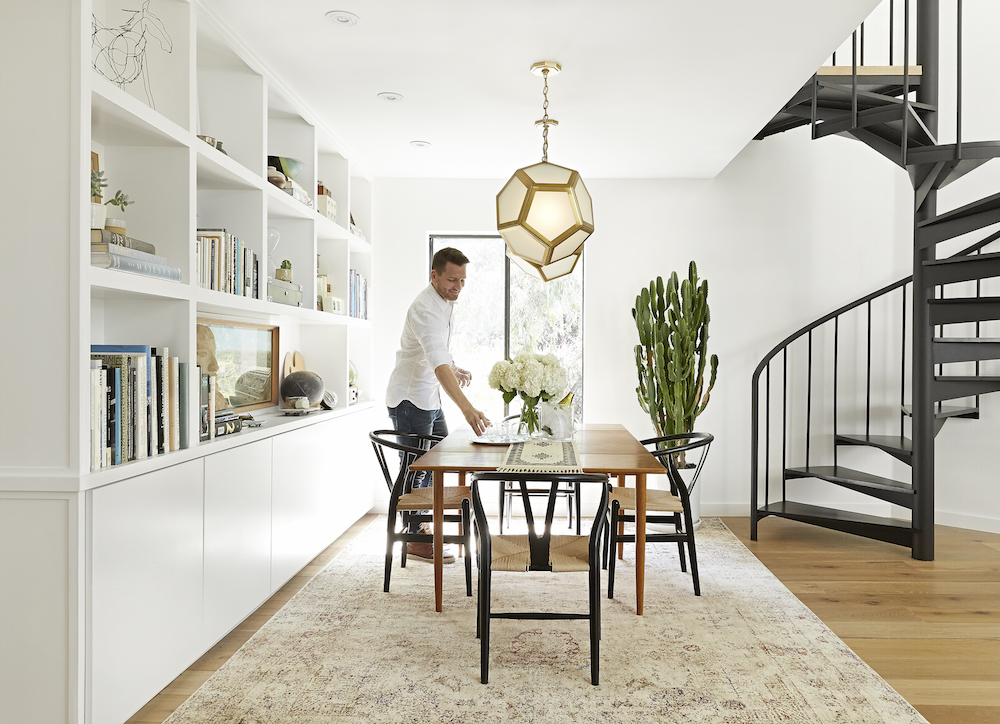 YOU GUYS! IMPORTANT: Okay, so this post is actually part of a really fun collaboration I did with Loloi and to promote their gorgeous Anastasia Collection. Before you do ANYTHING, I need you to to to the Contest Site and vote for my submission to this blogger challenge (which I explain at the end of the post). If I don't win I'm coming to each and every one of your houses to blame you personally. 
Dear Orcondoers,
The last six months have been a whirlwind of home renovation in which every day has brought new adventures every day. If you don't remember, here's what the dining room area looked like before:
How gross are those stairs with their pasty blue paint and the depressing industrial carpet? Don't worry we fixed that. These photos were taken when we'd already moved out (into my West Hollywood apartment) so the furniture is kind of all over he place.
Edouard wanted a place to put books and to display objects and we also needed a space to store kitchen overflow, so we added this built-in shelving I designed. I'm a sucker for built-in shelves, so I was happy when we finally saw it come in. As with most of the other parts of the condo's renovation, I made renderings beforehand. Partially to see what it would look like, but mostly just to convince Edouard to do what I wanted to do. Here's what the render for the dining looked like:
And here's how it actually turned out:
The space is very modern but we have a lot of vintage/antique accessories so we thought it paired perfectly with this Anastasia Rug from Loloi. I'd never seen one of their rugs in person before and as someone who does a lot of online sourcing I was very relieved at how great the quality was when it showed up. Sometimes you order rugs online and they show up and they just look super cheap. This rug was soft and cozy and I wanted to rub my face all over it.
The rug itself has a very old-world-meets-modern vibe about it that paired nicely with our Danish modern table and our wishbone chairs from AllModern.
Edouard and I found this awesome stone head at Rose Bowl a few months back and were obsessed with it. The 1950s architectural rendering is also from the flea market and it's near and dear to me because it reminds me of a little shopping center in the 1950s subdivision my grandparents lived in.
The dining room is one of my favorite parts of the condo because it's in the center of everything and has a window that overlooks the hillside of the neighboring property, where a mega millionaire lives surrounded by coyotes that make the most terrifying noises every night and make me feel like I'm back at home in Yosemite.
My mother bought me these cute little wobbling wine glasses the last time she was in town and I am obsessed with using them. They never fall over, but they threaten to, which makes the wine drinking experience all the more exciting.
I found this little watercolor at the flea market and it just reminds me of fun boyfriend walks by the lake.
I have to say at the end of the day I became really obsessed with this rug. As I mentioned briefly before, I styled it into my dining room as part of a blogger challenge, where 8 bloggers are lent a rug from the Anastasia collection and asked to style it into their space. If I win, $1000 will be donated to helping end homelessness (I chose the National Alliance to End Homelessness). I'm really proud of the work I've done in transforming this space and the gorgeous work of my photographer Dan. Not to mention the incredibly stunning Anastasia rug I'm now saving my pennies to actually buy (we had to mail it back after the contest. #victim).
So, this is where you come in. I need you to go to the Loloi Contest Site, ignore all the other bloggers' beautiful work, and VOTE FOR ME!
Love,
Orlando
Resources: Anastasia Rug AF-01 Ivory/Multi (available online at RugsUSA), Danish Modern Dining Table (Vintage from Shopclass), Mary McDonald Pythagoras Pendants (Lamps Plus), Wishbone Chairs (AllModern), Black Geometric Candleholders (Crate & Barrel), Wobbly Wine Glasses (Tortoise General Store), Southwestern Table Runner (Vintage from Shopclass), Ice Bucket (Vintage from Shopclass). 
Disclosure: This post was created in collaboration with Loloi Rugs. I was compensated for my participation in the blogger challenge. The opinions and ideas are genuine and my own.