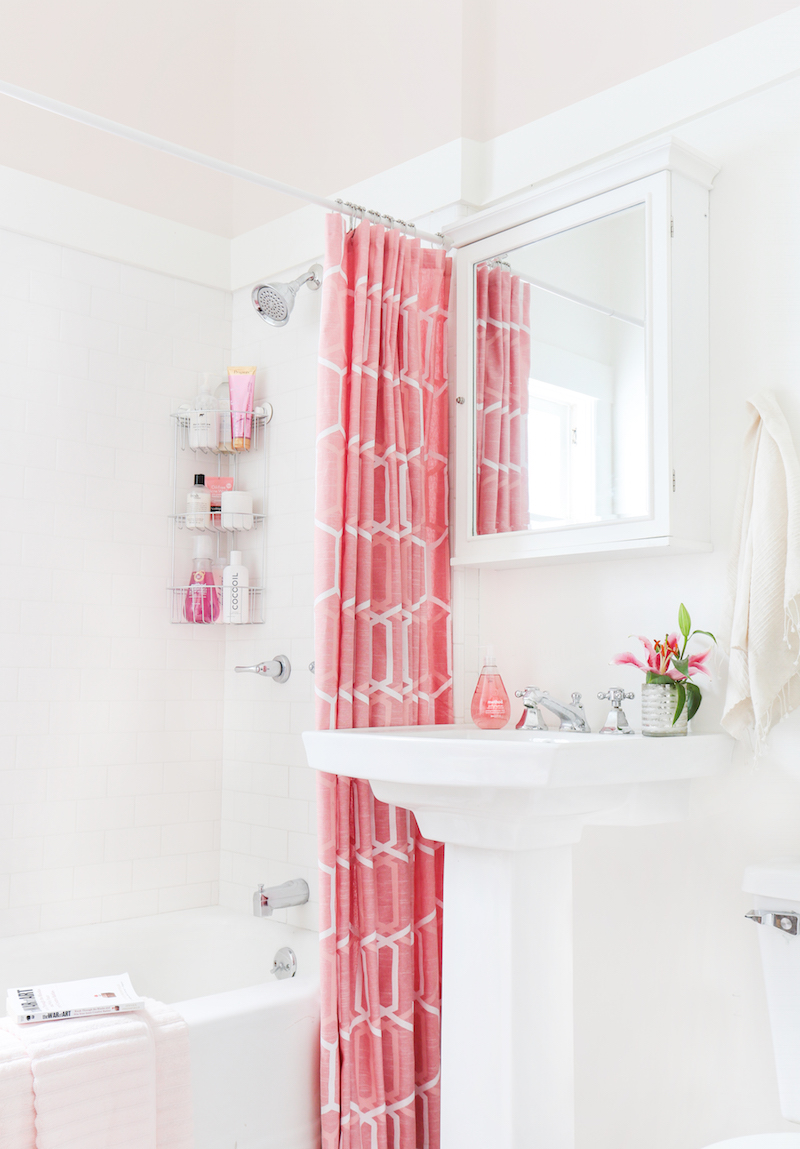 Photography by Tessa Neustadt courtesy Homepolish
Dear Shame Diary,
I have to tell you a terrible secret about myself that I've never told anyone, not even myself until now. I hate showering. I hate it a lot. It involves so much wetness, and that part where you get out and you're all cold and clammy and your mom is all ARE YOU DONE YET IT'S TIME FOR SCHOOL. And you're like MOM LEAVE ME ALONE NO ONE UNDERSTANDS ME. And then you wake up from that nightmare where you're still in high school (Sidenote: I have a game I play with my friends where I ask them how much money they'd charge to go back to high school and relive it all over again. My price is 5 million dollars. What's yours?).
Anyway, showering is horrible. It's so cold and lonely and no one wants to talk about your feelings in there. And there's usually nothing to look at it's so boring. UNTIL NOW!!!
Homepolish teamed up with method to tell EVERYONE about the company's new line of glamorous foaming body washes. We styled one bathroom, four ways using the the four different fragrances as inspiration. I did my best to create four totally different looks to show you that you can change so much in a space just by swapping out accessories, rugs, and art. And it doesn't hurt that we had cute, colorful foaming body washes from method. And honestly, having cute things to look at in the shower makes me hate showering way less.
Look 1: Pampered (Inspired by method's Flower Water Foaming Body Wash)
I'm a big pink fan. Actually, I'm trying to figure out how to work it into Orcondo. It's not always easy to work into a masculine space, but it's right at home in a bathroom for a pampered pretty princess, like this one inspired by the water flower foaming body wash. I'm obsessed with this soft blush color of pink and when I found these gorgeous towels I got so excited my head almost popped off my body.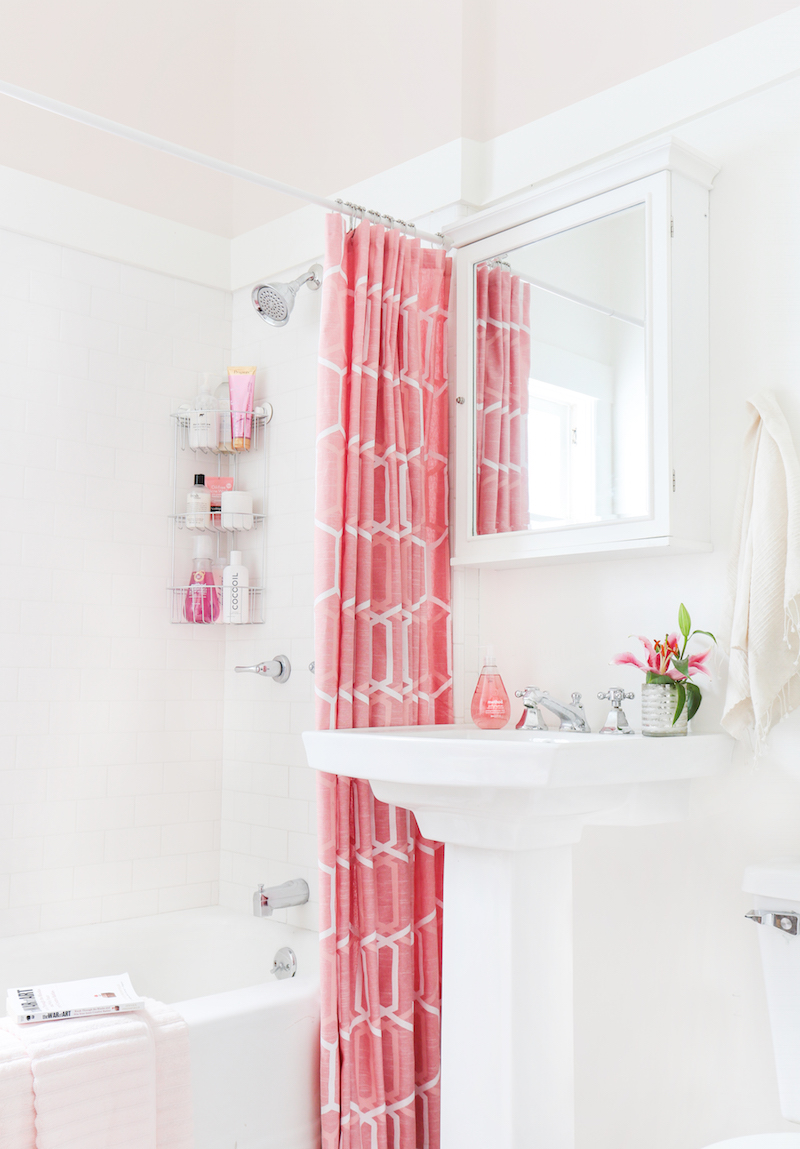 The inexpensive shower curtain added some much needed vibrancy to the otherwise quiet, soft color palette. Showers, like one's personality, should be a good mix of calm and crazy, so that people get neither too bored nor too stimulated.
Yes, I realize putting flowers in the shower is completely ridiculous. But you know what, YOU'RE WORTH IT. Also they'll probably last longer since they'll be all cold and moist. LIKE YOUR BODY AFTER YOU GET OUT OF THE SHOWER.
Orchids, which I think are totally underrated and have a bad rep for no reason, are one of my favorite plants to receive as a gift and then kill. I'm told they actually like living in areas with higher levels of moisture, so they feel right at home in a sunny shower like this one.
Look 2: Energized (Inspired by method's Ruby Orange Foaming Body Wash)
I def had DudeBros in mind when I designed this look. I wanted to show how you could design a bathroom for a younger guy. You know, the kind of guy who wears cool hats and dances and is fun. The kind of guy I pretend to be on weekends sometimes when I have the energy to leave the house instead of watching "The Hours," drinking wine, and crying about what a good actress Julianne Moore is. The whole look started with a fun cityscape shower curtain from CB2, along with some zesty bath towels.
This bathroom benefits from having nice natural light. If you're not so lucky, you can either invest in some fake foliage (we found some good ones at West Elm), or invest in cut flowers or shade-loving plants.
We put a beautiful print by Tessa Neustadt in there. So that every day when DudeBro is taking a shower he can think about nature. Thinking about nature makes DudeBros happy, because they love freedom and being outside.
I completed this look with an orange shower caddy and a super cool triangle mirror. Mirrors in fun shapes are totally all the rage this year and I love it.
Look 3: Zen (Inspired by method's Cucumber Mint Foaming Body Wash)
I love this look because plants make me happy. Adding a plant to a room literally adds life and oxygen and makes everyone who goes in there feel like the future is filled with hope. Our zen set up is also a reminder of how important it is to create balance in a space. We did this by adding a huge variety of materials: wood, metal, stone, cloth, pottery, etc. This gives the space a lot of visual interest and an increased sense of balance.
I know that hand sculpture is kind of scary but I love it.
Nothing says zen like a macrame planter hanging next to you while you take that shower, right?
If you're not taking bubble baths whilst drinking tea then you're not really living.
Adding wood is a surefire way to add warmth to an otherwise cold space. Say, for example, you have an entire bathroom made of white tile, white walls, and white everything. Adding some wood will warm up the whole space, thus making you seem like a kind, warm person. Even if you're not.
Look 4: Refreshed (Inspired by method's Sea Mist Foaming Body Wash)
Like a good mom, I don't pick favorites. But if I did, this design scenario would be my favorite. I just can't get enough of this rich, creamy aqua blue. It makes me want to dive into a swimming pool inside the ocean wearing a turquoise swimsuit. This look was inspired by the on-the-go type of person who just wants to get in and out of the shower as fast as possible. Basically me. I hate being wet outside of swimming pools and hot tubs, so my showers are as quick and easy as possible. You're welcome, Drought-Stricken State of California.
This indoor monstera plant is actually kind of a miracle. You can chop off leaves and put them in water and they'll grow on their own like little alien babies. IT'S AMAZING!
I've always loved the design of method products because they were the first in the industry to really consider packaging so thoroughly. Their hand soaps come in super cute dispensers and so do these new foaming body washes. The colors are also fun to look at. As a lover of anything blue, the Sea Mist was def my favorite.
I'm obsessed with these cute outdoor lanterns from CB2. A fun fact is that using outdoor stuff in shower areas is one way to make sure nothing gets messed up. Most outdoor stuff is made to be weatherproof, so it can withstand my 45 second showers.
These sea foam colored bath towels are another way to add some oceanic bliss to your bathroom. I'm always a proponent for bringing color with art and accessories and bathrooms are no different. There's no need to paint your wall a crazy color if you bring in pretty towels and accessories.
I actually do the same thing with my mouthwash at home. I put it in a pretty glass bottle so I can look at the pretty color all the time. I have no idea why mouthwash companies decided blue was the color mouthwash should be but I'm so glad they did.
So there we go. ONE BATHROOM, FOUR STYLES, ENDLESS POSSIBILITIES. OUR LIVES ARE JUST BEGINNING! It's all happening, you guys!
Love,
Orlando
PS: Want even more tips on how to transform your shower from nasty to rhinoplasty? Head on over to Homepolish Mag for more bathroom decor tips!
PSS: BUT WAIT THERE'S LITERALLY MORE! Enter to win $1000, a year's supply of method products, and design help from ME, Orlando Soria. Enter here!
Disclosure: This post has been made possible by method, who have compensated both Hommemaker and Homepolish for this content. The views and opinions expressed are my own and reflect my genuine review of the products mentioned.