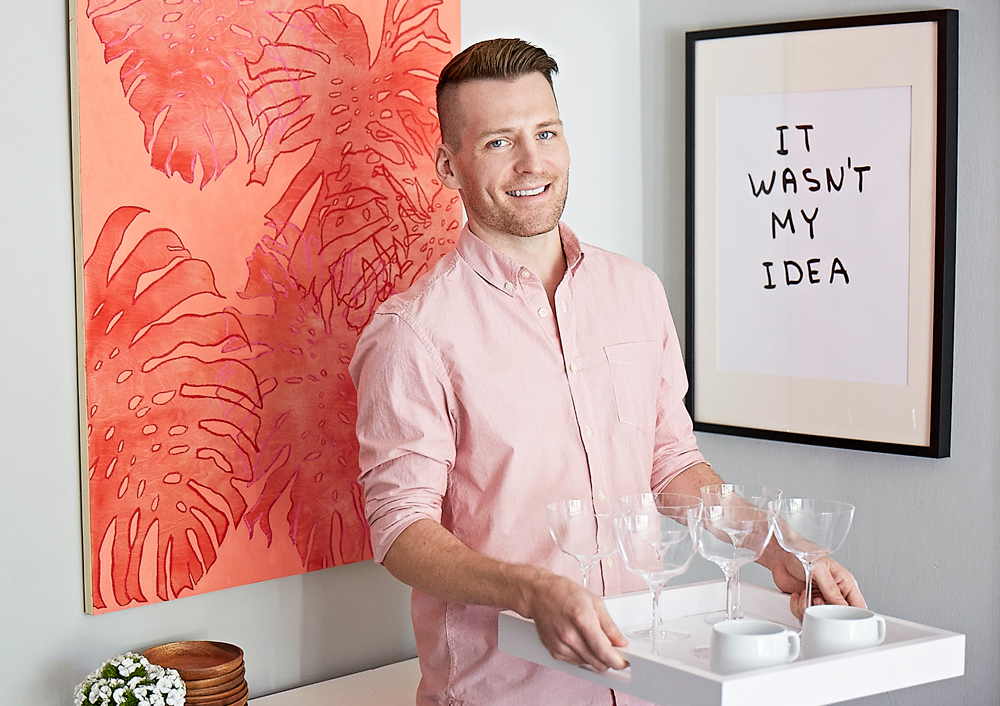 Photographs by Daniel Collopy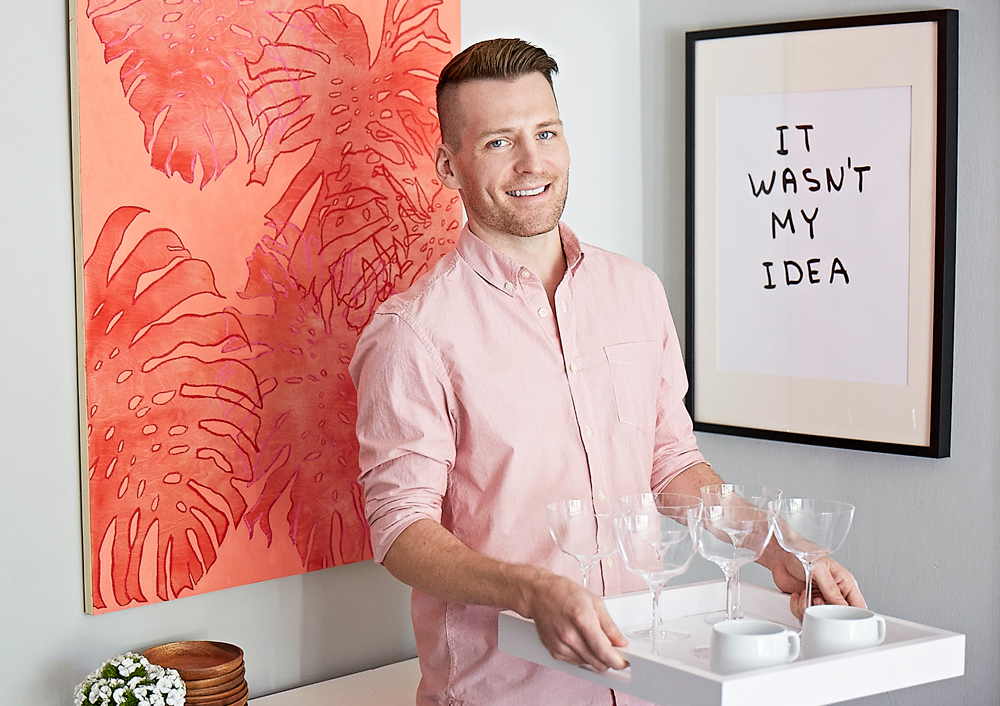 You Guys,
It's that time of year again. You know. That time of year when traffic is super bad because Hollywood Boulevard is shut down because they're setting up for the Oscars and it's super annoying but also kind of exciting because it's so glamorous to be stuck in traffic thinking about all those fancy ladies wearing fancy dresses and all those dudes wearing totally boring suits (sidenote: formalwear for guys is snoozeville, will someone please do something about this? In my dreamworld every man would show up to the Oscars wearing this amazing Mr Turk Suit:
Isn't that awesome? Like I want my whole life to be made out of that fabric. Also, did you notice we're still inside a perenthesis? We are. I doubt this is grammatically acceptable but you know what, I WANT TO LIVE!).
I live in a town that loves an awards show, about 10 blocks away from the Dolby theater where, each year they hold the Oscars and, each year, they change the name of the building based on whatever industry happens to be dying. The lovely people of Los Angeles use awards shows as an excuse to get together and drink and laugh and talk about their feelings. In LA, we do this for pretty much anything that's on television. We throw huge Super Bowl parties even if we don't care about the Super Bowl. We have decadent Grammy parties even if we hate music. It's not uncommon for people to be like "WHAT ARE YOU WEARING TO THE 'PETER PAN LIVE' VIEWING PARTY?" or "DID YOU MAKE YOUR PLANS FOR THE SEASON 2 PREMIERE OF 'GIRLS' YET?"
Yes, girl. We love watching things and we love doing it together. Because what's the point of watching an awards show if there's no one to make fun of Kate Hudson's dress with or no one to exclaim "DOES MERYL EVER DO ANYTHING WRONG!?!" This year, I'm going to be in New York for Oscars. Which I have to be totally honest and say I'm kind of bummed about. I was there for Oscars last year and I kept being like "What are you guys doing for Oscars?" and everyone just looked at me like I'd just asked them whether they were using HR Block or TurboTax this year. I GET IT. IT'S WEIRD. I COME FROM A PLACE WHERE WE GET EXCITED ABOUT STUPID INANE STUFF. I'M SORRY.
Going to New York didn't stop me from writing a totally preachy and annoying post about what I think you should do for Oscar. I have a few caveats, obviously. Firstly, if someone invites you to watch the Oscars at their glamourmansion, watch the Oscars at their glamourmansion. I've spent many a year watching a the Oscars at glamourmansions and it's always better. Mostly because there's more space but also because glamour mansions tend to be owned by rich people and rich people love catering. Catering means you won't have to worry about what you're going to eat because it's obviously going to be delicious. And you'll never have to make your own drink because they'll have a bartender there to make your drinks and validate you even if you're a horrible person.
So yeah, if a rich person invites you over to partake in their ridiculous wealth, do that. But if, like me, you're left to your own defenses to create a lovely and meaningful Oscar experience, follow these simple instructions.
Serve Punch.
Things get tricky (and expensive) when you try to buy a ton of alcohol to suit the needs of everyone you know. Vodka for your super gay friends, tequila for your friends that are doing Crossfit/doing the Paleo diet, or just trying to act cool, whiskey for your friends that wish they lived in The Mission, beer for your gay friends trying to act straight, sparkling cider for your friends trying not to be raging alcoholics, etc. This year, I went simple. Just a simple punch, which can be served with or without alcohol. I know what you're thinking, WHAT IF PEOPLE WANNA DRINK SOMETHING ELSE!?! If you write in your invite "I'll be serving punch, please bring a drink to share." People know that really means "If you're going to be crazy picky about what you want to drink and can't just get wasted on whatever I give you like a normal person then bring your own stupid alcohol."
Super Simple Punch Recipe
• 33 fl oz Blood Orange Italian Soda (I use Villa Italia Italian Blood Orange Soda)
• 12 fl oz vodka (I like Ketel One or Absolute)
• Juice of 1 Lemon
Mix Italian Blood Orange Soda and Vodka, add lemon juice. Make 8 generous drinks. Try not to drink all of them yourself.
Do the Oscar ballot thing it's dorky but more fun than you'd expect.
Download a simple Oscar ballot and make enough copies to share with your guests. I found mine here. Whoever guesses the most wins is better than everyone else.
Serve popcorn.
No one is going to be like "CAN YOU PLEASE HAVE POPCORN?" but you have to do it anyway. It sets the mood and also people will eat their faces off. But not in a gross way that makes them feel badly about themselves. Like in a way where they're like "I'm happy with myself for eating that!"
Make everything look better by plating it well.
For snacks, I went full-on cheap. But like, not in a depressing way where people would feel deprived. In a tricky, deceitful way aimed at making them think they were getting much fancier food than they actually were. I spent about $80 on snacks which could be cooked easily and plated without a bunch of fuss. I bought a lot, but figured we could just order out if we got super hungry later.
Make it festive by adding flowers. 
I didn't go all out streamers and confetti and little gold Oscar statues everywhere. Instead, I opted to cover my apartment in beautiful flowers I ordered from TheBouqs.com, a super streamlined service that allows you to order flower and have them delivered to your home (or office, if you're trying to impress your coworkers and make them think you're popular). If I hadn't have had flowers I may have gone crazier with Oscar themed decor, but they added such a simple sophisticated party look that I didn't want to distract.
Incorporate an Oscar-y element into your decor.
I decided I was going to hone in on red, which is normally a color I hate in design. I don't know why, it just always seems too garish to me. I'm like, SHUT UP, RED! But I took inspiration from the red carpet and added some scarlet to the viewing space, to match the Scarlet Johanssen we'd be watching later on the screen.
I put popcorn in this ultra glamorous bowl and provided happy little red cups for consumption.
I swapped out my Erika Gragg paintings for some new Erika Gragg paintings. The new ones, in beautiful blue and coral pink, tie in the red color story and my navy sofa. THANKS, PAINTINGS! (These paintings are for sale BTW, contact me or Erika through her website to buy).
If people get bored, cook a pizza!
When the show starts to drag and people start wiggling around and getting antsy, keep them engaged by bringing out a piping hot pizza. This will make them think "Hey! This night's not over yet! There's pizza!" Nothing gives assures people that all is right quite like pizza does. I love handmade pizzas with homemade dough, but I was too busy so I picked up some ready made that just needed to be plopped in the oven and they were delicious. In an ideal world, we'd all eat handmade things all the time. But sometimes, togetherness and eating junkfood are more important than perfection.
If it weren't for these rainbow carrots I'd totally be dead right now. I've roasted them, I've made them into soup, I've made them into Paleo smoothies. They're literally 90% of my diet. So why not include them in my Oscar party? They go great with guacamole for a healthier viewing snack.
My French boyfriend loves cheese, so I made sure to have a few different types to impress him. What I learned: It's impossible to impress a French person with cheese bought in America.
Shut up and listen to Jared Leto's hair.
I have a lot of performer friends, so watching awards shows with them is like watching a sing-along childrens program with a bunch of children with blabbing syndrome. I'm not a SHHHHusher (you know, people who are like "SHHHHHH!" all the time like old-school librarians), but I do enjoy watching the show so I try to lead by example and keep my mouth shut, no matter how ridiculous the speeches are or how ugly the dress is. There's always time to share your thoughts with your friends after the show. Or you can just be a normal person and sit there sharing them on the internet the whole time you're watching.
I hate to leave off my tips by telling you to shut up, but I bet you agree. Sometimes it's nice just to watch something together with your friends. In silence. While eating carbs.
Now hurry, there's only a few days to go until you A) Find a glamourmansion or B) Plan your own simple (yet glam) get together. If you hate the Oscars, I don't know what to tell you. Maybe throw a fun party and just call it "brunch." Or just give in, live a little, and host a lazy Oscarparty like an honest, hardworking American.
Love,
Orlando
Sources: The Bouqs, Ben Medansky, Crate & Barrel, Erika Gragg.