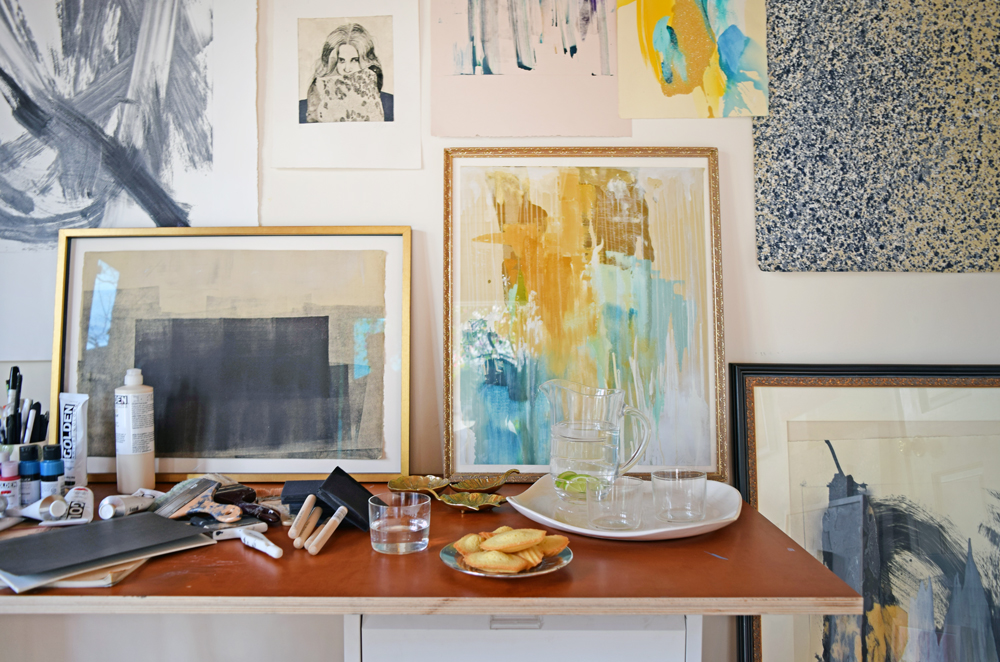 Photographs by Orlando Soria
Dear Art Peepers,
You know how sometimes you wanna go to a party but no one invites you so you just invite yourself and go anyway? I basically did that over the weekend when I invited myself to Anna Ullman's studio, where I spent over an hour ogling all her crazy beautiful work and chatting with her about her life. She was incredibly welcoming and told me all about her life and work. Sometimes people who meet me are taken aback by my 200-questions approach to talking. I ask a lot of questions because I'm interested and also because someday I want to be an amazing interviewer like Terry Gross.
I discovered Anna's work through Instagram, when I fell in love with a beautiful, geometric painting she posted that I knew immediately I had to own or I would die. In addition to being an insanely talented artist, Anna is a busy businesslady with a ridiculously impressive resume (studied at RISD, worked for Kelly Werstler, serves as an Art Director for a fashion brand) and still makes time to paint. She basically makes the rest of us look like disgusting sea cucumbers, bobbling all over the beach while she paints masterpieces and makes high-powered fashion decisions, holding a latte and a giant 80z cell phone, her shoulder pads sharp enough to cut glass, her hair crimped and teased until it reaches the ceiling. Wait, I just got off on a total 80z tangent that had nothing to do with reality. I'm sorry.
Anna's studio is gorgeous and bright, in a top-secret neighborhood on the west side of Los Angeles. I kind of just want to go over there and sit every day. Surrounded by art. Wallowing in glamour.
Many of Anna's works are monoprints, which means she paints ink onto a glass or metal panel and presses them onto paper, creating one-of-kind prints that a gorgeous, gestural, and flat.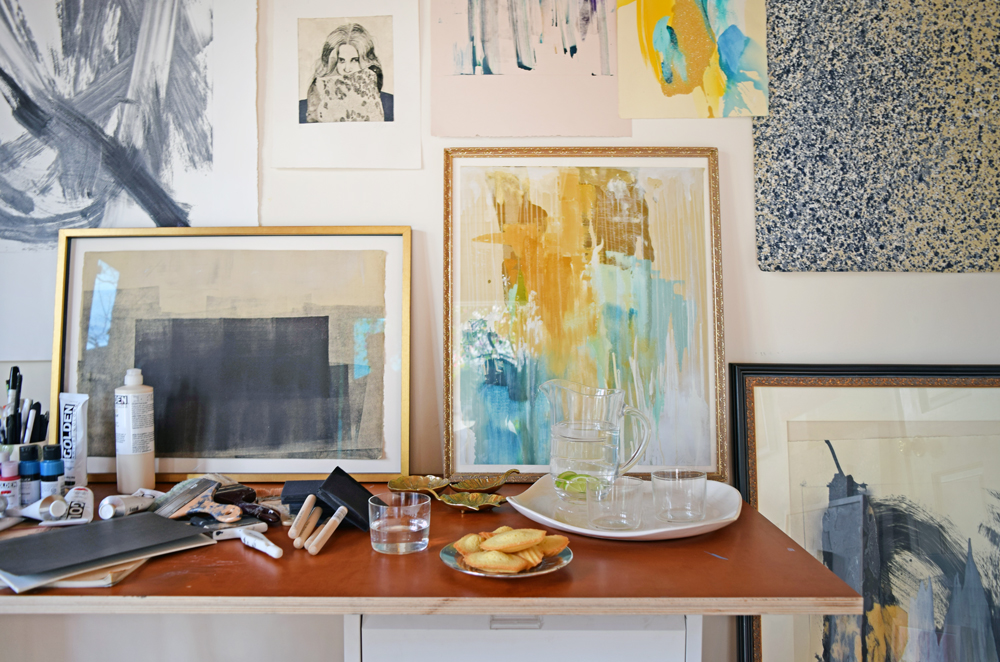 Anna had a plate of beautiful handmade madeleines in her studio, which pleased my Frech boyfriend, who eats like 35 madeleines every day. Important True/Racist fact about French people: You can feed them 7000 madeleines every day and they will still always be skinnier than you and it will always be annoying. I wasn't allowed to eat any madeleines because I explode like Ursula the Sea Witch if I eat a carb. Also I'm doing the paleo diet right now, which I'll be writing about soon and is not as douchey and awful and obnoxious as you might think.
I loved this painting so much I put it under my trench coat and ran out of the studio, cackling all the way like the Hamburglar. No, but seriously I bought it. And I'm gonna put it in a modern frame (either white or birch, what do you think?).
Anna is an avid flea marketer. She found this great magazine rack at Rose Bowl. Gimme!
This was my favorite chair in the room, as evidenced by the 700 pictures of I took of it. It belonged to Anna's grandfather and she had it restored and recaned to return it its former glory.
I want to smash all those paintings against my face. Forever. Until I die.
More of Anna's prints. Dappled in afternoon light in her glamorous studio.
And finally me, posing like an actual psychopath, next to an artist who is as talented and kind as she is adorable.
Many of the pieces seen in Anna's studio are available to purchase. So you should buy them. Today. Check out her website for more info…
Love, Orlando