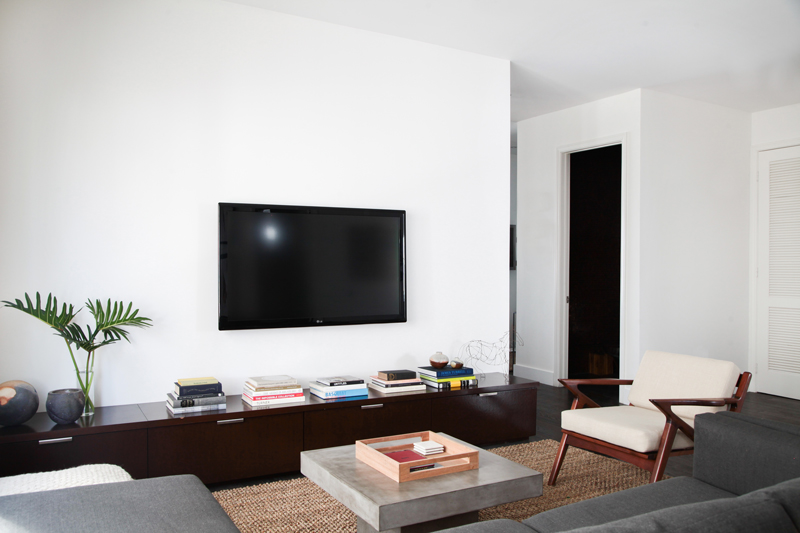 Photos by Tessa Neustadt Courtesy Homepolish
Dear Beach House,
Media rooms are kind of the worst. Most designers hate decorating them because there's all sorts of ugly electronic stuff and electronic stuff makes you think about math and math makes you think about sadness and death. Even worse, you have to think about something clients are always obsessed that you wish they didn't care about. Comfort. If you ask an interior designer why he became an interior designer he'll never be like "I always wanted to be an interior designer so I could find functional, slouchy sofa for my clients to wallow on." If he did say that you should fire him. And then hide him in a broom closet until he learns his lesson.
So yeah, media rooms aren't the most glamorous spaces to decorate. When I set out to design the beach house media room, I wanted it to be stylish as possible, while also being comfortable and inviting. Like your mom.
One tip I always like to share is that it's often a good idea to incorporate black into the color palette of a media room. If you have a big black TV, this helps incorporate it into the room and balance the space. At the beach house, I added a black accent table and made the legs on the sofa black. Just those two things made a world of difference in making the TV  look much more at home.
The floors throughout the home are dark wood, so I lightened everything with a sisal rug from Rugs USA. Which made me be all "THANK YOU RUGS USA!" (Because they have everything). The chic concrete coffee table is one of my fave finds. Like it's totally cheap and you can totally leave it outside (again, like your mom).
My best friend's grandma always used to call me "Fernando" even though she totally knew that wasn't my name. It was her little way of letting me know she didn't really care who I was or if I died right in front of her in a terrifying/violent chandelier-falling accident. Thus, when I came across this coffee table called Fernando I had to have it. Also it kind of reminds me of an Ellsworth Kelly drawing. Like this one:
Image via Caron Callahan
The collage drawings by Sandra Chervier are truly the showstopper of the room. They are beautiful works on paper made with collaged comic books, watercolor, and colored pencil. Portraits of lovely ladiefaces made out of superhero comics. So one minute you're all "THAT'S ANY EYEBALL" and the next you're all "THAT'S A SUPERMAN AND A BATMAN TOGETHER CUT INTO PIECES TO LOOK LIKE AN EYEBALL!"
This neon art by Patrick Martinez is the first thing you see when you enter the room and is a real crowd pleaser at parties. I know this because I've imagined being invited to parties here many times. In all those  parties the guests are like "Oh my god where did you get this amazing light sculpture?" And my client is all "My amazing designer Orlando found it for me! He's standing right there you can meet him! Before I met him I was so dumb and I didn't know anything. And now I am rich and have a life with meaning. Thanks Oralndo!" (Full disclosure: my client found it and knows way more about everything in the world than me, especially emerging cool street art, being attracted to women, and running a giant company).
In the end, I got over my fear of electronics and had a great time furnishing the beach house's media room. I will, however, never get over my fear of math.
Love, Orlando
RESOURCES
Media Room Resources: Rug by Rugs USA, Sofa by Blueprint Furniture, Sofa Table custom by Francis Capone, Coffee Table by CB2, Cocktail Side Table by Crate & Barrel, Mid-Century Chair from Modcrib LA, Ivory Throw by Crate & Barrel, Coasters from Crate & Barrel, Wooden Tray by Crate & Barrel, Nautical Sripe Pillow by Crate & Barrel, Ivory Pouf by West Elm. This project was completed as part of my work with Homepolish, a full service design company that is revolutionizing the interior design industry and making everything better for design-strarved clients nationwide. If you'd like to work with me or another Homepolish designer, please visit our website and sign up for a consultation.