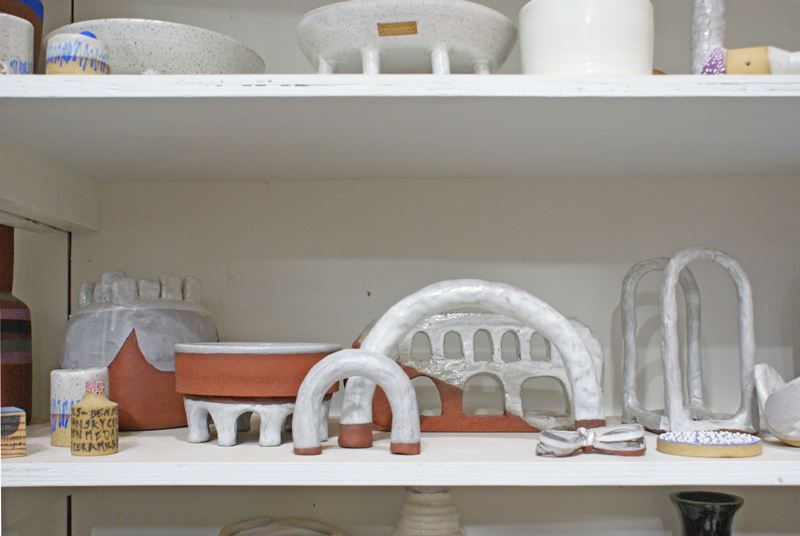 Dear Los Angeles,
One of my favorite things about you is that whenever I get sick of living here, I can always venture out and discover something new that makes me like you again. This summer, I realized West Hollywood was starting to make my skin crawl. I mean, believe me, I love me some waxed gays in bright tank tops, with perfect Ken Doll hair, flapping in the wind while they ride in their BMW 3 Series convertible, laughing whilst drinking lattes, talking about boys. In fact, I am often one of those gays. But sometimes I need a break from all that. So lately I've started venturing to the East Side, where everyone acts like they hate you just a little bit, which makes you like them more.
A few months ago, I went to a delightful rooftop party in Silver Lake, hosted by one of the most obnoxiously perfect East Sider couples ever. One dude is a successful actor, the other one is a successful lawyer, and they're both adorable. I want to put them in the oven like the witch did to Hansel and Gretel, cook them, and then eat them for dinner. They're that cute. Anyway, at this party I met a collection of great people and made some new friends. Including a totally talented, brilliantly successful ceramicist name Ben Medansky. I had the pleasure of touring his studio recently and now, so can you! Everyone wins!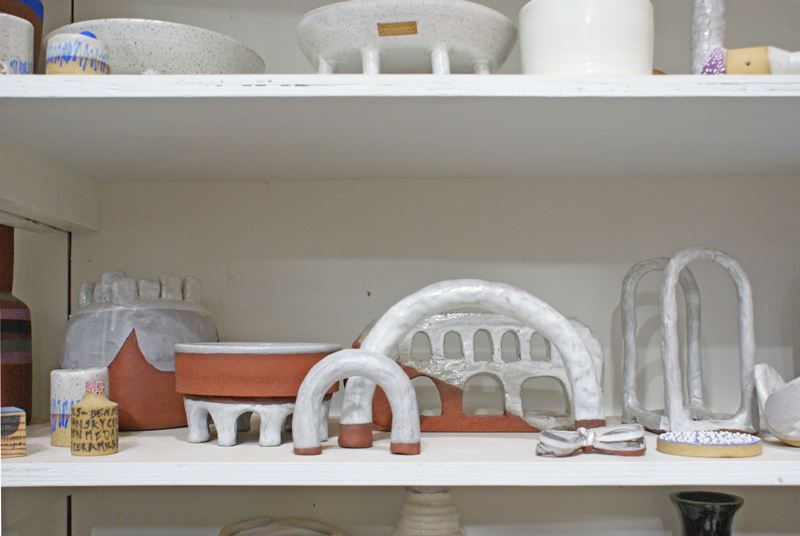 Ben's studio is located in the arts district downtown, in an industrial building. It's totally glamourous in a gritty, downtown kind of way. There are painters, metal workers, wood workers, all types of creatives wandering around, making stuff, acting aloof and cool. It's basically my dream world.
Ben has been working on a collection of sculptural objects, some of which can currently be found, ogled, and purchased at Lawson-Fenning in Silver Lake.
Ben has a fascination with this saturated blue color, which I love. Primary blue accents the entire space, and even makes its way onto some of his sculptural pieces. Which I covet. I wish that giant trench coats were still popular. So I could have worn one, shoved one of his awesome sculptures underneath, and scampered off like the degenerate hobo I really am. Sidenote: As an artist I've always sort of fantasized about someone stealing my art. Like I'd have some art show and someone would come to the opening and figure out some complex scheme to steal one of my paintings. And I'd be like "Oh my god, MY art has been stolen! ME!" When secretly it would be this huge ego boost because someone liked my work so much they were willing to break the law to have it. Other Sidenote: Don't steal art in real life, it's only cute when people do it in fantasies…
I love these mugs. Instead of dainty handles they have fat thumbs. Like your mom.
I need this clay planter. And so do you. And so does everyone. Right now.
Like me, Ben loves geometric shapes, especially cubes. He also has a fascination with arches. Like they're all over his studio in a way that makes me wonder if he dreams of arches. If he fantasizes that one day he'll marry a giant arch. That he will campaign his whole life so that Human-Arch marriage is legal. His interest in these comes, in part, from his interest in ancient aquaducts (shown below in one of his drawings).
When I visited, Ben was working on a collection of Menorahs. I love this one. If you've ever tried to find a beautiful, unique menorah you know how rare they are (Alert: I also love this branch menorah from West Elm).
If there's one thing I love more than an artist's studio is an organized artist's studio. Because most artists are total slobs that wiggle all over the place and eat spaghetti off the floor like weirdos. But Ben's studio was different. Check out that wall organization, people! Love.
An espresso cup. That I need. Even though I don't drink espresso. How beautiful is that?
One thing I love about Ben's studio is how he merchandises his shelves. I think this is important for anyone who makes stuff. Like you have to have a space where you can look at what you made and see how cool it is otherwise what's the point of making it in the first place? Life is about ogling, and without proper presentation you might be denied your right to ogle. Which is just shameful and wrong.
In order to warp his sense of self, Ben keeps this wackymirror in his studio. At least I think that's what's going on…
Ben designed this chair for a celebrity a few years ago. This one is a prototype that's now covered in claysludge, but I love this simplicity of its design.
My favorite thing in the studio was this mirror with googley eyes. It was literally impossible to resist taking an awkward self portrait in it.
You can see more of Ben's gorgeous work on his website. And keep your peepers peeping for an upcoming One Kings Lane sale. His pieces are truly beautiful and visiting his wonderful studio was really a treat. Totally inspirational.
Love,
Orlando