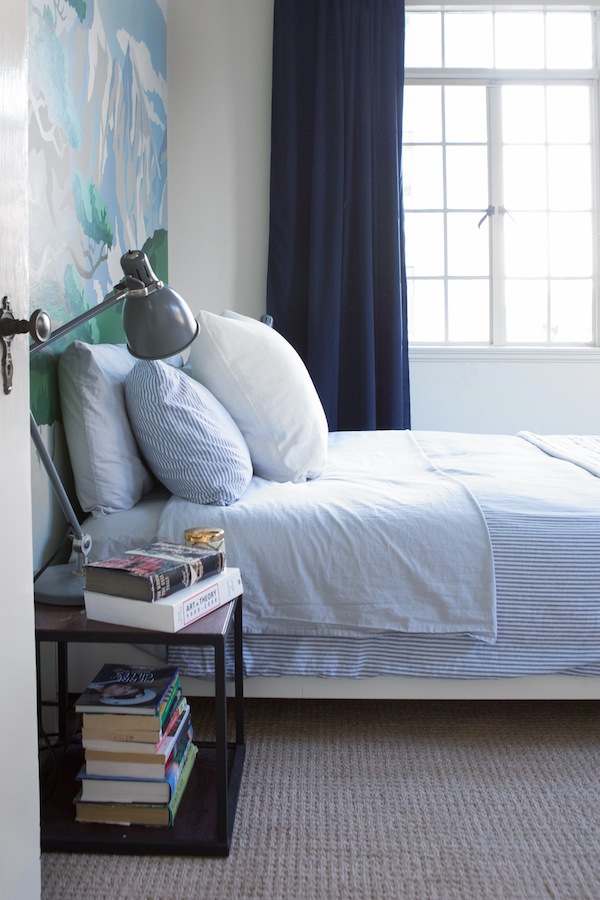 Dear Diary,
Remember that movie Single White Female? Where Bridget Fonda was all "Hay I'm Bridget Fonda I'm pretty and Jane Fonda is my auntie" and then Jennifer Jason Leigh is all "Hay Bridget Fonda I want to steal your boyfriend and stab you with a high heel." I saw that movie when I was ten and it enriched my life forever. It's just so good. Pretty girls running around an apartment trying to escape being murdered by high heels? It reminds me of a typical Saturday in West Hollywood. Anyway, I've been feeling pretty Single White Femaley recently, upon finishing up at my client Jon's place. I've realized that, like the crazed maniac played by Jennifer Jason Leigh in Single White Female, I'd like to steal my client's identity just so I can live in his apartment.
As an interior decorator, you know you've done a good job if you secretly want to steal your client's identity just so you can also live in the home you so lovingly decorated for them. I had a lot of fun doing Jon's house, mainly because I got to buy him all the stuff I want for myself and he was cool with it. He was maybe the world's easiest client. And part of me wanted to keep working on his house forever and ever just so that I could continue going to his house to talk to him about life, love, and success. One thing I've realized about myself is that I am one of the most co-dependant people in the whole world, so clients who want to talk about their feelings and hang out with me are my favorite.
Because Jon just moved from New York and his new Los Angeles home had such a classic stately design, I chose to decorate it as if it were a New York brownstone owned by a crazy art dealer. In all honesty, all I've ever wanted in life is to live in an apartment that looked like it belonged to a crazy New York artist, but I realize that's a bit much for most people's taste, so I held back a little bit.
Here is the living room. My favorite find was those Ikea shelves. $70 each is NOT bad. Every other shelving option I found was, like, $70,000.
Desk: $450 from Pepe's Furniture, Chair: $239 from Blueprint Furniture, Sisal Rug: Rugs USA, Graphic Rug: Vintage Ikea, Sofa: Blueprint, Media Credenza: ModCrib LA, Drapery: $49.95 Werna Drape from Ikea
The desk was also a total barg. From a vintage store in Silverlake called Pepes.
Desk Lamp: Forsa Lamp, $29.99 from Ikea
If I had to spend the rest of my life loving and canoodling any piece of furniture, it would be these luscious chairs I had reupholstered in rich blue velvet. I want to stick them on my face. And then eat them. And then throw them up so I can eat them again. I love them that much.
Shelves: Vittsjo, $70 from Ikea, Pig Bookends: $29.95 from CB2, Chair: ModCrib LA, Basket Accessories: Ikea, Noguchi Lamps: OK Store, Vase: $24 from West Elm
I also love this grey chair. It's squatty, wide, and inviting. Like your mom. And it used to be the ugliest chair known to man (see here). Like a contestant on that terrifying (and cancelled) television series "The Swan" this chair underwent a complete facelift that left it looking perky and cartoon-like.
Chair: $20 from St. Vincent de Paul, Sidetable: $45 from TINI, Throw: $29 from West Elm, Standing Lamp: $50 from Rose Bowl Flea Market
Jon is a writer so he wanted a transform this awkward nook into a little writing room where he could stand, write, and think about the future. I was more than happy to oblige, bestowing him with one of my favorite props, my hobo suitcase (beneath desk). It's a well known fact that all writers need a hobo suitcase.
Desk: $449 from CB2, Stool: No Long Availale from West Elm, Lamp: $49 from Pottery Barn, Trunk and "O" Letter: $20 from Rose Bowl Flea Market
Because I believe it is imperative for all my clients to have perfect style down to the magazines they read, I bestowed Jon with some Mark Magazines and bulletin board full of inspiration (which he's hopefully taken down by now).
Plants and planters: Mickey Hartigay Plants, Glass Vase: $10 from Rose Bowl Flea Market, Mark Magazine
If I had to crawl inside any piece of furniture and hide there for the rest of my life until the man of my dreams comes and finds me and asks me to marry him, I'd choose this crazy dresser. I painted it green and added that sassy hardware, which took it from barfy to beautiful in, like, 3 hours. (See before pics here).
Dresser: $150 from Wertz Brothers Furniture, Lamps: $20 each from St. Vincent de Paul, Art: $100, Emily's Vintage Find at Rose Bowl Flea Market
These delightful and strangely-scaled lamps came out of an old hotel and were the perfect height for lighting the vintage architectural drawing Emily found at the flea market. And that sphere sculpture by Suzanne French goes everywhere with me (I took it home after the shoot). I've known that lady since I was a baby and I love everything she makes.
Sphere sculpture $100 by Suzanne French
Another fun find was this crazy inexpensive chandelier from West Elm. I mean, are you kidding me? $249 for that thing is like thievery. If you've ever shopped for a chandelier you know they cost millions of dollars. This one is a great scale and an even better price. Holler.
Chandelier: Staggered Chandelier $249 from West Elm, Table: $995 from HD Buttercup, King Chairs: Preben Chair, $119 from Ikea, Rug: Avine Ruta Rug, $249 from Ikea
Fiddle Leaf Fig: $60 from Mickey Hartigay Plants, Boat: $45 from Rose Bowl Flea Market
I made this Ruscha-esque piece by finding a nasty old print at the flea market for $10 and adding somber vinyl lettering to it. And there you go, flab to fab in ten minutes!
Art: DIY Lettering art by Orlando Soria, Rug: Soften Rug, $24.99 from Ikea, Basket: No Longer Available from West Elm, Plant and Planter: $60 from Mickey Hartigay Plants
Have you ever dreamed your headboard was a giant painting? I have. Actually, I wish everything was a giant painting. I wish I lived in a giant painting. I wish my car was a giant painting. I wish my boyfriend was a giant painting. So I made this headboard.
Headboard: DIY Headboard by Orlando Soria, Lamps: Arod Lamp from Ikea, Trunk: $250 from Wertz Brothers, Bedding: Nyponros Duvet set, $39.99 from Ikea, Drapes: Werna, $49.99 from Ikea
Like Ricky Martin revealing his homosexuality, these navy blackout drapes from Ikea are a welcome revelation. It's very difficult to find blackout drapes at such a good price. But, hey girl hey, $49.99 for these babies. The rods and rings are also Ikea and pretty easy to install. Unless your walls are made out of concrete like Jon's are. In which case installing anything takes the world's biggest drill and, like, all the brute strength in your gay body.
Lamp: $255 from Lamps Plus, Chair: $359 from Urban Outfitters
Anyone who knows me knows the only thing I like to talk about (besides guys, shopping, and the mall) are "O" mirrors. This is because my name starts with "O" and I love circles. I found this bad boy at Wertz Brothers, a place where many of my dreams come true.
Highboy: $200 from Pepe's Furniture, Lamp: Mia Table Lamp, $129 from West Elm, Mirror: $159 from Wertz Brothers
With a budget of $15,000, some elbow grease, and a good amount of pluck, I completely decorated and furnished the entire apartment. In the end, I realized I shouldn't try to steal my client's identity because that didn't work out so well for Jennifer Jason Leigh in Single White Female (hint: she dies in the end). I guess I'll have to find another home to stab with a high heel. I mean, decorate.
Love,
Orlando