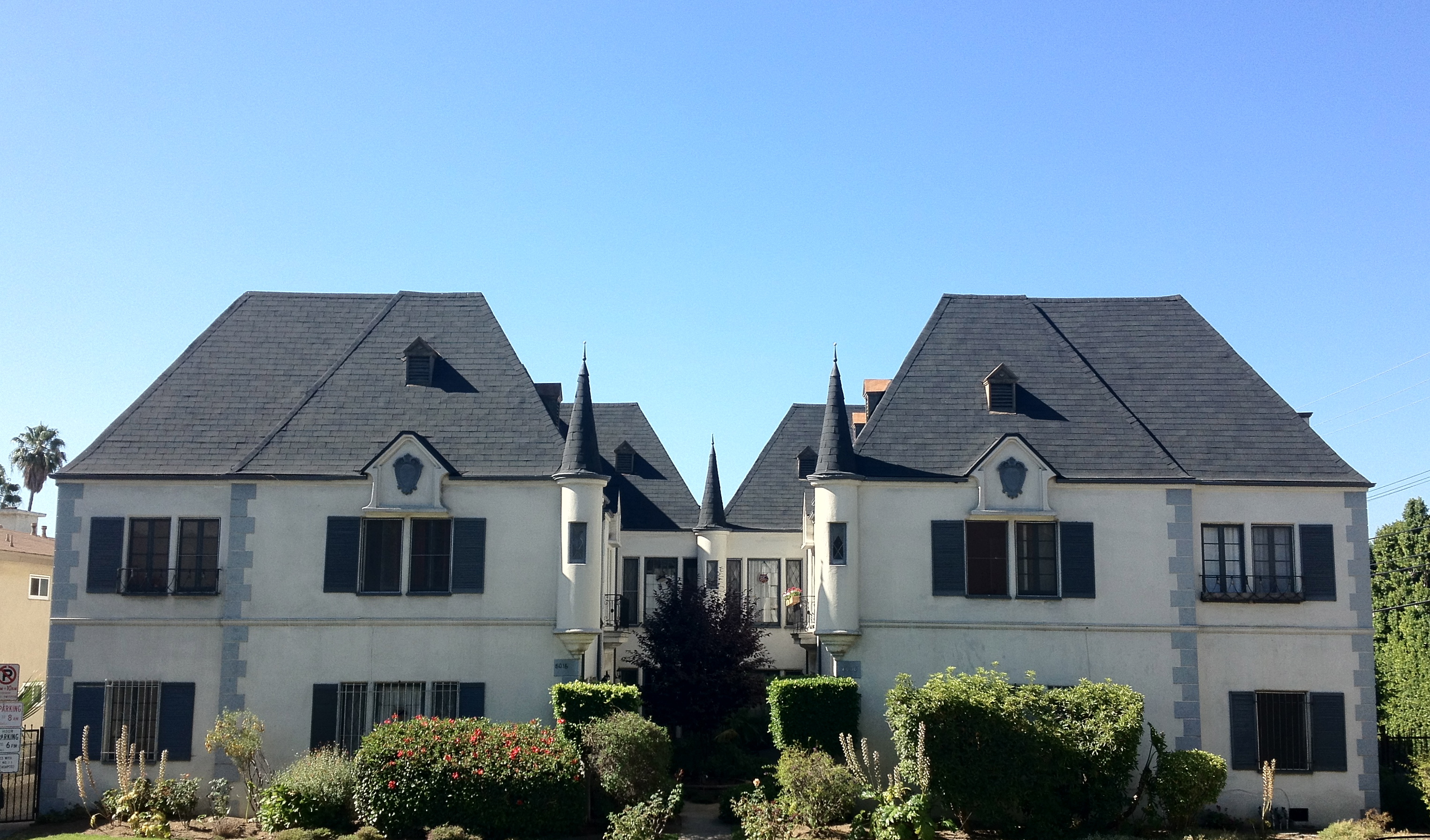 Dear Hollywood Hills West,
You're a weird place. Kind of Hollywood. Kind of West Hollywood. Kind of Los Angeles. I moved into this part of town because I wanted to find a place as green as West Hollywood, but without all that appletini-scented-gay-gutter-bar-trash you find in the heart of WeHo (sorry, you know it's true). Thus, I moved a neighborhood I thought was Hollywood. Only to find out months later that it was really called Hollywood Hills West. What attracted me to this place is that everything is so sprawling and mid-century. We have tons of eco-unfriendly lawns, palm trees up the ying-yang, and lots of pretty tropical vegetation that would probably be more at home in the Amazon than Los Angeles.
I knew I loved this neighborhood when I spotted my building for the first time, glowing a mint green color that warms my heart, calling to me like a siren.
This is the building I see out my window every morning as I wake up, wide-eyed and ready to take the world by storm (as soon as I drink 17 cups of coffee and whine for an hour about being tired).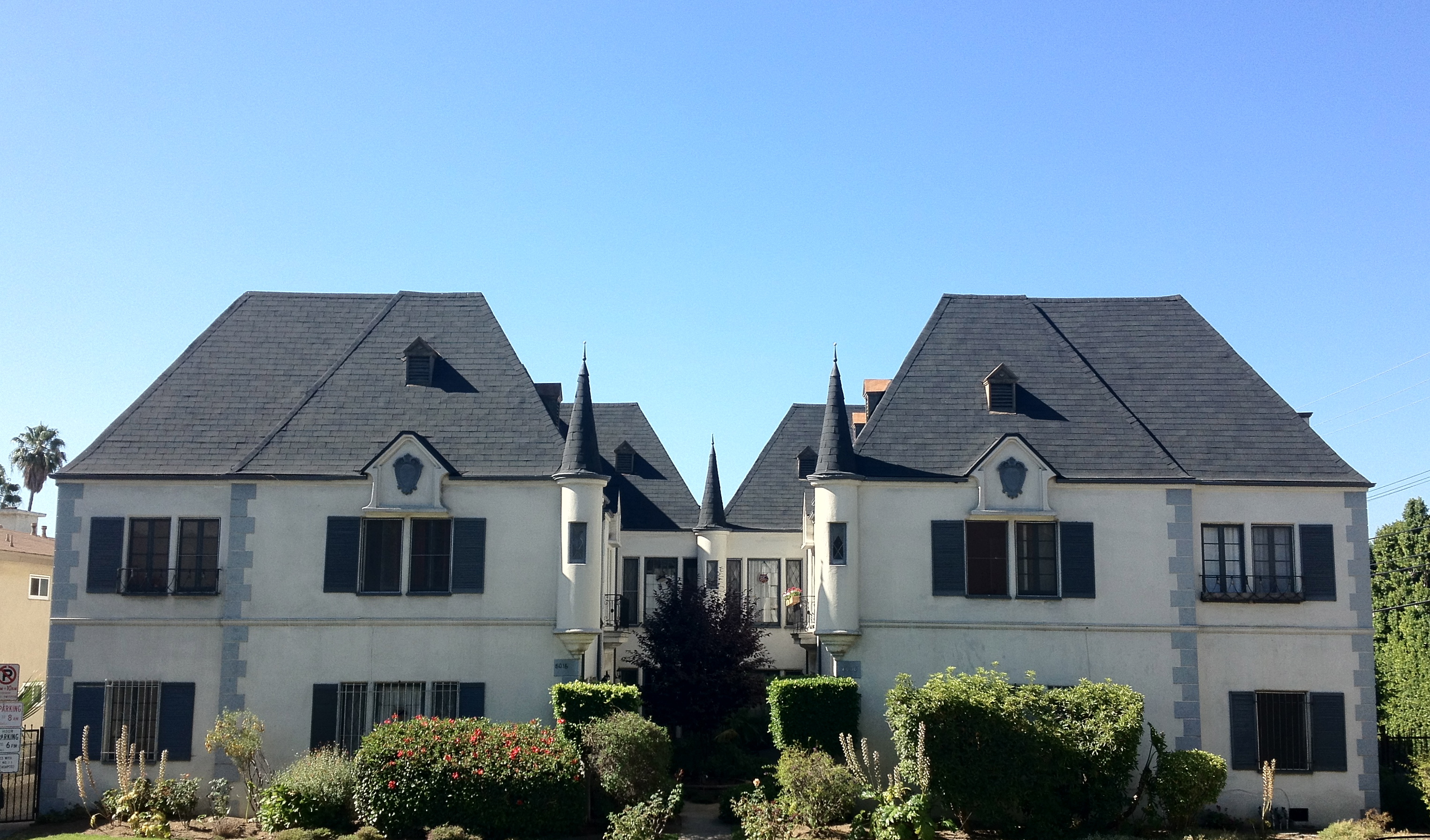 I hate this color of brick, but that doesn't stop me from loving this font. You can really do a lot by just adding pretty numbers to your building (stay tuned for more exciting examples!).
According to evidence I have collected, the owners of Breezy Freeze Snowball Company live near me. Jealous? (Sidenote: I've never had a Breezy Freeze Snowball but I can tell you based on the color of their van that it's delicious).
In my neighborhood, quirky fonts  are the norm. Boring fonts, GO HOME!
This building is one of my favorites because it's so geometric, intimidating, and stark. Kind of like a Stanley Kubrick movie.
Look how scary and intimidating the entry is. I want to live in there.
Again, not a fan of the bricks but you can't deny those clean lines. If this were my building I'd probably paint those bricks white or just put concrete over them. That's terrible but I hate bricks like that. I know, I get it, totally ruins the historical accuracy of it but it could be SO much  prettier if the surface was as simple and elegant as the architecture itself.
I love any building covered in plants. Unless the plant is poison ivy.
I moved to Los Angeles because I wanted to live in a city where I could see trees. I get depressed if I don't see trees. Also, it's nice to have flowering trees scenting the air, distracting you from the fact that you are breathing in more pollution than anyone in the rest of the United States of America.
I love these guard lions on the house up the street. It's kind of ridiculous because the house is so cute and non-intimidating, but that's part of the joke.
I also love how cute little houses like this that would cost $150,000 in a normal place are worth like 6 million dollars in LA. Okay that's probably an exaggeration, but you get my point. Someday, when I'm 57 years old, I hope to save up enough money to buy a dumpster to convert into an efficient and charming home for me and my 16 cats to live in.
You know you've made it when there is so much vegetation in front of your door that you can barely see it.
This is the house. I want it. It's squared-off Spanish shape makes me happy, scared, and a little turned on.
These geniuses painted their house an awesome color of yellow, shielded it with plants, and then parked their totally Gay Jeep in front of it. Triple win!
This color of grey totally heightens this otherwise unremarkable home. God that was so rude. If whoever owns this unremarkable home is reading this, I apologize. Also, can I have your house? It was just called unremarkable on a very important blog so you should probably move.
One of the most exciting attractions in my neighborhood is this ridiculously huge hedge. I think they put it up to protect residents from the rowdy people in line at the Laugh Factory (across the street). Added benefit: we are all protected from the ugly building behind the hedge (it's supes gross).
Every time I pass the hedge, I think of a book I read a lot when I was a child, The Garden of Abdul Gasazi by Chris Van Allsburg. It's filled with beautiful illustrations.
See! More zany typography. It makes the building so much hipper than it would be otherwise.
Giant tropical plant, HAY!
This building is disgusting and falling apart. But check out that aqua! Yum!
I think this building might be ugly. But I love the simplicity of the lines. So maybe it's beautiful? Help me.
That pretty tree looks like it jumped out of a Japanese painting. Glamourtree.
This building has been my one true love for a while. It's yet another example of how a good font can really change a whole building. Sure, the lines are classic and the beautiful stone slabs look expensive. But really it's the lovely font, those strong 5's and that satisfying 0. If you look at this building from the side it's just another apartment building with weird balconies and stucco siding. But the front makes it look like the most luxurious apartment building on the planet.
So there you have it. That's my hood. I love it here and I'm never moving. Until I save up all that money to buy that dumpster I want.
Love,
Orlando