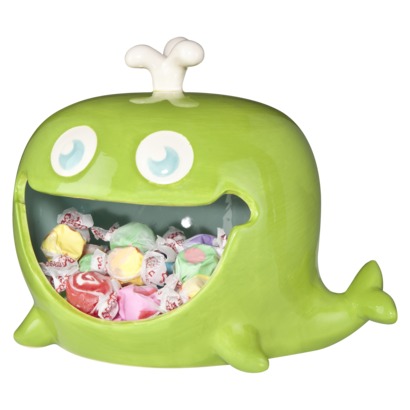 Dear Diary,
Like many teenage girls in Japan, I love all things graphic, bright, and cartoony. Yesterday, I went on a crazy shopping spree at Target and was reminded how much I like cartoon-inspired objects. In particular, I was struck by a mug in the shape of a whale (which happened to be in my favorite color aqua). It titillated me because I find it both revolting and completely necessary. At first I thought it was too cheesy and disgusting to buy, but then I thought to myself that if I saw it at Cerealart, I'd totally want it. This mug cost me $3.99 and it was worth every penny. I liked it so much I bought one for myself and one for a new friend (who threw it in the garbage as soon as I left her apartment. Probably). Can you imagine not being filled with joy whilst drinking from this ridiculous mug?
Target has some other weird/cute stuff right now, including this cookie jar. That mama elephant looks like she's about to eat her baby.
This candy jar terrifies me. Thus, I want it.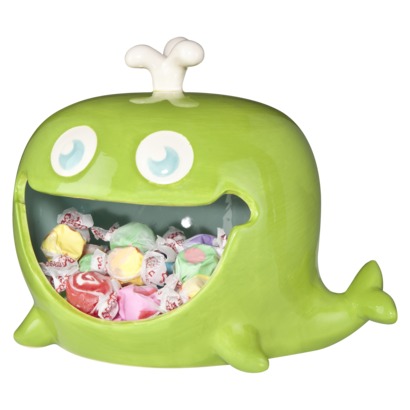 I'm a fan of Takashi Murakami and Yoshitomo Nara, which probably explains why I like these weird, subversive cartoony objects so much. In fact, I have both these Nara pieces in my apartment:
Cute Clock.
Cute puppy in a teacup.
If you aren't familiar with Cerealart, you should check them out. They sell all sorts of glamourous artist editions and a ton of fun objects (including those below) made by artists whose actual work is too expensive for, like, anyone to afford.
I like this adorable brass tooth by David Shrigley.
Also, I need this sign by Maurizio Cattelan:
Keith Haring coasters. Gimme.
If I smoked I'd totally want this ashtray by Yoshitomo Nara.
I guess the moral of the story is that I love weird cartoony objects. And so should you.
Love,
Orlando