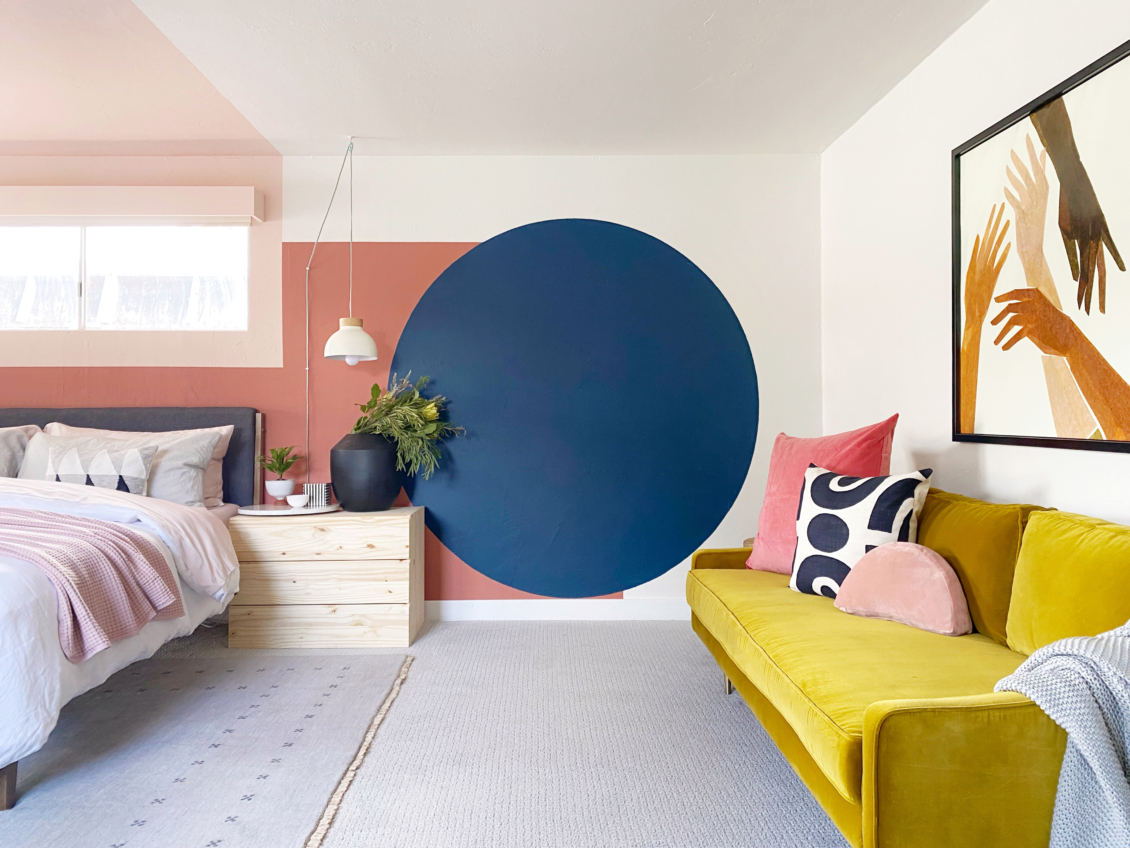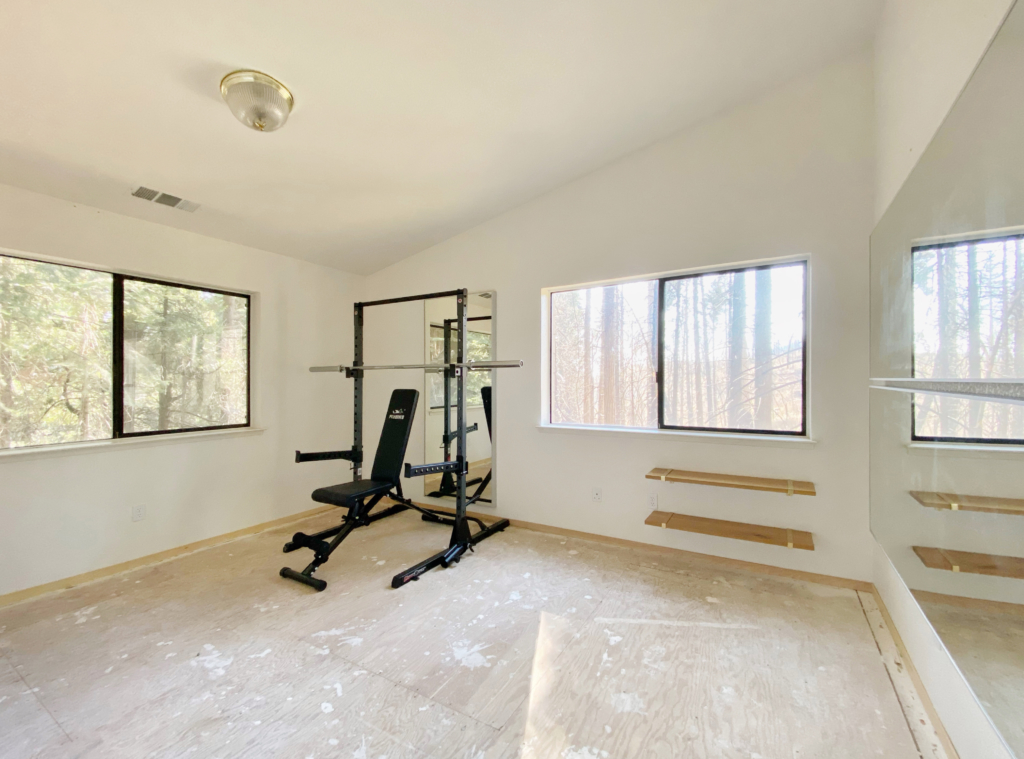 I've been at Londo Lodge officially for a month now and, slowly, I'm getting settled in. Move-in has been a little more involved than I anticipated. This is my first house so I had no idea what to expect. I think part of me just imagined moving in and magically beginning renovations immediately. I had no idea I'd have to repair the septic system before I could use the water, repair the heating system before I could get the heat to turn on (it's been getting down into the twenties at night here), replace the washer and dryer before I could properly do laundry, get the chimney inspected before I could start a fire in the fireplace, and so on. All of this has been a wonderful distraction from Covid, but has delayed my overly ambitious plans to start a series of renovations the second I walked in the door. It may sound like I'm complaining (I guess I sort of am, spending money on all this unexpected stuff is kind of irritating) but I genuinely am excited to be doing all these things around the house.
Something that has become evident as I've been here longer is that this house was basically abandoned for years. I've deciphered this from the variety of pest infestations around the house (spider webs, etc) and the way certain systems have malfunctioned. The septic system stopped working because roots grew into it because water wasn't often flowing through the pipes. The toilets were all stained with silt deposits from the water because they'd been sitting unused for years (I've been maniacally cleaning them since I moved in). A neighbor stopped by the other day and told me the family that owned this place only came once or twice a year for the past twenty years. So something I've learned recently is how much of a living organism a house is. If it's abandoned, it kind of starts to break down. The upside: everything here is in mint 1992 condition. The carpets, tile, cabinets, etc are all perfect. But I'm learning things like water, plumbing, and heat need to be used to not break down.
I hadn't anticipated really doing any "makeovers" before I started renovations next year. However, as I've been here a little longer I'm starting to realize a few things. Firstly, I have gotten a few brand partnerships that require installing home furnishings in a space pretty enough to share online (I currently don't have any, this house is DATED). Secondly, I bought this house as a place to experiment, as kind of a design lab to play with ideas. So, over the next few months I am planning a few different "mini-makeovers." These makeovers are meant to get me through the next months of living in this house. But they're also meant to inspire people to figure out how to transform their spaces on a budget, to figure out how to live in a space when you can't afford a massive overhaul. For me, they'll be a way for me to maintain excitement and pride in my new home, but they'll also be a great way of me to keep making "content" (I know, that word, I'm sorry) while I save up and wait for big renovations in 2021.
The renovations I have planned for this house are pretty massive and involved. I actually have my contractor friend Rebecca coming up TODAY to chat with me about a good plan of action. I'm not thinking any of this is gonna happen fast so while I wait I'm gonna have fun playing around with design up here. The rules I've set for myself is that I don't want to buy any furnishings I don't plan on using in the final renovated space OR that I can't give away to family or friends who need them – I don't plan on doing any temporary makeovers that lead to unnecessary waste. Another rule is that I want to try things that might be too wild or not make sense with the final design of this house, which is going to be a lot more tailored, traditional, and buttoned-up than its current state of 1992 Giant Box.
The first few makeovers I have planned are a bedroom makeover for the room I'm designing for my parents (complete with this GORGEOUS wall mural from York), a dining room makeover just in time for the holidays, and a colorful gym.
I'm staring with the gym because, quite honestly, working out has been my antidepressant for the past ten years and my routine during Covid has really suffered. I got used to working out at my fancy gym in West Hollywood with its bright, airy windows, eucalyptus-scented towels, and glamorous locker rooms. But when it closed, I had a hard time wanting to workout in my back yard or somewhere inside my apartment where I had to set everything up then take it down when I was finished. I've watched in awe as other people have been "killing it" in the home workout game while I struggled to maintain any kind of motivation to do literally anything active. What I've learned about myself is that I'm kind of a princess about where and how I workout. Sorry not sorry I guess.
One thing about the pandemic that's been strange is that some days I feel like I'm doing my best to promote my own wellness, eating well, being responsible and healthy. And the next day I'll feel depressed and feel like wallowing about everything. There's no sense of normalcy with anything because having a "routine" has been next to impossible. I did make this even harder by moving, buying a house by myself, changing up my professional priorities, and figuring out a new system for how to responsibly socialize while being safe (which involves hyper-quarantining, constant testing, and asking everyone who comes here to test and hyper-quarantine before arriving). But I have found the one thing keeping me from feeling "normal" is the daily workout routine that previously made me feel physically better.
But how would I get myself to actually workout this time (believe me, I've tried everything at this point)? My goal is to build a room in my house that I actually want to go to, that is bright and happy, where I can hang out and workout and finally get back to something that previously brought me joy. Luckily, the house I moved into has a ton of space and lots of random rooms to play with (currently it has four bedrooms, four bathrooms, I'm hoping to add another bedroom and bathroom in the renovation).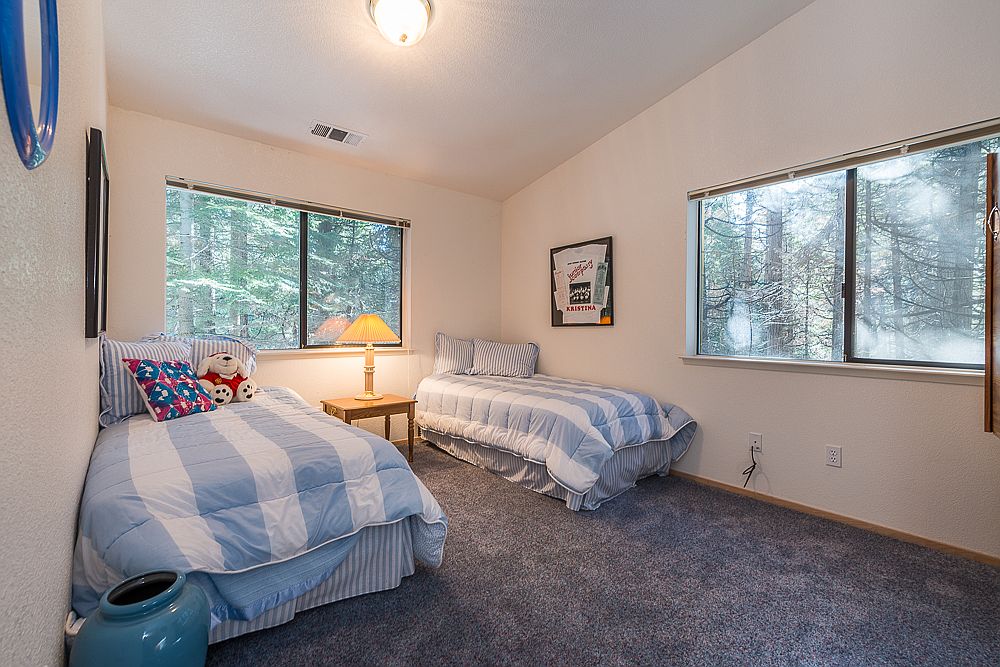 The room I decided to make the gym in is the one I eventually want to make into a kids room. No, I don't have any plans to have kids any time soon. But this house is being re-imagined as a cabin I can share with my family (including my niece and nephews). But for the time being I chose this space as the gym because it's the smaller of the three guest bedrooms, has no closet, and gets the best light. I'm very sensitive to things being bright and happy, so I knew if I was actually going to want to be in there it had to be filled with sunlight.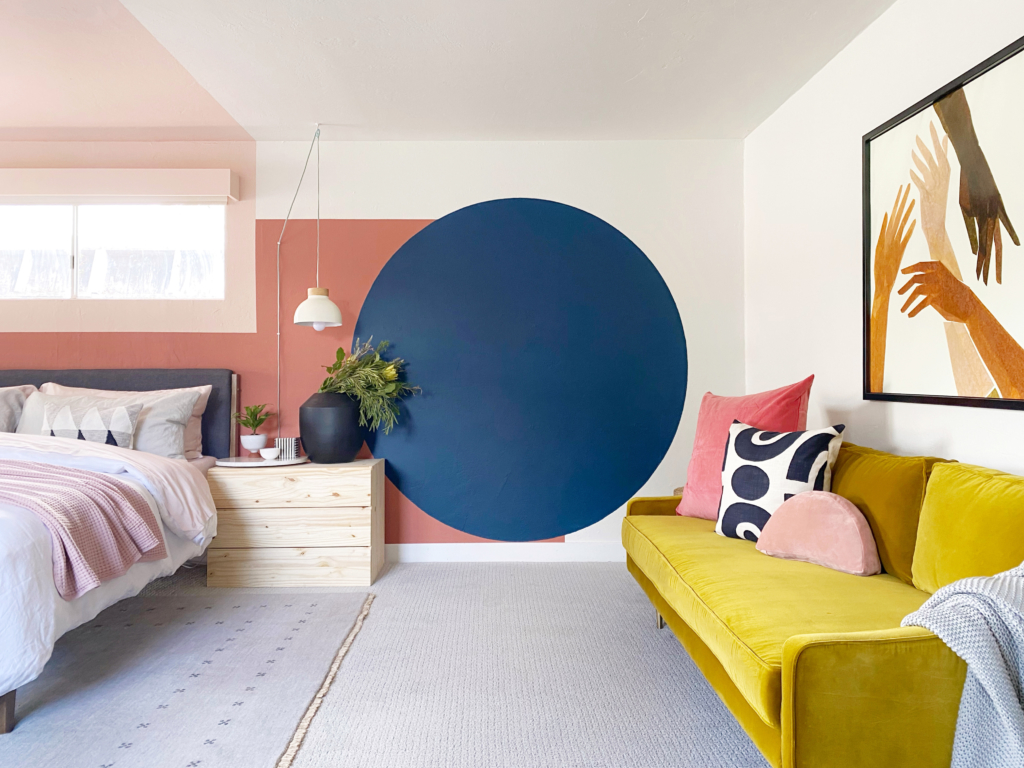 I've found inspiration for the gym from one of my favorite episodes of Build Me Up in which I painted a fun wall mural in a bedroom. That episode was particularly challenging because we had a HUGE space to deal with and basically no budget to do so (notice, that rug is my old rug from Chateaulando – a lot of my personal furnishings ended up in that house). Whenever I'm asked what's the biggest bang for your buck design-wise, I always say paint. It's truly the least expensive way to make a big impact in a home (if you have time, patience, and a steady hand).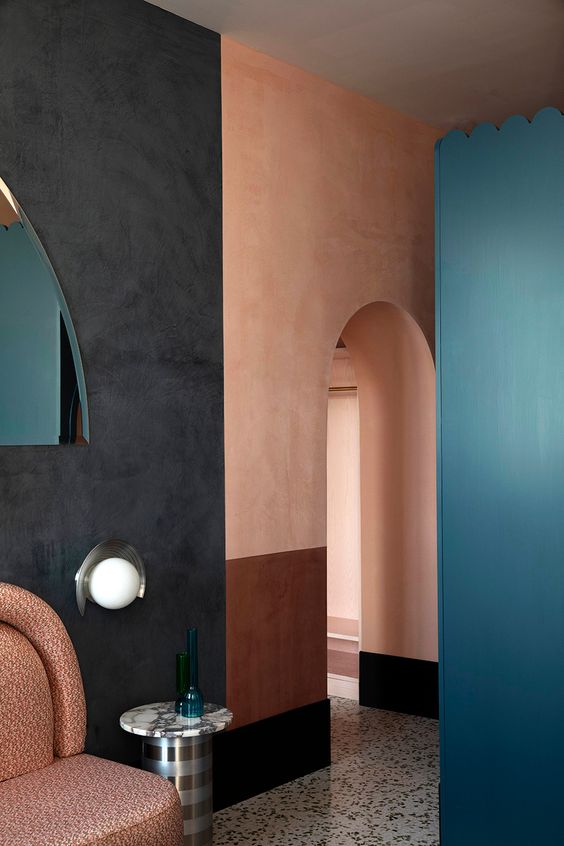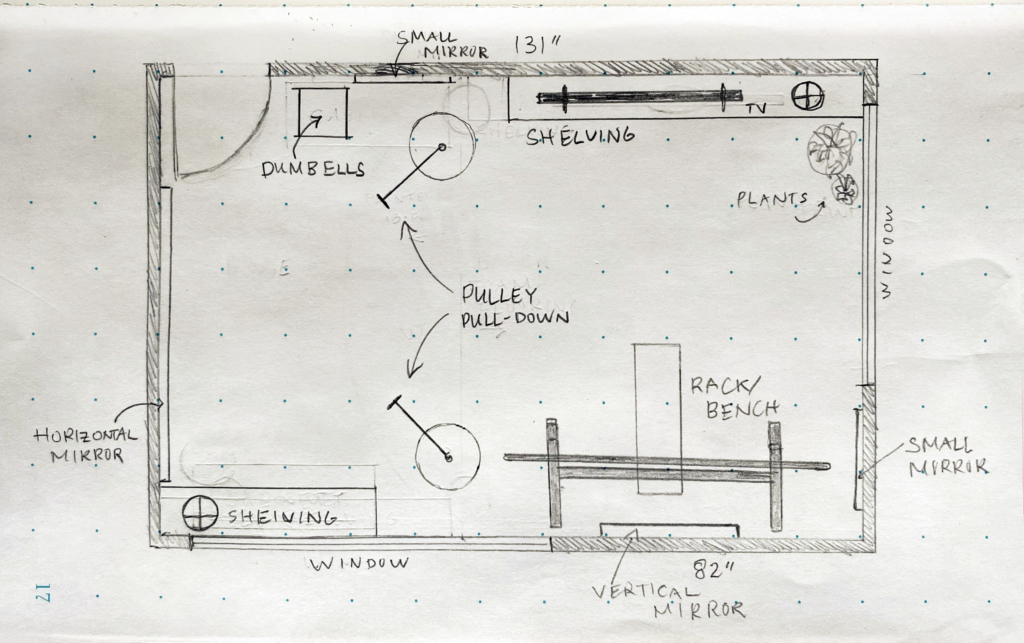 As soon as I started sketching out the gym (I didn't do a full on rendering of it because I've been too busy maniacally cleaning, setting up my house, and trying to manage my business on top of all that) I realized the room was gonna be a lot more crowded than I thought. The rack (necessary for squats, chest exercises, etc) takes up a lot of space. So I knew I'd have to be pretty efficient with everything else. Luckily, I had some BEAUTIFUL leftover shelves and brackets from Rejuvenation that we'd planned on installing in my parents kitchen that ended up not fitting, so I will be adding those under the TV and around the room for storage. These shelves/brackets might seem like a splurge but as I was installing them I noticed how incredible the quality was and it made me think they're totally worth it. If you tried to source wood this luxe and have these made custom it would be expensive to do, so if you're in the market for some shelving I highly recommend these gorgeous babes. The layout of the room is pretty simple, I basically shoved everything against the wall because when you're lifting and working out you want as much space as possible. Plus, I plan on installing some pull-down cables for decline chest fly exercises (yes, I just had to Google what that exercise was called – I oddly know what I'm doing when I'm working out and yet know nothing about what anything is called). Those pull down cables need room around them so I needed to keep the middle of the room clear (also for stuff like ab planks, etc).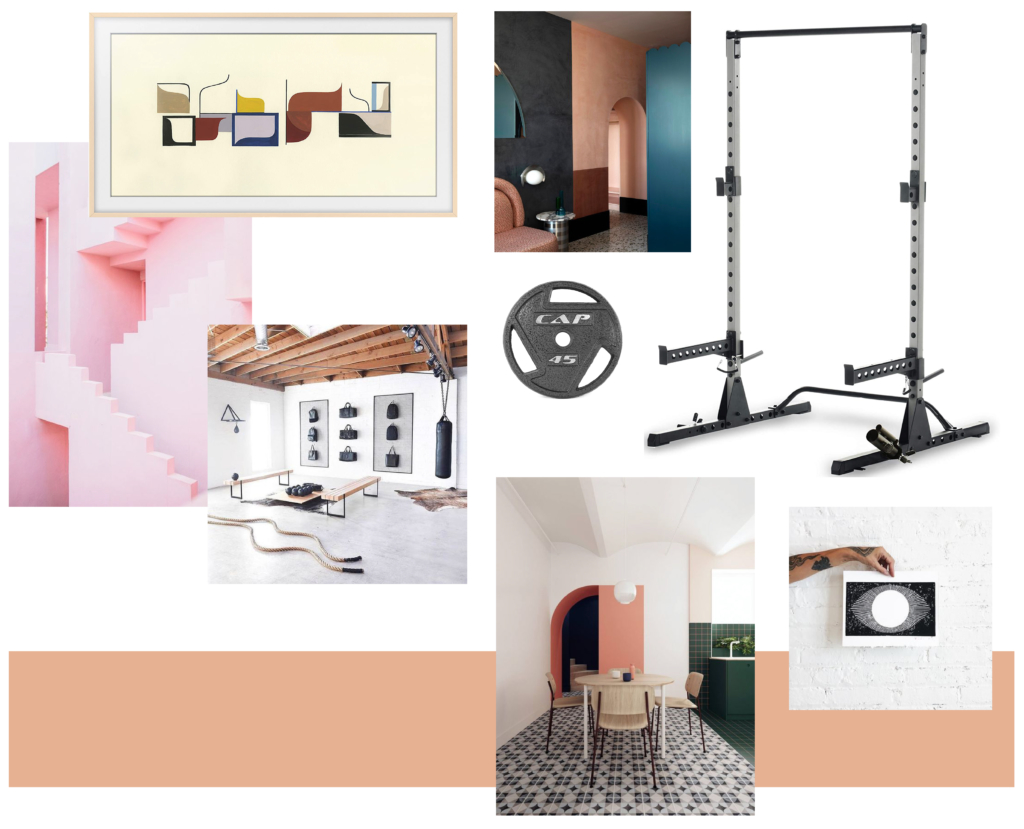 If you've looked online for workout equipment since the pandemic began, you know that it's A) Expensive, B) Hard to come by, and C) Takes forever to arrive. So I knew a massive part of my budget would go towards the weights, rack, and other equipment needed to make the space functional. Again: BORING! This meant that anything going on design wise in the room would have to be super economical so I didn't end up blowing my entire renovation budget on a gym that's gonna get moved once I'm into the last phase fo the remodel. Enter one of my very favorite things on earth: STUPID PAINT TRICKS! I decided to go with a SUPER WARM AND COZY collection of ivory, beige, and pink (one of my very favorite color combos) to create a fun pattern on the ceiling and walls. I wanted the gym to feel welcoming and fun. AND WHAT SAYS FUN BETTER THAN PINK???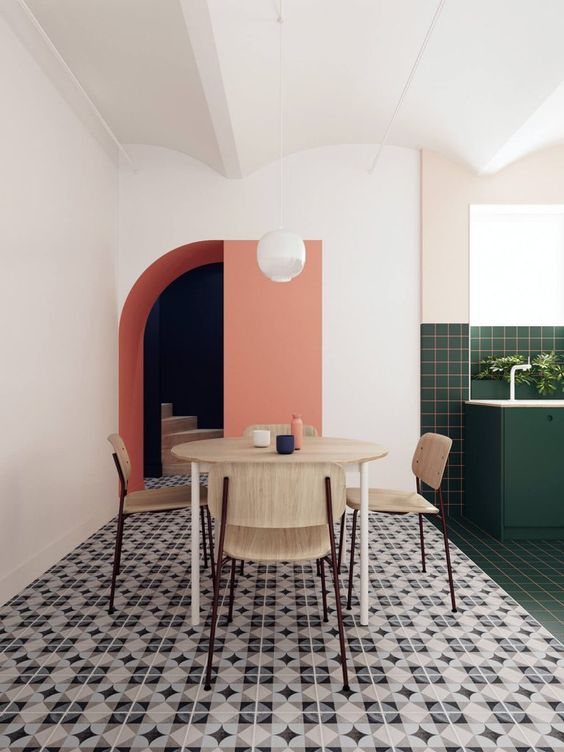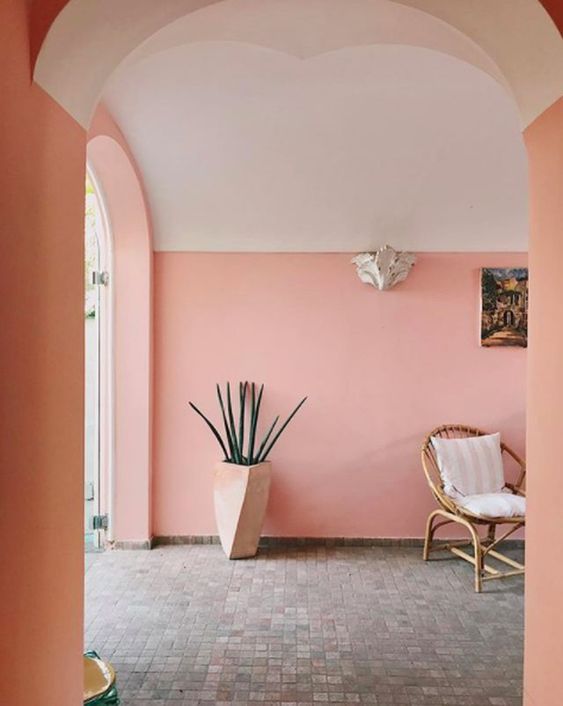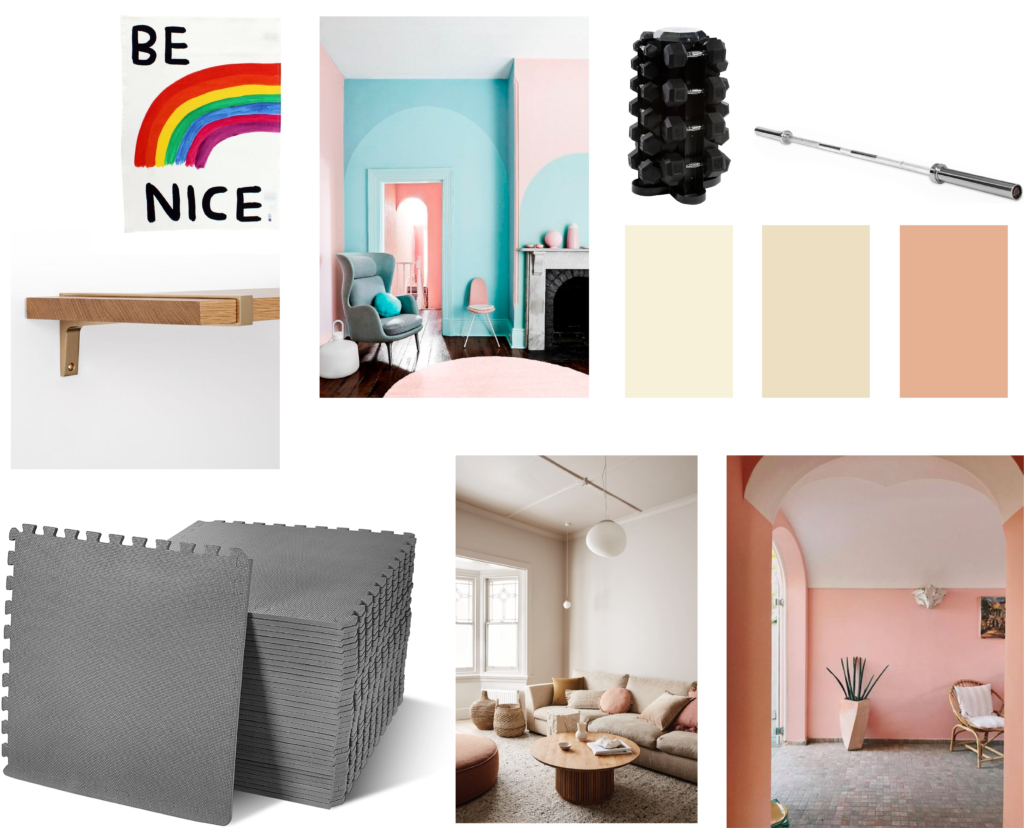 Eventually, I plan on removing the carpet from this entire house. It's nice and comfy to walk on but makes my eyes bleed internally every time I look at it. So I started by demoing the carpet out of the gym. I've done this before so I knew it would be easy, the only snag was the staples used to install the foam padding underneath were kind of a pain to remove (especially with my Ikea screwdriver, I'm working on amping up the quality of my tool collection). I kind of like the way the floor looks with just plywood, but I wanted this to be a super functional workout space so I am installing these foam floor tiles from Amazon. You basically tape them to the floor with carpet tape and cut them to size. They haven't arrived yet (things have been taking a while to get here) but I'll report back as to how difficult they are to install.
I decided I wanted to put a TV in the gym to keep me company, entertain me, and make the workout experience "fun." I'm basically pulling every trick out of my sleeve to trick myself into working out. Don't judge me, but one of my main thrills in life (which for some reason I never allow myself unless I'm on vacation) is "The Today Show." So I've decided my routine is that I'm gonna workout while I watch Hoda and get ready for my day. Since I'm literally all alone in the woods sometimes it's nice to have something on in the background to give me energy. This is why it's been so hard for me to workout alone – I relied on the communal energy of the other people in the gym. When I was in college I could never study alone – only at the library where other people were studying. So I'm hoping that having people blabbing on TV is going to make me feel slightly more excited to start my day with a PUMP.
I'm waiting on a few things to get here but the gym should be done in the next few weeks. I'm getting used to the slower pace of mountain living and mountain delivery (things take longer to get here because some delivery companies only come up once a week). But I'm excited for this to be done just in time for winter to arrive when I'll be trapped inside getting SWOLE as gorgeous snowstorms flurry outside my window. I'll be back with a reveal soon, but in the meantime, I'd love your help. What equipment/tools/accessories are your must-haves for a home gym? Answer (with links if poss) in the comments!
Okay Goodbye!