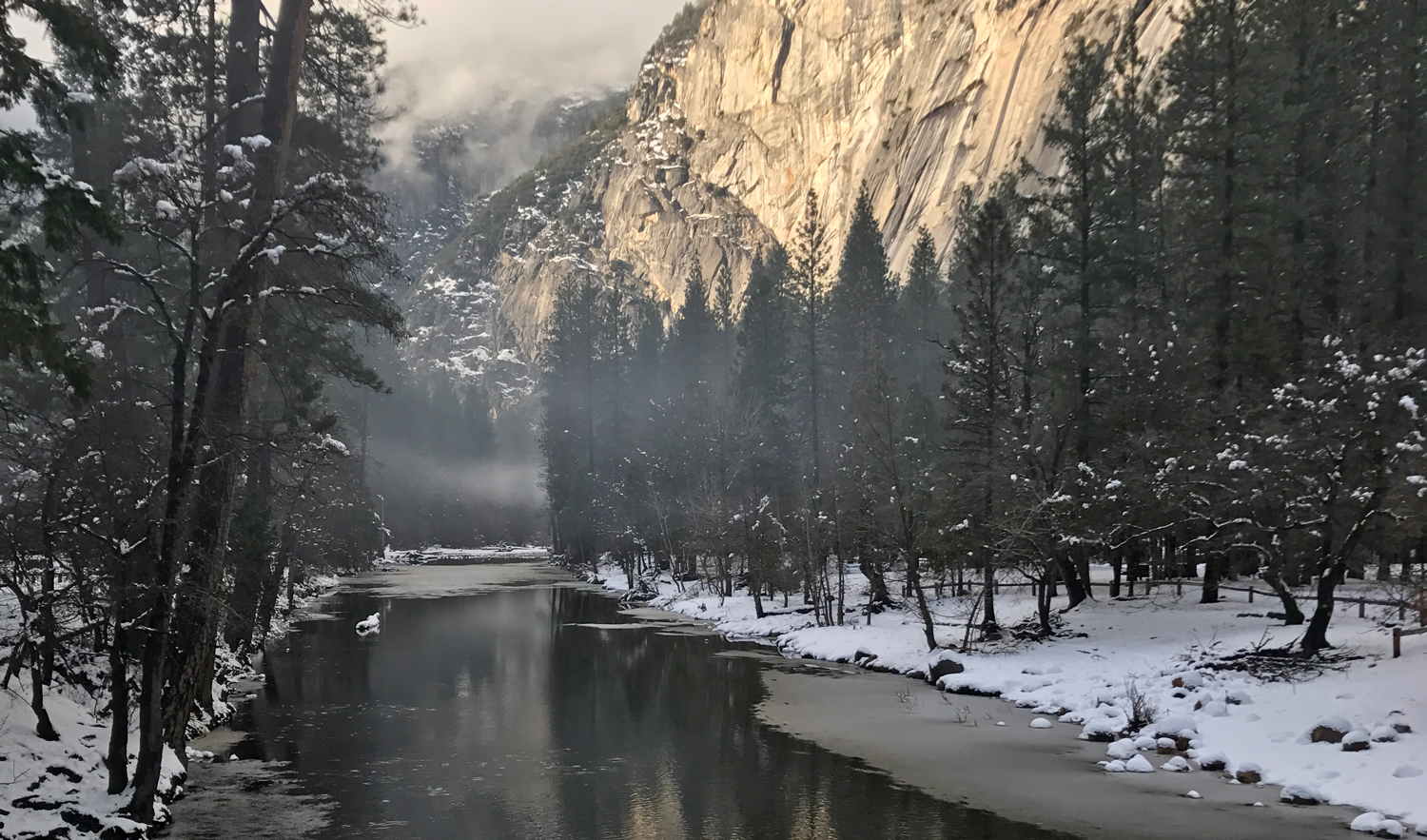 On January first, a switched flipped and the heavy feeling of depression I felt for all of 2017 was magically lifted. I don't fully know how to explain it. I just woke up on the first day of January and was fine. I think it had mostly to do with my outlook and a bit to do with my physical state. I was a bit resigned last year to the fact that I'd be depressed all year, which probably became a self-fulfilling prophecy. I also had an injury and was in pain for the second half of last year, so I couldn't exercise. It made me feel physically low as working out has traditionally been a form of antidepressant for me. I thought about going on medication but worried I'd be dependent on it. So I just kind of put my head down, did my work, and waited for the feeling to pass.
I'm feeling great now and am looking forward to a great year. I just have a great feeling about this year. My book and a number of other opportunities have me feeling that this is going to be an exciting, fulfilling year. And I am so thankful to not have the heavy feeling of depression weighing me down every day.
I wrote this essay last year from the depths of a depression. I've wavered a lot on whether to publish it. My first reason not to was mainly that it seemed like navel gazing and ultimately an exposition of my own privilege (I know my life is lucky and I am ever-thankful for that). It is that. But the reason I'm making these thoughts public is that I'm hoping they can be of use to other people struggling with depression and feeling let down by life.
Last year was the confrontation of my childhood expectations and my adult realities. It didn't go well. In summary, the reason for my depression was losing my boyfriend who I loved very much and nearly simultaneously losing my job and having to start from ground zero from the depths of loneliness and depression. Read below to see what my response was.
---
Three years stick in my memory as the worst years yet.  The first was 1996, my freshman year of high school, when I went from being around the same kids I'd known my whole life at The Yosemite School to a high school two hours away in a town called Mariposa where all the students inexplicably spoke in southern accents, sat on trucks, and were predominantly racist and homophobic. Needless to say, this was not a safe space for a recently-out gay kid.
The next depressing year I remember is 2010. That was the year my nephew died in infancy, of an unforseen condition called Hypoplastic Left Heart Syndrome. He was the first born grandkid in our family and we were all devasted. The collective hope and joy my entire family felt transformed into a darkness that still isn't fully gone, especially for my sister-in-law and my brother, whose pain was overwhelmingly tangible.
This happened right after the earthquakes in Haiti, and I remember my roommate in New York was watching coverage of the devastation there nonstop. I didn't understand how someone could watch that. As news media has gotten more and more immediate, we can quickly view devastation as its happening, absorbing the sorrow of the entire world. I don't think people are really meant to intake that much pain. I think people are built to absorb the calamities that happen in their communities. I'm not saying I think we should just ignore the world's problems, I'm just saying that in having access to images and footage of the terrible things happening around the world, we are becoming desensitized to violence and pain. This coverage is slowly turning us sociopaths, people okay with seeing other people, real people, dying in front of our eyes on television.
This year is the third depressing year. I have been physically depressed for a year. I'm not that worried about it, because I know it's situational depression, not really emblematic of a deeper issue with depression.
A lot of people I know are depressed this year. Our world seems to be crumbling. We are hearing more and more stories about black people being mistreated and murdered. We are hearing about the epidemic of sexual harassment and assault. We have a president who is actively trying to overturn any strides we made in the past eight years for healthcare and the environment. For anyone who cares about being part of a culture where equality, respect, and dignity are upheld, it's been a rough year.
For me the depression has come in the form of a confrontation: my adolescent expectations vs. my actual adult life. I am supremely disappointed in how life turned out. This is not at all what I expected or what I've been working for for so many years.
I often present myself as a silly idiot online so I think I come across a like a little bit more of a slacker than I actually am. In reality, I've been working hard since I was fourteen years old (coincidentally when I got my first job, have always held a job since). I was a straight-A, high achieving high school student who ended up going to two different Ivy League schools and collecting four degrees. What I didn't really anticipate about where I chose to go to school is how deeply it would affect my social circles, class identity, and expectations as an adult. After about seven years in Los Angeles I looked around and realized I had gotten myself involved with a social group that was a bit of a rat race. We were all working hard to keep up with each other. I decided I didn't like that so I stepped aside and found a new group of friends, mostly artists and actors (who didn't go to fancy schools).
Even as I've tried to step away from the lifestyle competition that is LA life, I've realized living here is inherently a hamster wheel. I make a pretty decent amount of money and I'm still struggling. The bar here is set high and reality is warped. A friend of mine who had a principle role on a sitcom last year and is a social media star told me last week he is probably going to lose his rented house soon. Somehow his money manager allowed him not to pay his taxes and now he owes $400,000. You'd never know any of this from reading his Instagram captions or meeting him at a party. He's not telling anyone because he doesn't want to seem desperate or poor. No one in this town wants you to think they "need" the work, they want to be hired because they're wanted.
I know countless stories like this, of people in creative fields struggling to get by. I'm not saying this to make you feel sorry for them, we all made this choice to be creatives, I'm saying it because we only ever show the good stuff on social media. That is a disservice. That's why I actually make a point of talking about it when I feel terrible. I don't want what I put out into the world to contribute to people feeling like they don't measure up, like I am somehow better or their lives aren't good enough. Many of the people you love on social media are probably struggling to get by, living without healthcare, feeling like they don't themselves measure up. Don't believe anything you see on social media.
I am disenchanted with the culture I live in and contribute to. This has made me question whether I'd like to stay in Los Angeles. But I kinda don't know where else I'd go. I feel stuck.
A year ago when my ex decided he didn't want to be with me any more I was devastated. I didn't really see it coming and I loved him, still do. Initially what was so jarring about it was the code switching. I've never been good at code switching. One day he is my boyfriend, the next not. That doesn't compute for me.
My disappointment with the end of my last relationship is twofold. I'm obviously disappointed I couldn't be/wasn't the person my ex wanted to be with. But in looking around I'm also disappointed at the lack or relationships I see that I'd personally want to emulate. So many of my friends went through horrible breakups this year. And the people I do know in relationships seem to be so casual with each other that they either read as business partners or just friends. And honestly, almost every gay man I know is single. You'd think that would be a good thing as a single gay guy, but it's kind of depressing. It doesn't speak highly to the viability of finding a long-term partner, of finding life-long continuity with someone who knew you back when.
I guess I just didn't expect grown up life to be this lonely. I spend hours a day writing and chatting (via Insta stories) to complete strangers. I do this because I love it. This seems like socializing, but it's not. I often find myself completely alone. I didn't expect grown up life to be quite this solitary. I thought I would have a support network, that I wouldn't have to reach out to fifteen people in order to find one person to hang out with me. I have to constantly schedule with people in order to avoid being alone all the time. Because I've been pretty consistently in a relationship the past seven years, people don't think to reach out. I get it, it's my fault for entering into relationships and falling off friendships a bit (at least for mid-week hangouts) but it does suck to be going through something and receive so little output from other people, the expectation being that I always be the one to call. LET THIS BE A LESSON THAT IF YOU HAVE A FRIEND WHO IS DEPRESSED, CALL THEM. Just because they haven't reached out doesn't mean they hate you. It might just be they are sick of people rejecting their invites to hang out or not being available.
Okay, so this is pretty dark. But it's got a good ending. I didn't really want to write about any of this post-breakup/mid-thirties existential crisis stuff until I felt I had a pretty strong perspective on the past year. An interesting part of depression is that sometimes you can't see it until you're out of it. I can feel my chemistry changing, I am physically better. Last year, just a few days after Ex told me he wanted to end our relationship, I remember walking through the woods in Yosemite, freezing cold with wet feet and a face red and hot from crying. I just felt heavy. Like it was hard to move my boots. Life feels so dumb and pointless and meaningless sometimes. A slog. That night the power went out at the Ahwahnee hotel and I laid in bed shivering and feeling hollow. I don't feel like that any more. I'm disappointed, not destroyed. I am so thankful to be out of that. Sure, it'll come back in small moments of sadness, but overall it's leaving my body.
Another gift of the past year is that in many ways it has made me fearless. I lost my boyfriend and my job so I didn't have anything to base my self-worth on except myself. As a person who has based my entire self-esteem on achievements and relationships, that was rough. But it was also kind of like "Fuck it, I've got nothing to lose. I'm going to do whatever I want." That has led to some great career opportunities this year. And I think it helped me in writing Get It Together (available for pre-order now, WINK) from a place of genuine, vulnerable humility. I'm really excited about the release of my first book and really proud that it's a good one. The fact that I was a mess while I wrote it makes it so much more raw and funny, sad, entertaining, and relatable.
The last year has been terrible and depressing but it's over. Thank God.
---
Hi! It's 2018 Orlando again. Reading the above is difficult for me and kind of sad. Also, I think I had a hard time completely getting my point across. I guess the point of the whole thing was just to express how last year upon turning 35 I finally felt like an adult, and I felt a tremendous amount of disappointment about where my life was in terms of relationships, work, and life goals (i.e. buying a house). I'd imagine that this is a normal feeling that most people have at some point in their lives.
There's no real conclusion here, aside from that I am so thankful to not feel depressed anymore. If there are people in your life who have experienced the loss of someone they love or a job, make sure you're reaching out. As a culture we tend to only reach out to people when something great happens (they book a TV show, get married, publish a book). But it is when people are at their lowest that they really need some reach out. Be the bigger person and reach out to them.
SaveSave
SaveSave