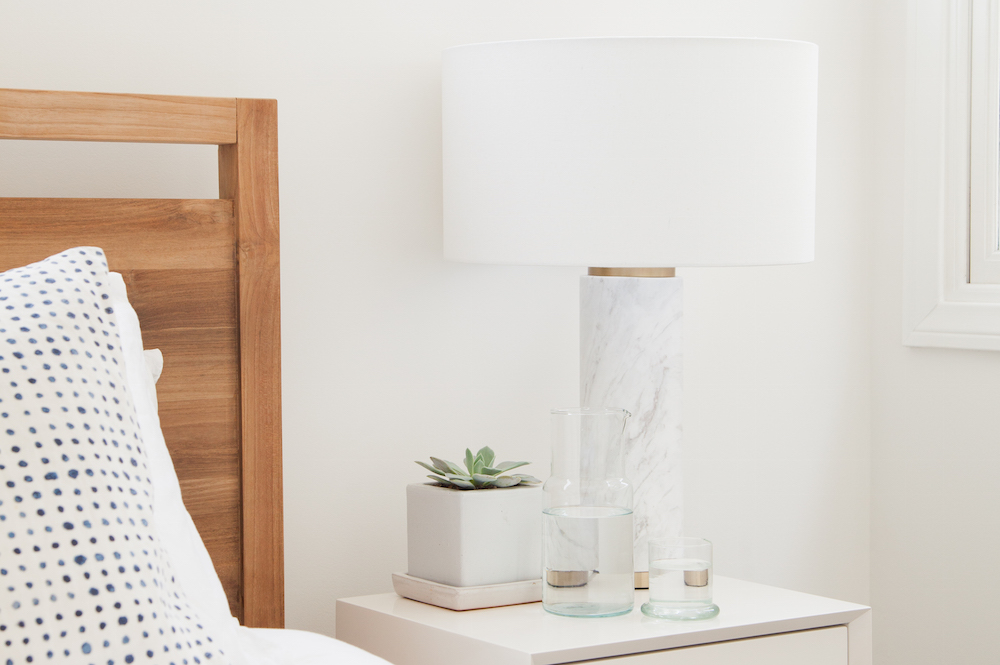 Dear Decorating Diary,
Remember when I had short hair and looked like this? And posed like a wax figure? I added that photo in for literally no reason other than that I need you to know that I exist and I'm talking to you from INSIDE YOUR COMPUTER.
One of my favorite (and most popular) Homepolish projects of all time is a beach house I designed for a client a few years ago. It's a minimal, bright space in Venice, California and the best feature is the views of the ocean you can see from many rooms in the house. When I initially designed the space, it was just for him and his guests, family and friends from out of town who would come and use the space for the weekend. But he's recently moved in with a girlfriend and she wanted to warm up the space so we're doing a little refresh. Unlike me, these people believe in privacy so I'm going to call them Kelly and Zack for the rest of this post.
I love the space as it is, super minimal and clean. Zack is an art collector and thus loves having a house that looks like a big, gorgeous art museum. His collection is amazing and looks perfect in the bright, airy beach house. But I also love Kelly's ideas for bringing in more color, life, and character. She's got a more boho vibe about her and wants woven elements, vintage items with some warmth, and color. Not too much color, like this much color:
We're keeping it light beachy, bringing in a few more saturated elements. The walls will stay white so all color and texture will be brought in with textiles, art, and rugs.
Kelly and Zack loved the look of this bedroom but they are also extremely nice people and decided to give all the furniture to their housekeeper, so we are going to update this room with a similar vibe but a bit more vintage furniture and patterned textiles. Which they will then probably give away again and then I'll just design the room again. We'll do this forever and ever until I die.
There's definitely a lack of warmth lacking from the beach house and Kelly is a huge fan of vintage Moroccan rugs. We're going to give her the boho vibe she wants by adding in some wicker, beautiful handmade imported rugs, and enough chunky throws to fill a football stadium.
The master bedroom is going to stay relatively the same, but with more texture and visual interest. A vintage rug, shibori pillows, and linen accents. The space is really clean and simple now and the goal is to give it a more eclectic, richer look while keeping it calm and relaxing.
Kelly and Zack previously only lived here part-time, so house plants were out of the question (hard to keep alive without someone there to water them). So we'll be adding plants throughout the house. It's kind of amazing how much a plant can transform the feeling of a room. It literally adds life and oxygen. In the spirit of warming up the vibe, we're going to use baskets and wooden plant stands. I don't know when people got so scared of baskets but they're such a great design element. Anything woven adds warmth. So why not have something woven and gorgeous holding your plants?
The TV lounge is getting a makeover and will be completely transformed into a more practical work space. Kelly and Zack are workaholics and more interested in having a functional office than watching TV. It's crazy and quite frankly un-American but it's what's going on and we're all going to have to deal with it.
Sources: (1) Mavis Cross Planter, (2) Hip Haven Black Stand, (3) Seagrass Belly Basket
The master bedroom side tables look great but are less functional than I'd like so I'm going to move them into a guest bedroom and find something with storage and a bit more horizontal space. It's a tight fit in there, which is why I originally chose these two cute concrete stools from CB2, but I think we can find them something that has a bigger personality and a place to put books/contact lenses/watch/etc. These are some of the pieces we're looking at for the master bedroom:
Sources: (1)Teak Ladder , (2) Handwoven Masai Pillow, (3)Roost Basket Pendant, (4) Anderson Side Table, (5) Franco Albini Ottoman
The beach house is currently a relaxing, serene, zen space. But I'm excited to add some color and texture to the mix to make it a space that both Kelly and Zack can be excited about. I'm actually working on a few other "refresh" projects for clients at the moment and I think it's an important thing to do (either with a designer or on your own). After a while, even a perfectly designed space can start to look dull. Spaces that were previously perfectly styled can start to look jumbled after you've moved everything to clean over and over again. So restyling and refreshing every year or so can keep your house looking fresh (I do this about every week but that's actually not normal/healthy).
Stay tuned for more updates on this and other space refreshes. And go do some refreshing yourself. It's going to be SO FUN.
Love,
Orlando
Photography by Tessa Neustadt courtesy Homepolish