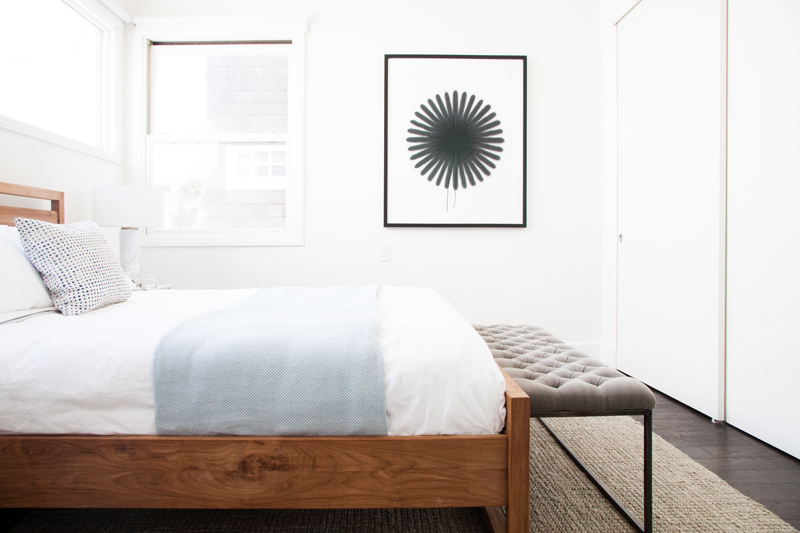 Photographs by Tessa Neustadt courtesy Homepolish
Dear Diary,
The owner of the beach house is constantly hosting friends and thus wanted the two guest rooms there to be welcoming and comfortable. I had a great time designing them because there's always less pressure with guest rooms than there is on bedrooms where people sleep every night, scrutinizing all of your design decisions each night before they go to sleep. I ended up loving the these two rooms, which have the same spare design of the rest of the home but feel a little more playful, more youthful. The goal with these spaces was to make them look sophisticated and chic without spending a billion dollars.
Thus, most of what is in these rooms is easily sourced and can be found at accessible stores like Crate & Barrel, West Elm, and Pottery Barn. You can recreate these looks pretty easily. Which you should. In your own beach house. Right now.
BEDROOM 1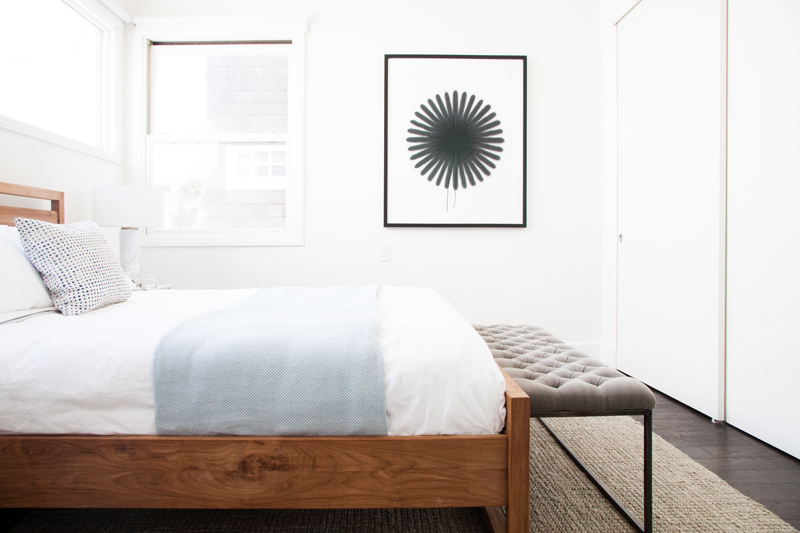 This bed was one of my favorite finds. If you've ever searched for an affordable modern wooden bed, you'll know it's not easy to find one that isn't $150,000. And it kind of makes me want a new bed to replace my new one.
Another find: this crazy lamp from West Elm. They've been really killing it with their mid-century inspired pieces lately.
If you frequently have guests, it might be fun for you to invest in one of these little water carafes. I found this one at Lawson-Fenning. It's unlikely that your guests will actually use these, but it makes them feel like you thought about them before they arrived, which will make them feel special and then maybe they'll buy you something.
BEDROOM 2
Art by Jurg Lehni is the clear star of the second guest bedroom. I love that work (which is made with spray paint, by machines programmed by Lehni). I tied it into the rest of the room by bringing in black side tables and these life-changing lamps from One Forty Three.
Someday, when I am a guest at the beach house, rolling around on those comfy white beds, I will thank myself for making them so bright,  happy, and inviting. You're welcome beach house.
Love,
Orlando
Bedroom 1 Resources
Bed from Crate & Barrel, Bench from West Elm, Bedside Tables from West Elm, Bedside Lamps from West Elm, White Bedding from West Elm, Blanket from Pottery Barn, Rug from West Elm, Chandelier from Schoolhouse Electric, Art by Jurg Lehni.
Bedroom 2 Resources
Bed from CB2, Rug from West Elm, Sisal Poufs from Lawson-Fenning, White Bedding from West Elm, Blanket from Pottery Barn, Accent Pillow from Ikea, Lamps from One Forty Three, Bedside Tables from Crate & Barrel, Art by Jurg Lehni.
This project was completed as part of my work with Homepolish, a full service design company that is revolutionizing the interior design industry and making everything better for design-strarved clients nationwide. If you'd like to work with me or another Homepolish designer, please visit our website and sign up for a consultation.