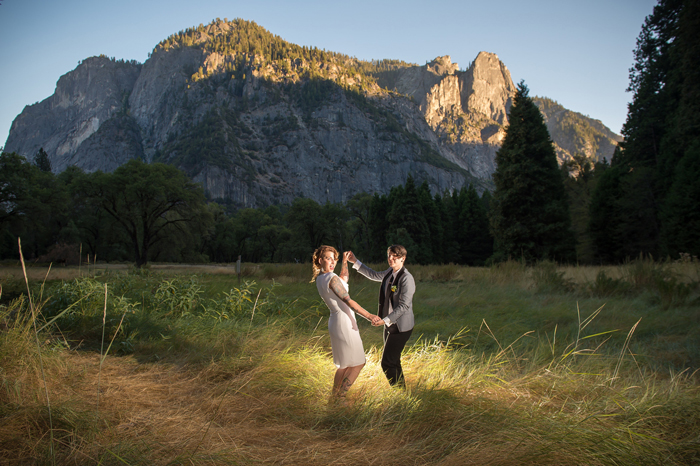 Photography by Stephanie Secrest
Dear My Sister,
In order to explain your wedding, I must first explain where we grew up. We grew up in the middle of the woods in Yosemite National Park. I don't think anyone who grew up there really appreciated what we had until we left for college. When you grow up surrounded by some of the most beautiful vistas on the planet (outside my bedroom window was Yosemite Falls, through the living room window you see Half Dome), it doesn't phase you. And you act bratty, and whine about how there's nothing to do because you live in the middle of the woods. And then you grow up and you feel like a fool. Because you realize you were given this totally weird, amazing childhood that you took for granted. There are about 800-1200 people who live in Yosemite Village (depending on the season) and for the past 25 years my family has been counted among those people.
My parents will be retiring soon, moving to Sonoma County, so soon the house I grew up in will be inaccessible. Thus, as much as my sister's wedding served somewhat as a farewell to her pre-wedded youth, the event itself, the last we will share at my childhood home, was a goodbye to this incredible rustic childhood I never appreciated until I had the perspective of adulthood. My brother was also married in Yosemite in 2006 and someday, if a miracle happens, maybe I'll get married there too.
My sister's ceremony was held at the Ahwahnee Hotel, one of America's grand Western lodges. I grew up playing in this hotel. My friends and I would go over there and pretend to be homeless just to see what the hotel guests would do. Usually they just thought we were just obnoxious kids being super annoying. And they were right.
This is the great room (after which some of the interiors from The Shining were modeled).
My sister imported her makeup artist, Terresina Polizi, from San Francisco to do her face. And her hair stylist Beth Landrith (both of them work at Bateau Salon in SoMa. I like this picture because my sister looks like a mannequin.
Of course, no hair and makeup party is complete without champagne.
This is the reveal. When Jess (my sister's fiancé) saw the dress for the first time. Fun fact: my mother, who is one of the most talented, fastidious, women in the world, made this dress. She sewed all those lace florets together. For hours and hours. Alone. Lots of delicate piecework.
Apparently, there are enough A-list parties in Yosemite to necessitate a red carpet at the Ahwahnee.
This is one of my favorite rooms in the Ahwahnee. The Mural Room.
The ceremony was on the Wedding Lawn of the Ahwahnee.
My sister, her dress, and my dad.
And then they got married and then they walked down the isle and it was like 'Oh My God.'
The reception was at my parents' house. In the back yard.
And now, for the first time in internet history, the house I grew up in. Yes, it looks like a cabin. Yes, it's tiny (but not actually as tiny as it seems – it has four bedrooms). Yes, it's rustic. And yes, we have the tallest tree in the world in our front yard.
This is my niece. She's got weapons. Watch out.
My gorgeous cousin did the flower arrangements. She incorporated a lot of succulents. Which made me happy. Because this is California and succulents practically fall from the sky here.
We used my mother's collection of vintage jars as vases. This one comes from a long-gone honey farm owned by old friends of my parents.
My cousin also did these glamour boutonnières. (Also note how stylish Jess' jacket/tie combo is).
My sister and I made these hanging jar lanterns (which lit up the night once the sun set).
Lanterns also helped illuminate the night.
I gave a super awkward speech.
But it made my sister cry so I guess I did a good job.
This piñata, it turned out, was filled with ibuprofen, vitamins, and bubbles. All of which we used the next day to get over our crippling hangovers.
After the sunset, the super talented Stephanie Secrest, took these amazing photos of my sister and Jess running around in my parents' back yard.
And then we danced until midnight in my parents backyard. And it was all over and we were exhausted.
Seriously one of the best weekends of my life. My sister and her new wife were so happy. My parents were happy. All was good.
If you grow up secular, like I did, there aren't that many ceremonies in which you get to participate. Thus, weddings, graduations, etcetera become of utmost importance. This moment with my family is one I will cherish forever. This great time when we officially welcomed Jess into our family. When as a group we celebrated the love she shares with my sister. And, as a family, celebrated this amazing space we've been lucky enough to call home for the majority of my lifetime.
Love,
Orlando
PS: Answers to a few questions some of you may be having:
1. Yes, there are two gay kids in my family. My sister and me. We have an older brother who is straight. I am the youngest.
2. Yes my family is fine with that. They always have been.
3. Yes the Rim Fire was burning during the wedding. No it was not smokey. Luckily the wind was blowing away from Yosemite Valley where the ceremony was happening. Although a friend of mine went to a wedding there the week previous (two gay dudes getting married) and it was apparently like the seventh layer of hell. Super smokey.
4. Yes this wedding looks strikingly similar to Emily Henderson's. Which is weird because I asked my sister if she'd seen any images of it and she said hadn't. Great minds think alike.
5. Yes, my sister is a hair stylist. At Grasshopper Salon. If you live anywhere near San Francisco you should make an appointment with her right now.
Special thanks to Stephanie Secrest for her gorgeous images.