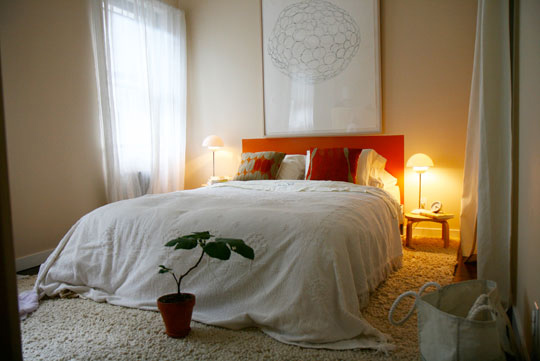 Dear My Bed,
I love you,  but you need a headboard. Right now, you look like this:
So depressing I may as well be in prison. Okay, so my bed has striped sheets, pillows, and a blanket on it. But it's still missing something. It's in desperate need of a headboard. And what better for a headboard than a giant piece of art? I love the idea of sleeping with a huge piece of art looming over my head. I mean, who wouldn't want an enormous egg floating above the bed?
This one is pretty and minimal, the white laundry speaks to the stark white of the room.
This isn't necessarily my style but I think it's very pretty. And the addition of tall, built-in bookshelves makes the space even more inviting.
Not sure if I love this framed photo, but look how well the color goes with the knit blanket.
This graphic piece is awesome. Also, if this person lives in an earthquake zone they are probably going to be cut in half during the next earthquake. Hanging glass over the bed can be dangerous. I have a rule about hanging art over my bed: If the piece can fall off the wall and accidentally chop my head off, I try not to hang it directly over where I'm sleeping. That is the Californian way.
That being said, I might risk having my head chopped off to have this delightful piece hanging above me as I slumber.
Ugh, Marilyn Minter. Why does your stupid art have to cost so many millions? I want all of it.
This is a great idea for a DIY painting-headboard. It's not as fancy as having a Minter hanging above your bed, but on the upside it's just canvas so it won't decapitate you in the event of an earthquake.
This is painted directly onto the wall, totally great idea for a child's room. Or for someone too, like, poverty-stricken to afford an actual headboard. Like me.
Look at these awesome drawings-as-headboards. Accented by decorative moulding! Get in my bed!
This big, bold, graphic piece is the perfect addition to this totally, like, minimal and boring room.
And finally, my favorite. I think I'm going to go for this vibe with my headboard. I love the simplified landscape and that gorgeous color palette. How could you not have sweet dreams under that?
In conclusion, I want all of these headboards.
Love,
Orlando